This month's emfluence Marketing Platform updates include unsubscribe reasons and a Reason for Unsubscribing Report, downloadable SMS recipient lists, and more. See what our community has asked for and what we built:
Reason for Unsubscribing
SM Asks: Can we collect a reason for why a contact unsubscribes?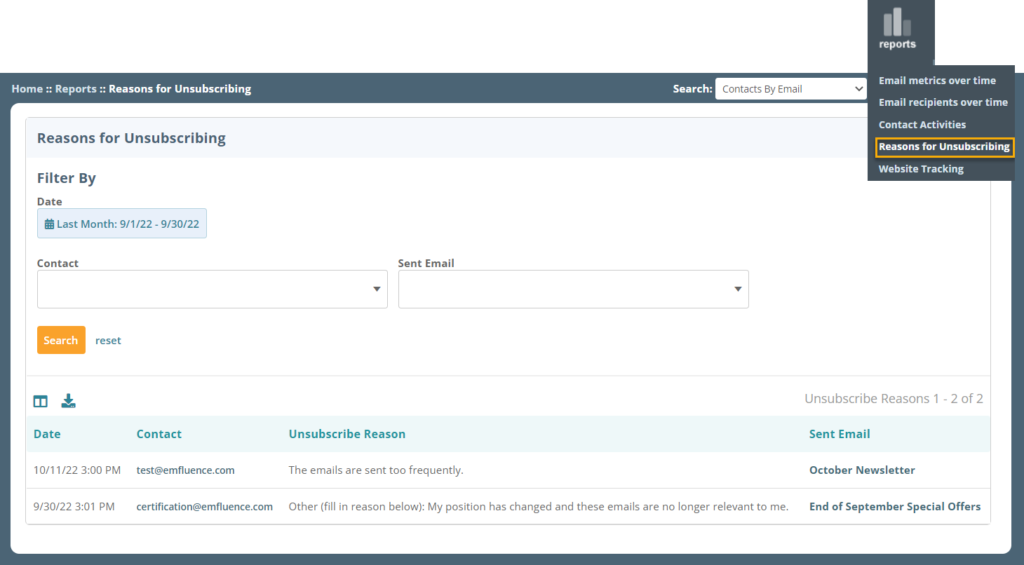 We have added a Preference Page within the Options menu which will allow you to create a list of unsubscribe reasons offered to contacts who decide to opt out of your emails. We've provided a default set of reasons, but you can edit, add to, remove, or rearrange the choices available. Reasons chosen for unsubscribing by contacts will be saved in the new Reason for Unsubscribing Report.
SMS Recipient List Download
MR Asks: Like on emails, for a SMS send can you make the recipient list downloadable?

The recipient list for SMS sends is now downloadable with a choice of contact fields you would like included (the mobile number sent to will be included by default).
Notification Project

There are several places within emfluence where you can set up notification emails to be sent out after something occurs. As part of a larger notification project, emfluence has begun refactoring how those work in the platform to eventually get them grouped together for easy access/control by the user. As part of this project, you may have noticed differences in setting up notifications to users on both surveys and landing pages with more changes to come.
Got another request? Send them to us under the help section in the emfluence Marketing Platform!