Flexible Marketing Automation Platform for Salesforce
The emfluence Marketing Platform outranks our Salesforce competitors for everything from quality of support to ease of setup, ease of use, production direction and more. Our users routinely rank us at the top for not just our software but also the relationship they build with our support team.
We're top ranked among marketing automation platforms in the Salesforce space for:
| | | | |
| --- | --- | --- | --- |
| Ease of Setup | Ease of Use | Quickest ROI | Responsive Support |
Get Started Today – Schedule a Demo Here
How emfluence Integrates with Salesforce
Custom Field Mapping
The emfluence Marketing Platform supports up to 250 custom fields, giving you lots of leverage to sync custom field data from Salesforce to emfluence (and emfluence to Salesforce). Capture and sync custom fields on your contacts, leads, or both, and leverage your data points to create hyper-personalized messages and target segments with the emfluence Marketing Platform.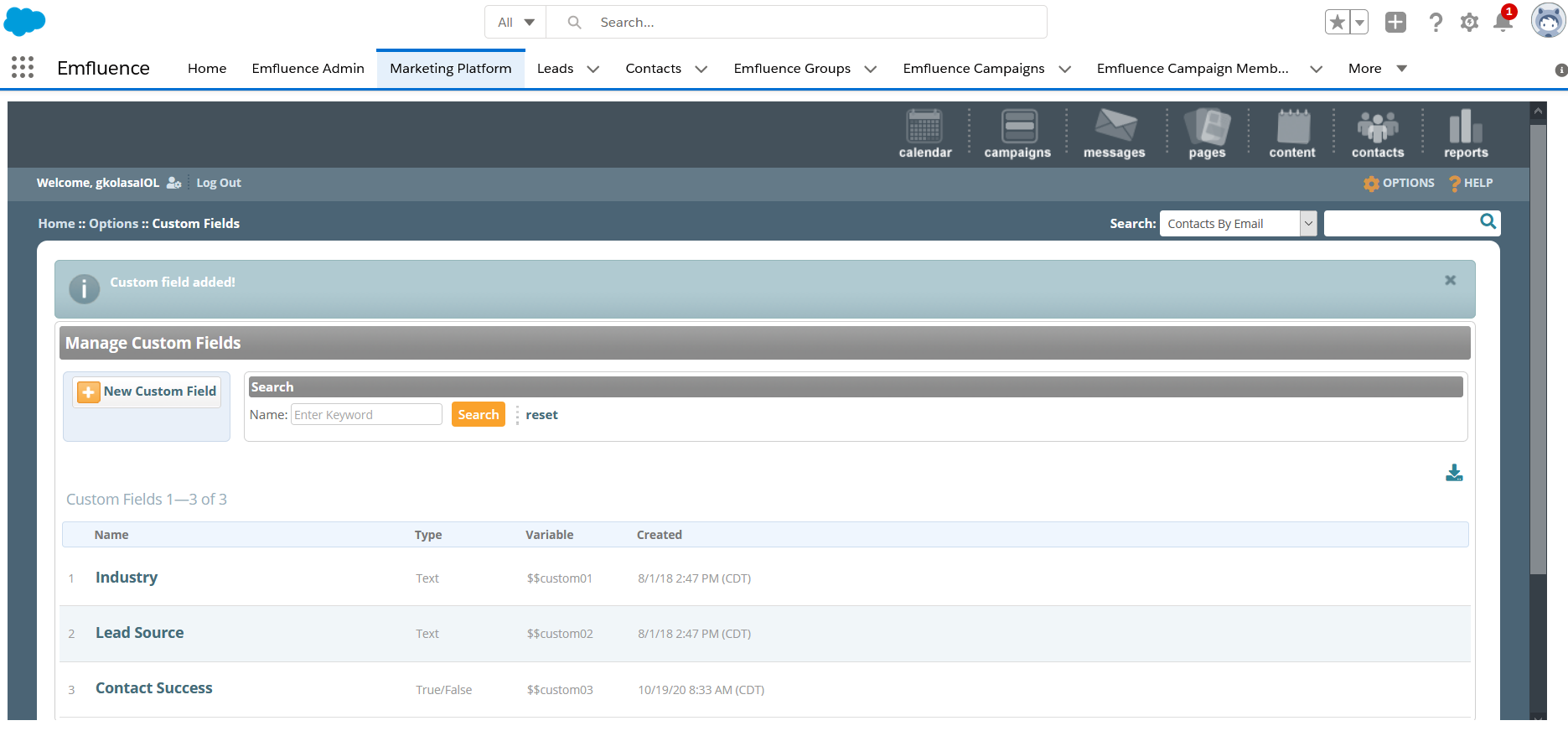 See Your Campaigns within Salesforce and emfluence
On your Lead or Contact Detail Pages, you can easily view with emfluence Groups or Campaigns your contacts belong to: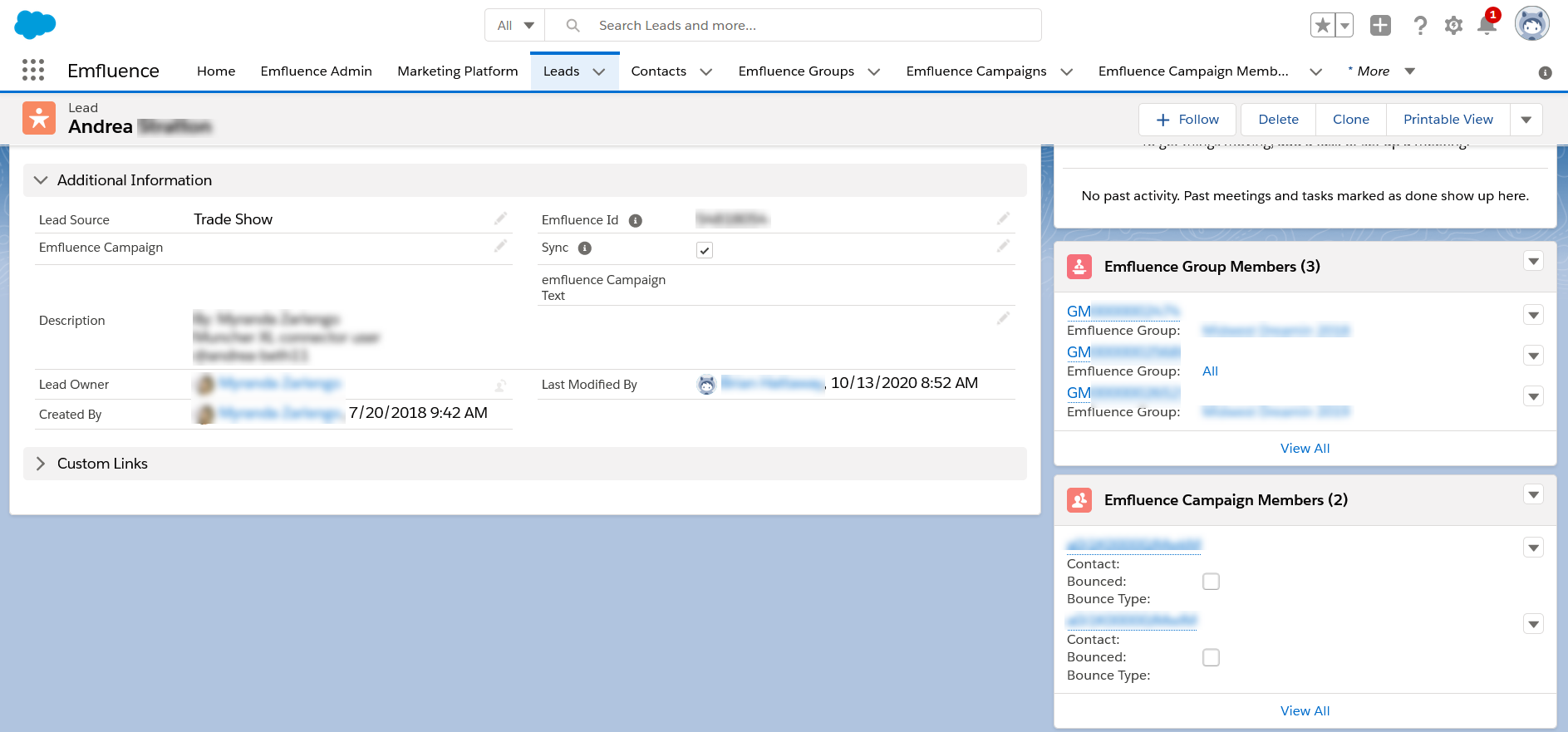 You can also see how individuals interact within campaigns. The purpose of this area is to see how your individual leads or contacts are interacting with emfluence Campaigns: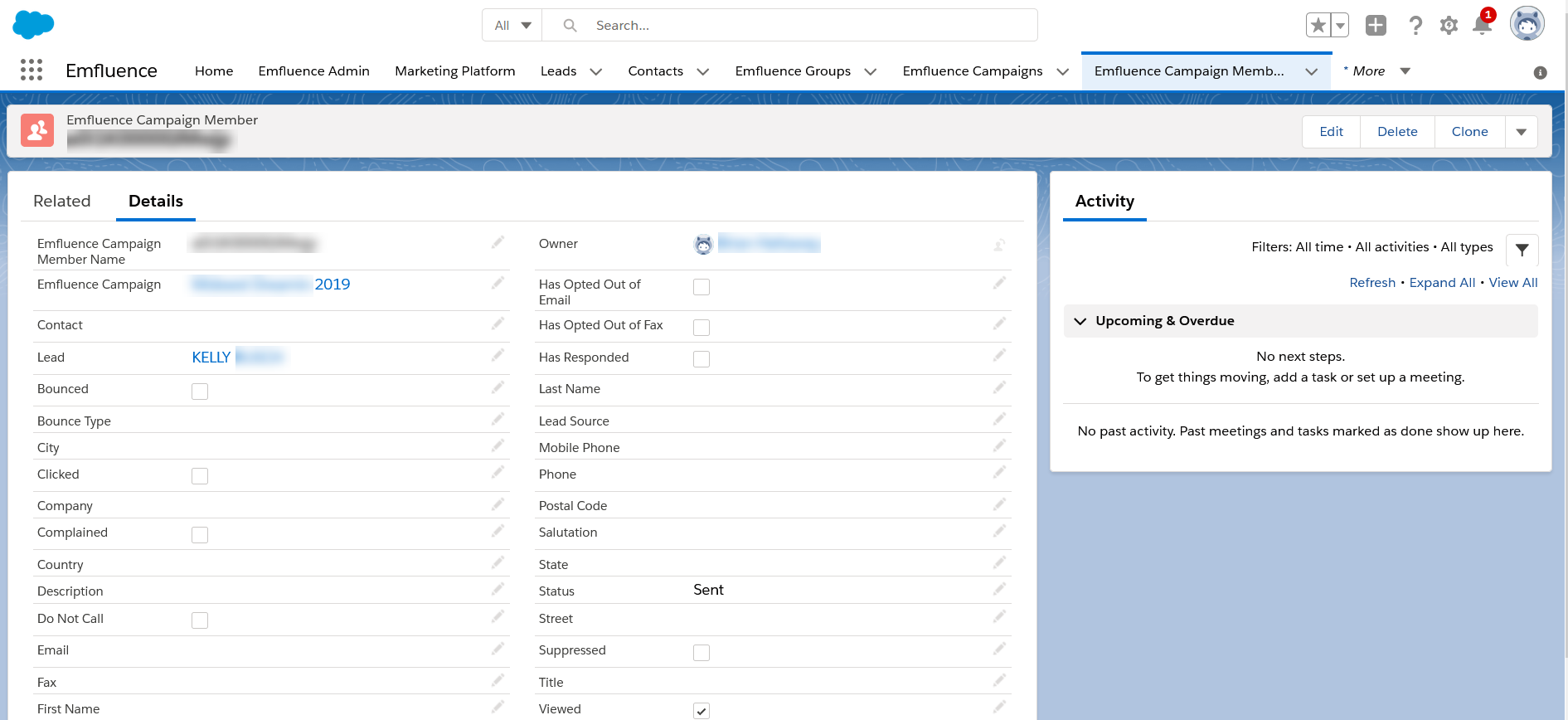 If you're looking for campaign results, you can pull these from the emfluence Campaigns tab in Salesforce: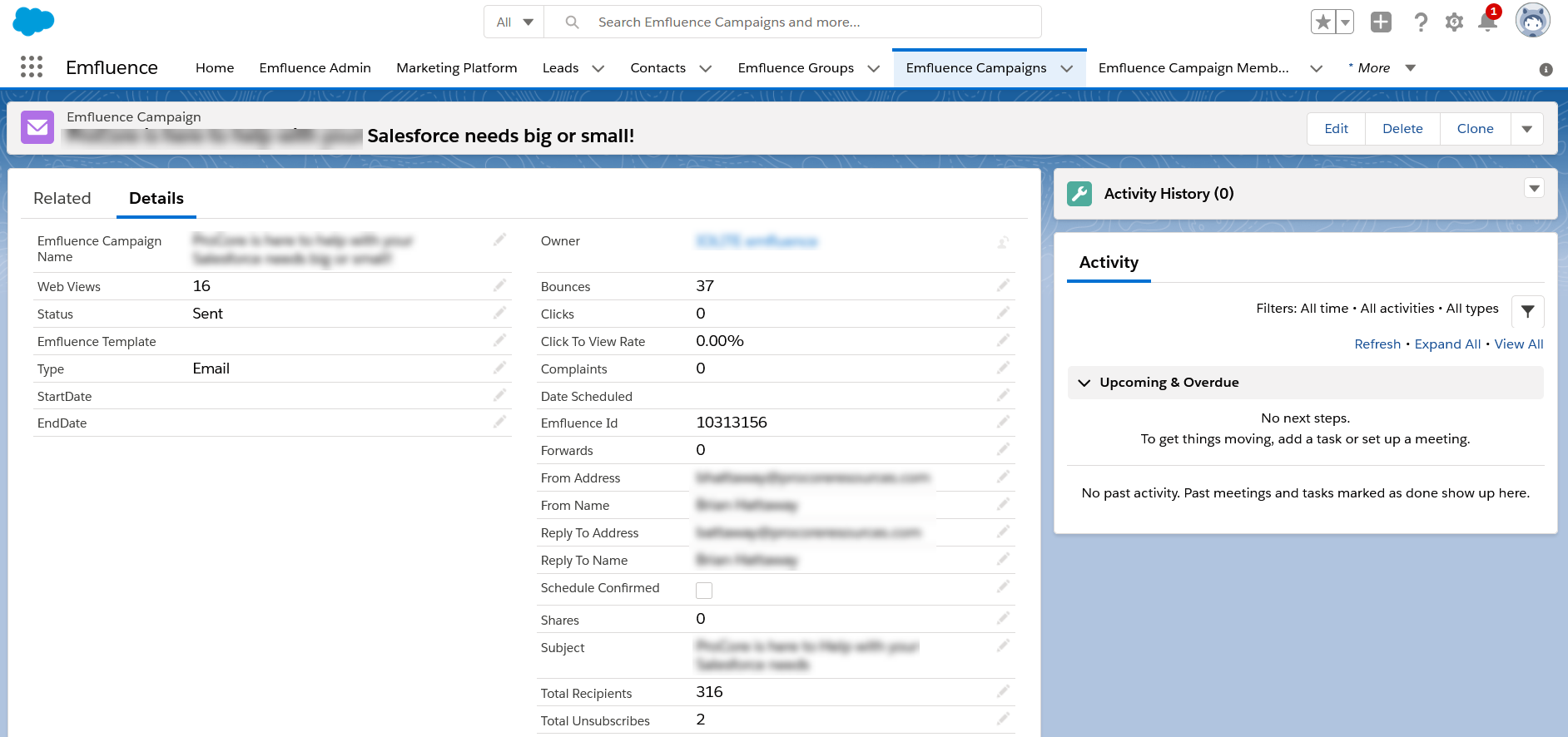 Access Your emfluence Admin Panel for Custom Settings
In the emfluence Admin Panel, you can control sync settings, Contact Management, History Management, Group Management, Custom Fields, and more. By default data will sync from Salesforce to emfluence immediately, whereas data syncs from emfluence into Salesforce can be run daily or more frequently within the admin panel: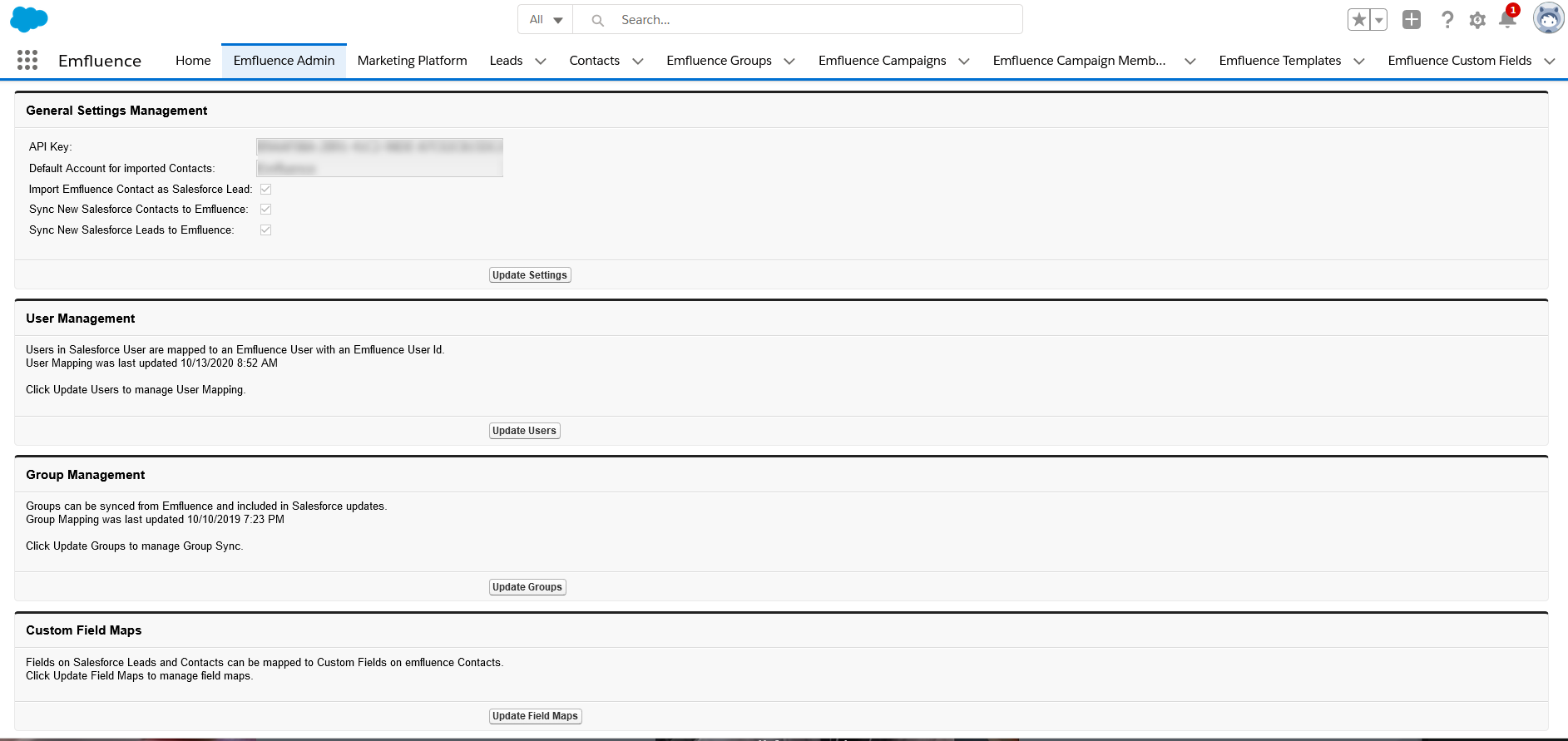 Log in for the Full emfluence Experience from within Salesforce
Stay within the Salesforce environment and take advantage of all emfluence Marketing Platform features without jumping to a new tab: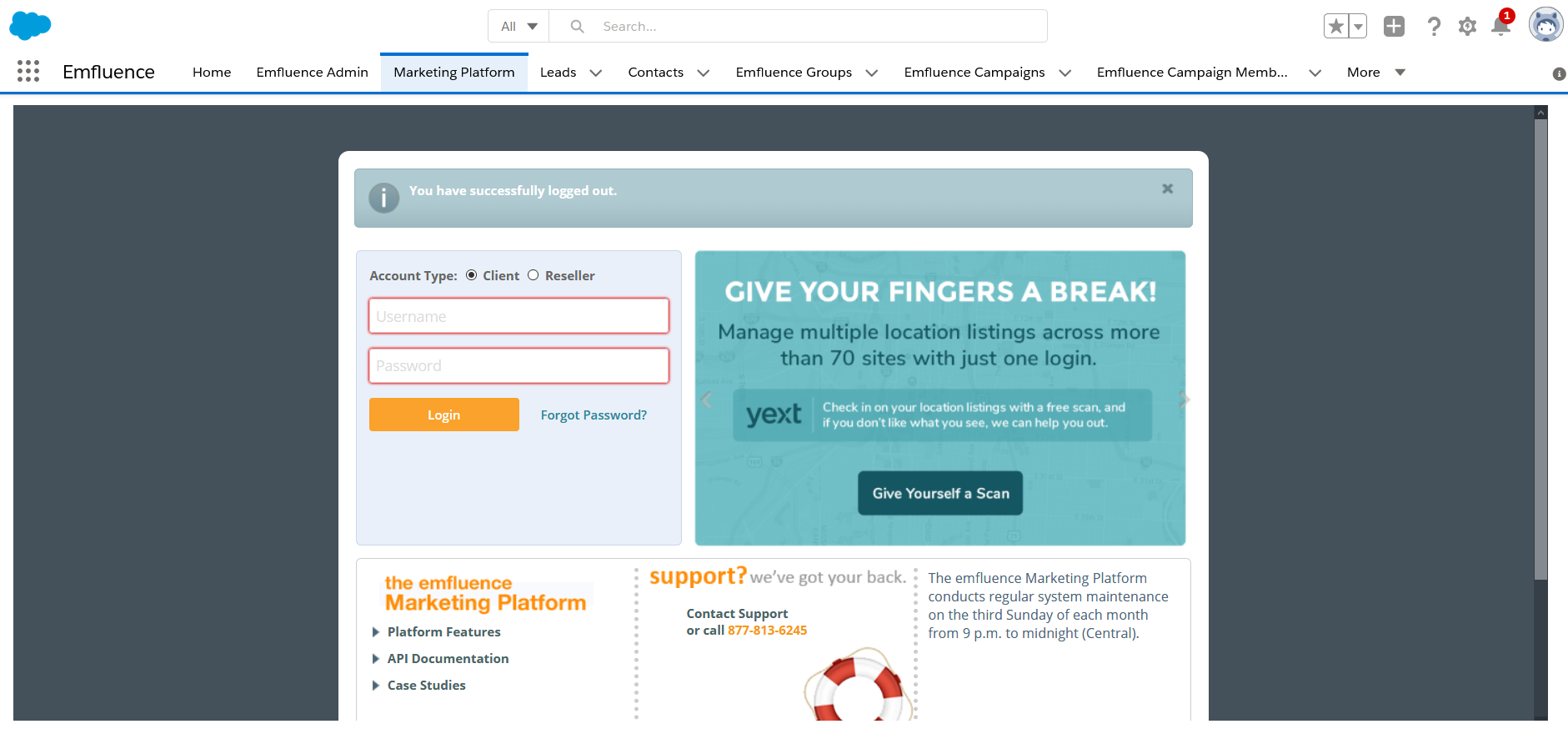 Other Features You'll Like:
No one-to-one licensing for Salesforce and emfluence required
Access to Salesforce developers for custom integration questions
Digital marketing agency support available, including email and marketing automation strategy assessments
Super easy drag and drop landing page builders
Get Started Today – Schedule a Demo Here
Comparison of the Top 4 Salesforce CRM Marketing Automation Platforms
Pardot vs Salesforce Marketing Cloud vs Act-On vs emfluence Marketing Platform
Pardot

Salesforce Marketing Cloud

Act-On

emfluence Marketing Platform

Starting Price

$1,250/month
Not Available
$900/month
$850/month

Rating

Capterra: 4.1 / 5
Capterra: 4.1 / 5
Capterra: 4.3 / 5
Capterra: 4.7 / 5
G2: 3.9 / 5
G2: 3.9 / 5
G2: 4.1 / 5
G2: 4.3 / 5

Value

Top Ranked

Ease of Use

Top Ranked

Ease of Setup

Top Ranked

Quality of Support

Top Ranked

Features & Functionality

Top Ranked

Building and Personalizing Emails

Top Ranked

Sending Outbound Emails

Top Ranked

Managing Email Deliverability

Top Ranked

Landing Pages and Forms

Top Ranked

Creating Dynamic Content

Top Ranked

A/B Testing

Top Ranked

Marketing Lead Database

Top Ranked

Data Quality Management

Top Ranked

Segmentation

Top Ranked

Lead Scoring and Grading

Top Ranked

Lead Nurturing

Top Ranked

Online Behavior Tracking

Top Ranked

Automated Alerts and Tasks

Top Ranked
Top Ranked

Event / Webinar Marketing

Top Ranked

Calendaring

Top Ranked

Social Campaigns

Top Ranked

Basic Reporting

Top Ranked

Web Analytics

Top Ranked

Workflow Capability

Top Ranked

User, Role, and Access Management

Top Ranked

Performance and Reliability

Top Ranked

Data Import & Export Tools

Top Ranked
Top Ranked

Integration APIs

Top Ranked
Pricing Comparison
The emfluence Marketing Platform is priced based on the number of active contacts you have in the system each month (bounces and suppressions do not count toward your total). Unlike other marketing automation platforms, there is no additional cost for:
Users (up to 100)
Number of emails sent in a month
Support
API integration
Plus, every new emfluence Marketing Platform client receives a custom-designed email template, a dedicated resource to help along every step in the onboarding process (from DKIM/SPF authentication to list migration, subdomain setup, and more), and two hours of one-on-one live training for their team.
Salesforce Marketing Automation Platforms Comparison
Why pick the emfluence Marketing Platform for your Salesforce or CRM environment? Our integration is deep enough to pull the most valuable data points and trigger information from your Salesforce environment while still allowing you to do the visual and creative work of building campaigns in our platform.
Get Started Today – Schedule a Demo Here