Top Rated Marketing Automation Platform for Microsoft Dynamics
The emfluence Marketing Platform is ranked by our users as having the Highest Quality of Support of active marketing automation platforms in the Microsoft Channel. We're also at the top of list for Easiest to Use!
See how we can make marketing automation with your Microsoft Dynamics easy, efficient, and as flexible as you need it to be.
We're top ranked among marketing automation platforms in the Microsoft Dynamics 365/CRM space for:
| | | | |
| --- | --- | --- | --- |
| Ease of Setup | Customizable Options | Quickest ROI | Responsive Support |
Get Started Today – Schedule a Demo Here
---
How emfluence Integrates with Microsoft Dynamics
The emfluence Marketing Platform for Microsoft Dynamics is easy to setup, customize, and manage. See how it works:
Customizable Field Mapping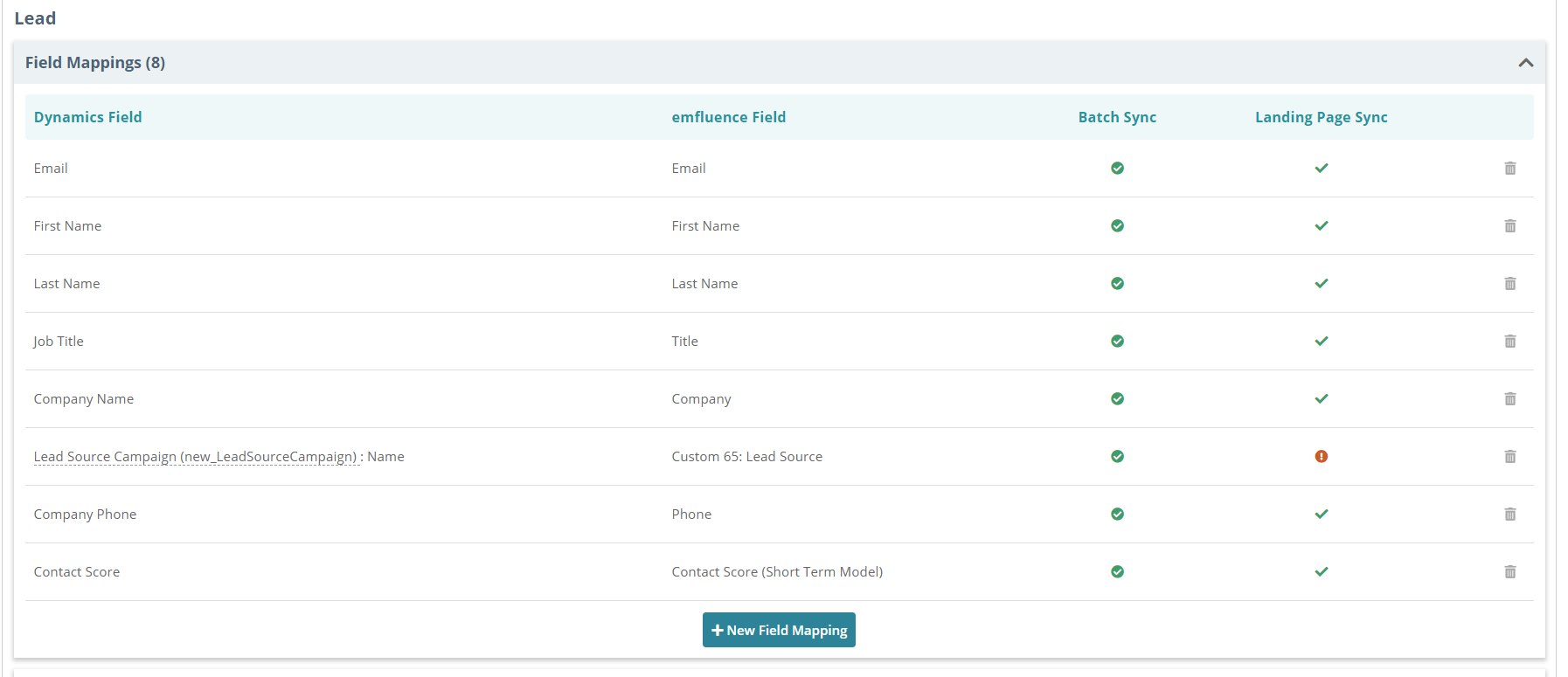 The emfluence Marketing Platform supports up to 250 custom fields, giving you plenty of room to integrate your custom field data from Microsoft Dynamics. Choose between Microsoft Dynamics and emfluence as your source of truth, or create a bidirectional sync that keeps both platforms up-to-date with relevant sales and marketing data. Best of all, let your marketing team handle the setup of field mapping through the emfluence Marketing Platform's user interface.
Map Standard and Custom Entities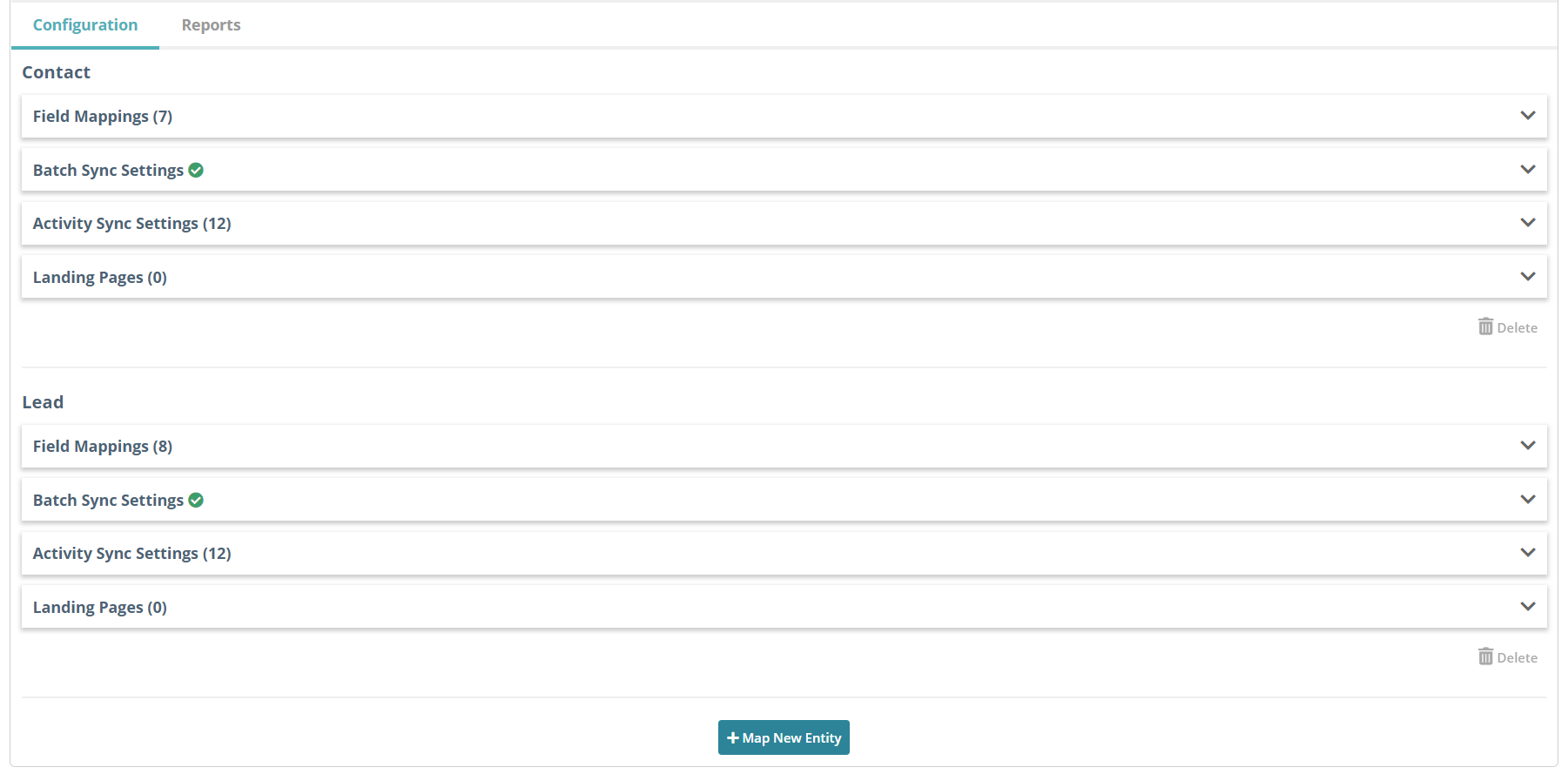 The emfluence Marketing Platform integrates to Leads, Contacts, and Accounts in Microsoft Dynamics, but one of the things we love best about Microsoft Dynamics is the power to customize how you use the system. Because we know not every company leverages out-of-the-box entities, our integration allows you to integrate to custom entities as well—all you need is an email address to sync between emfluence and your custom entity.
Customizable Sync Options for Leads and Contacts
Determine which contact records sync to the emfluence Marketing Platform by choosing to sync all records in an entity or limit syncing based on a custom view. Since our pricing is based on the number of contacts in our system, you can choose how many—or how few—of your contacts you'd like to sync into the emfluence Marketing Platform.
Easy Segmentation and Target List Setup

Choose how you want to segment your marketing lists and create target groups by leveraging the emfluence Marketing Platform Query Builder or choose to sync Marketing Lists to specific emfluence Groups on demand. Let your sales team control when Leads enter your marketing campaigns with our Marketing List to emfluence Group direct sync.
View Relevant Sales and Marketing Data on a Contact or Lead Record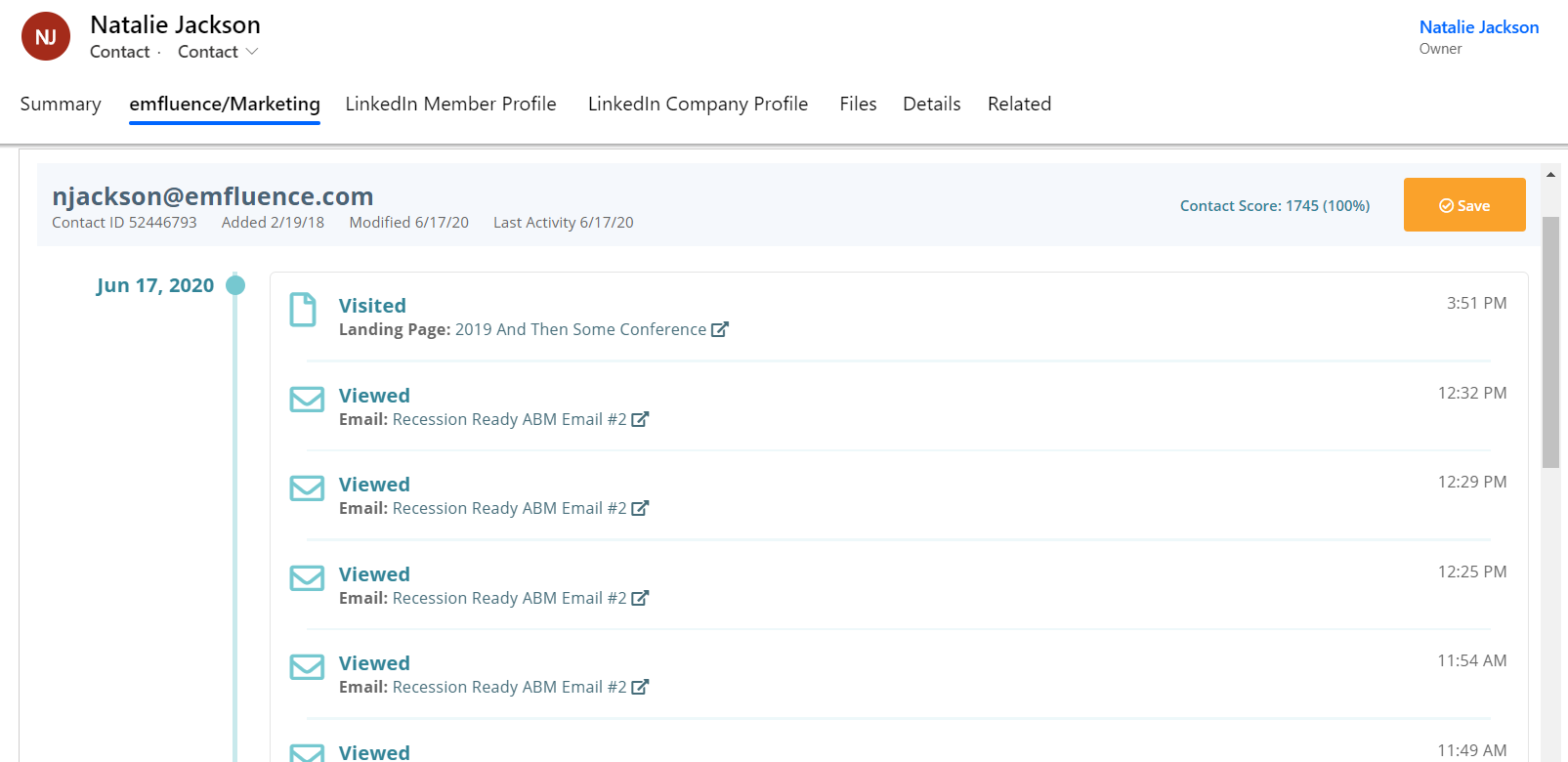 Display powerful marketing data to members of your sales team by embedding the emfluence Marketing Platform's Contact Detail record directly into your Lead and Contact views. See in real-time which website pages your Leads and Contacts have visited, which emails they've engaged with, what landing pages they've converted on, and more. Plus, control their group management from Microsoft Dynamics without touching Marketing Lists.
View emfluence Activities within Your Records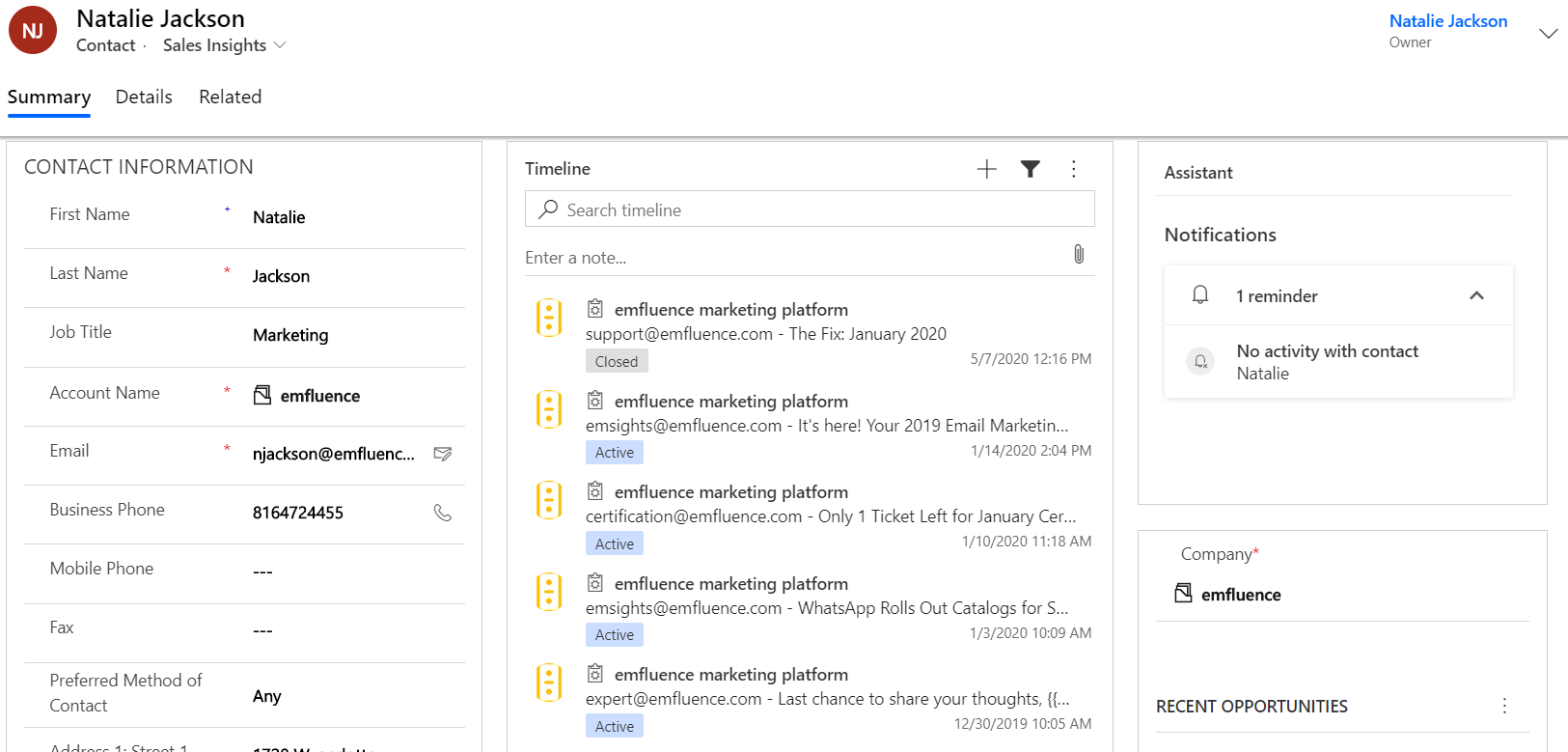 Credit emfluence Marketing Platform activities in your Lead and Contact timelines by viewing emfluence emails as part of your customer journey. Keep track of how your marketing emails are influencing sales by understanding how marketing messages integrate to the sales conversation in real time.
Want to ensure the sales team knows what activities your contacts or leads have taken with your marketing content? Choose which activities to sync to Microsoft Dynamics from emfluence as well:

Other Features You'll Like:
No one-to-one licensing for Microsoft Dynamics and emfluence
Visibility in Unified Interface or Classic View
Digital marketing agency support available, including email and marketing automation strategy assessments with Microsoft Dynamics experts
Get Started Today – Schedule a Demo Here
---
A Few of Our Microsoft Partners
If you're looking for expertise around Microsoft Dynamics, we recommend reaching out to one of our Microsoft Partners. Here are a few of our partners:
Comparison of the Top 4 Microsoft Dynamics CRM Marketing Automation Platforms
Marketo vs ClickDimensions vs Act-On vs emfluence Marketing Platform
Marketo
ClickDimensions
Act-On
emfluence Marketing Platform

Starting Price

$895/month
$499/month
$900/month
$700/month

Rating

Capterra: 4.2 / 5
Capterra: 3.4 / 5
Capterra: 4.3 / 5
Capterra: 4.7 / 5
G2: 4.1 / 5
G2: 3.9 / 5
G2: 4.1 / 5
G2: 4.3 / 5

Value

Top Ranked

Ease of Use

Top Ranked

Ease of Setup

Top Ranked

Quality of Support

Top Ranked

Features & Functionality

Top Ranked

Building and Personalizing Emails

Top Ranked

Sending Outbound Emails

Top Ranked

Managing Email Deliverability

Top Ranked

Landing Pages and Forms

Top Ranked

Creating Dynamic Content

Top Ranked

A/B Testing

Top Ranked

Marketing Lead Database

Top Ranked

Data Quality Management

Top Ranked

Segmentation

Top Ranked

Lead Scoring and Grading

Top Ranked

Lead Nurturing

Top Ranked
Top Ranked
Top Ranked

Online Behavior Tracking

Top Ranked

Automated Alerts and Tasks

Top Ranked

Event / Webinar Marketing

Top Ranked

Calendaring

Top Ranked

Social Campaigns

Top Ranked

Basic Reporting

Top Ranked

Web Analytics

Top Ranked

Workflow Capability

Top Ranked

User, Role, and Access Management

Top Ranked

Performance and Reliability

Top Ranked

Data Import & Export Tools

Top Ranked

Integration APIs

Top Ranked
Pricing Comparison
The emfluence Marketing Platform is priced based on the number of active contacts you have in the system each month (bounces and suppressions do not count toward your total). Unlike other marketing automation platforms, there is no additional cost for:
Users (up to 100)
Number of emails sent in a month
Support
API or Microsoft Dynamics integration
Plus, every new emfluence Marketing Platform client receives a custom-designed email template, a dedicated resource to help along every step in the onboarding process (from DKIM/SPF authentication to list migration, subdomain setup, and more), and two hours of one-on-one live training for their team.
Microsoft Dynamics 365 Marketing Automation Platforms Comparison
Why pick the emfluence Marketing Platform for your Microsoft Dynamics 365 or CRM environment? Our integration is deep enough to pull the most valuable data points and trigger information from your Microsoft Dynamics environment while still allowing you to do the visual and creative work of building campaigns in our platform. Plus, emfluence is a Certified Microsoft Partner and we use Microsoft Dynamics for ourselves as well—that means working with us comes with years of hands-on, real-world use cases for how to best leverage your Microsoft Dynamics environment for marketers like you.