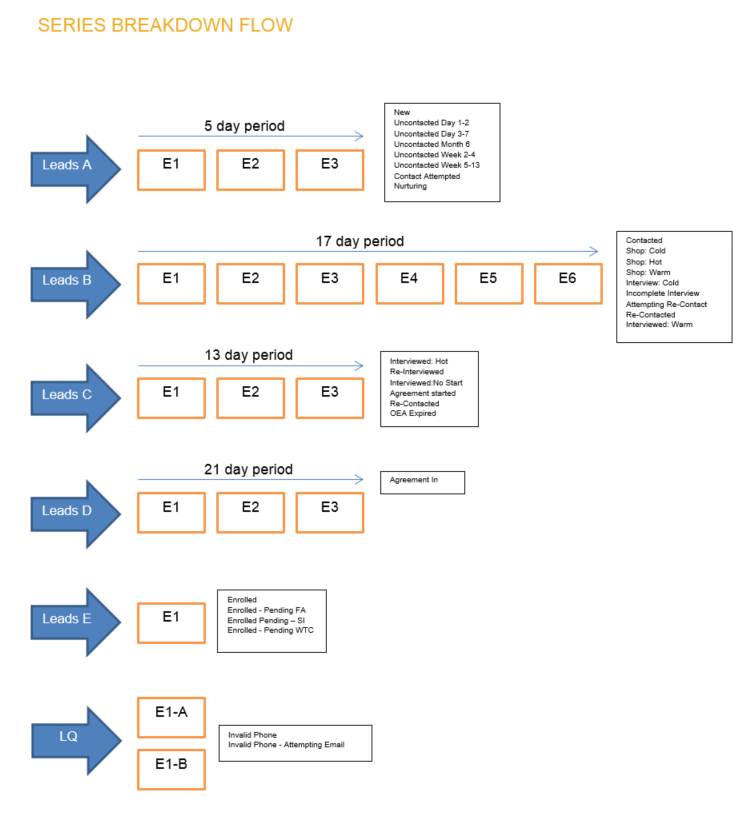 The Client
Grantham University was founded in 1951 by WWII Veteran Donald Grantham, whose desire was
to help fellow veterans improve their lives through higher education. As a 100% online university
serving a highly diverse student population, Grantham believes education should enhance your life – not get in the way of it. That's why everything they do, every single day, is centered on their students –
minimizing potential obstacles and maximizing quality learning.
The Strategy
Prospective students are assigned a different status based on their position in the sales cycle.
The lead series splits the statuses up into 5 overall categories to provide information to move
the student down the path of enrollment. Grantham is a military friendly university, so two versions of the email have been created. The military version includes military imagery and testimonials from other military students. The general or civilian version contains non-military imagery and testimonials.
All emails are personalized with the student's admission rep contact information. This is the same admission rep that will be contacting them by phone as well. Emails come from this rep's name
and email address as well.
The Tactics
Each day a new list comes over with updated student statuses and new prospects. The import automatically puts students into the correct drip series or bucket based on their status. Any changes to students currently in the series buckets remove the student if necessary or moves the student to a new bucket. There are about 35 different statuses that a lead could be listed as, so we created 5 different categories to sort the leads into.
The Results
The conversion rate or enrollment rate of prospects in this email campaign is 11.3%.
Results of open rates for each category of lead:
1. New Lead/Before Contact by Phone: 21.7%
2. After Contact/before Interview: 22.83%
3. After Interview/Before Application: 52.70%
4. After Application/Before Enrollment: 64%
5. Enrolled: 60.4%
Awards
Silver Ambit Award Winner – KCDMA