Looking for an easy way to stay connected at every point of the student lifecycle? Email and marketing automation can help you create personalized, automated campaigns that speak to where a student is located on your education timeline. Whether you're recruiting new students, engaging existing students, or staying in touch with recent graduates, the emfluence Marketing Platform has the tools for success.
---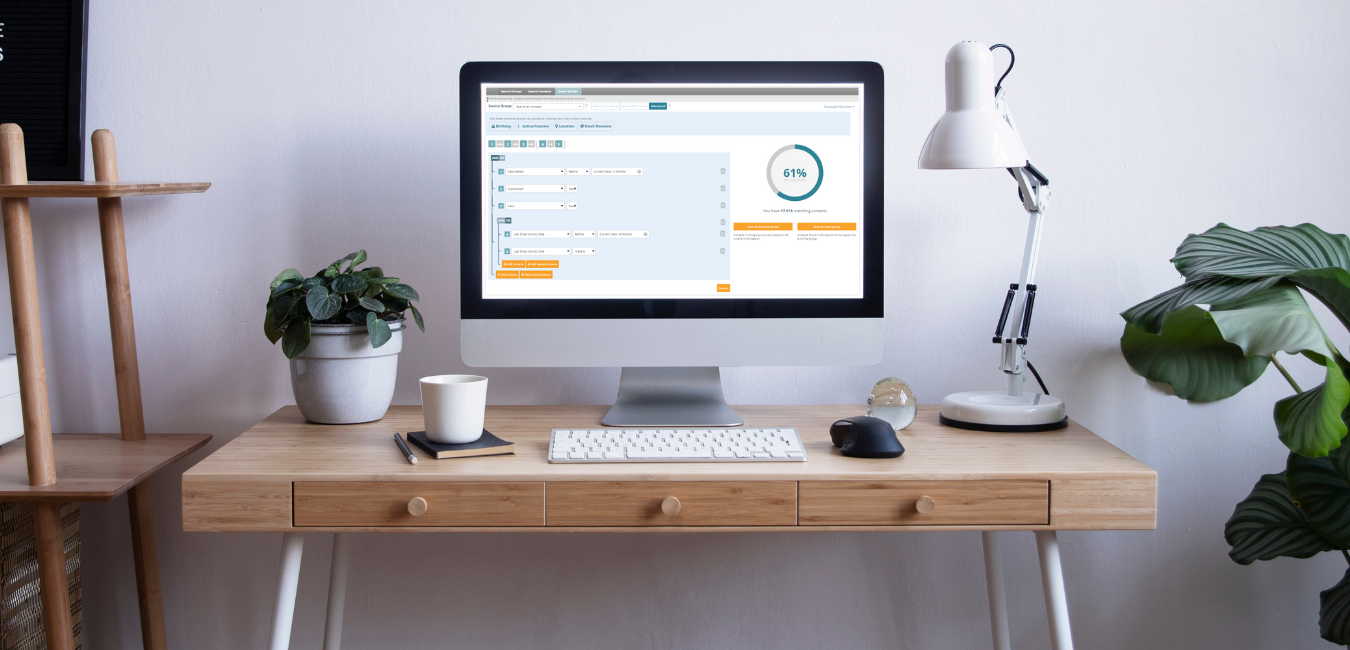 Higher Education Email Marketing Guide
Higher Education Email Marketing Examples
Engaging with prospective, new and recently graduated students can transform your marketing engine into a powerful source of referrals and advocates. Automate engagement with prospective students to assure timely follow-through with a personal touch, create a consistent stream of communication to engage existing students, create targeted, long-term alumni campaigns, and more. The emfluence Marketing Platform can help you grow your student funnel every step of the way.
Personalized Landing Pages for Prospective Students
Want to wow prospective students? Let them know they're accepted or encourage them to apply by creating personalized landing pages that showcase what makes them special to your school. You can even generate unique, personalized URL links to share in direct mail campaigns:
Event Promotion Campaigns
Leverage the emfluence Marketing Platform to promote on-campus or alumni events. Create events and plan your promotion strategy in the Marketing Calendar, automate emails and send messages to target audiences, and incorporate visuals like countdown timers to generate engagement.
Birthday Celebration Emails
Show your students and alumni how much you care about them with an automated birthday email. Choose from half-birthdays or actual birthdays and send them special offers, like a discount at the student union, a free coffee, or logoed apparel to celebrate:
Newsletter Strategy
Newsletters are a great way to add communication touchpoints throughout the year, especially once a former student has received a completed drip series. These publications can be monthly, or quarterly, depending on your internal resources. Use newsletters to keep your alumni network engaged for years to come:
---
Higher Education Marketing Automation Use Cases
Control User Permissions in Your Organization
Want to grant access to the emfluence Marketing Platform across several groups in your university? Control user permissions for sending emails, creating or editing groups, using or edited email and landing page templates, and more.
For a complete list of permissions, see our Implementation Guide: https://emarketingplatform.com/emfluence-marketing-platform-implementation-guide/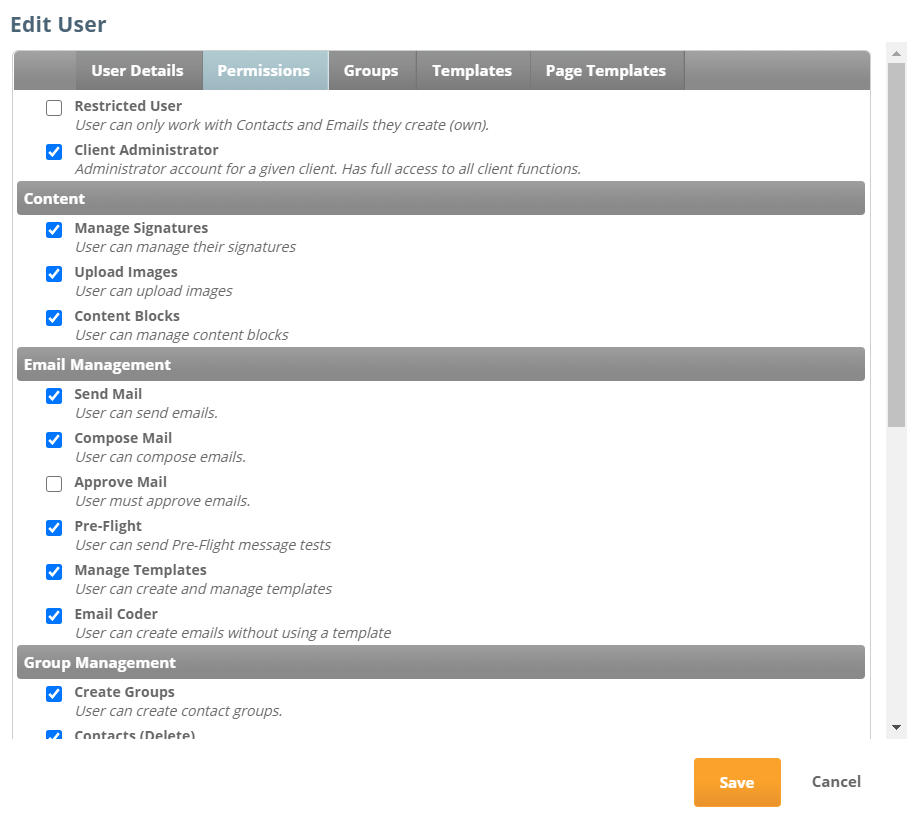 Build Appointment Forms for Tours
Build appointment forms in the emfluence Marketing Platform that can be deployed using your website or emfluence landing pages. You can even make the form part of an integrated campaign. Capture the data, send out an instant email reply, and automatically notify the appropriate staff members.

Automate Personalized Birthday Emails
Use the emfluence Query Builder to automate personalized birthday emails. Not only will it make alumni feel good to be remembered, but it adds another engagement opportunity that helps build trust into your alumni relations campaigns.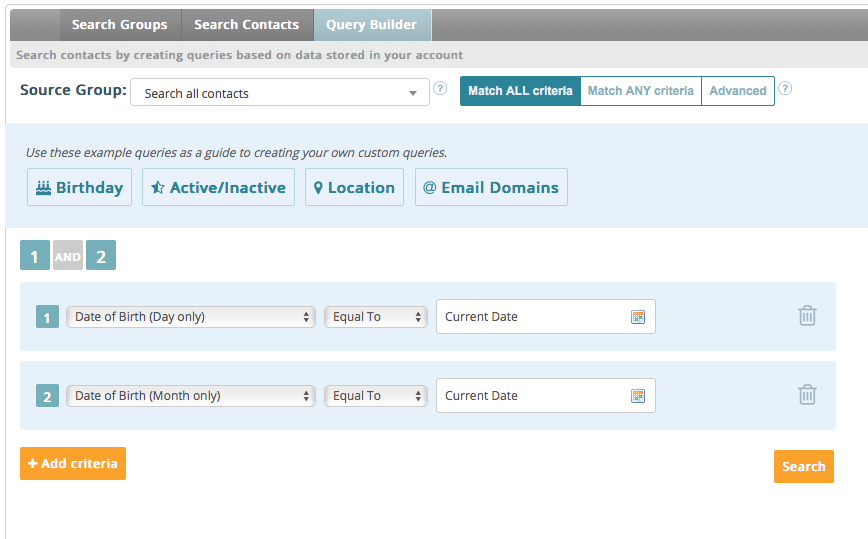 Create an Automated Post-Graduation Series
Many of our higher education marketers struggle with transitioning from a post-graduate's university email address to their personal email address. Using emfluence's drag and drop Workflow Builder, you can trigger a series designed to capture contact information in the weeks before graduation.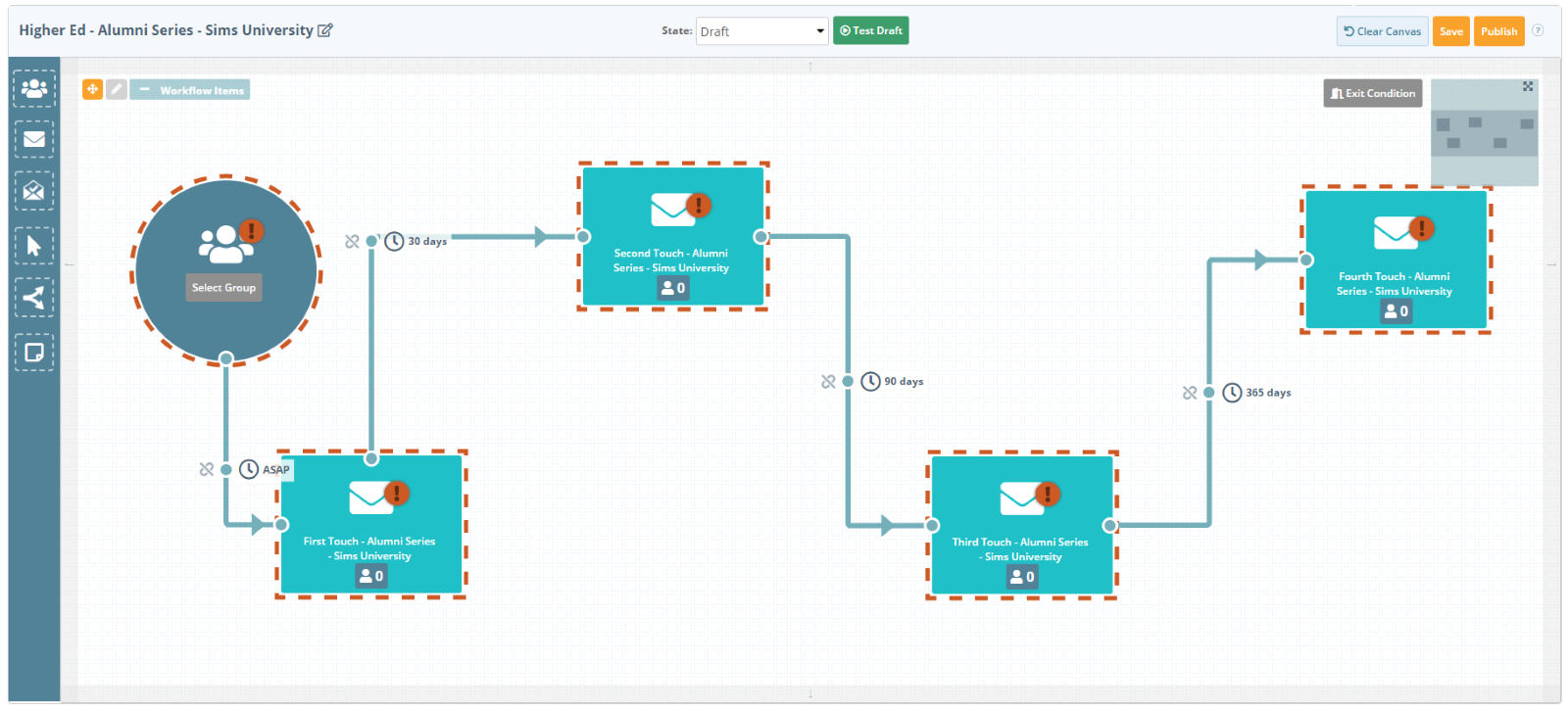 Create Personalized Landing Pages
Celebrate students who have been accepted or create personalized landing pages for prospective students using emfluence's customizable–and personalized–landing pages: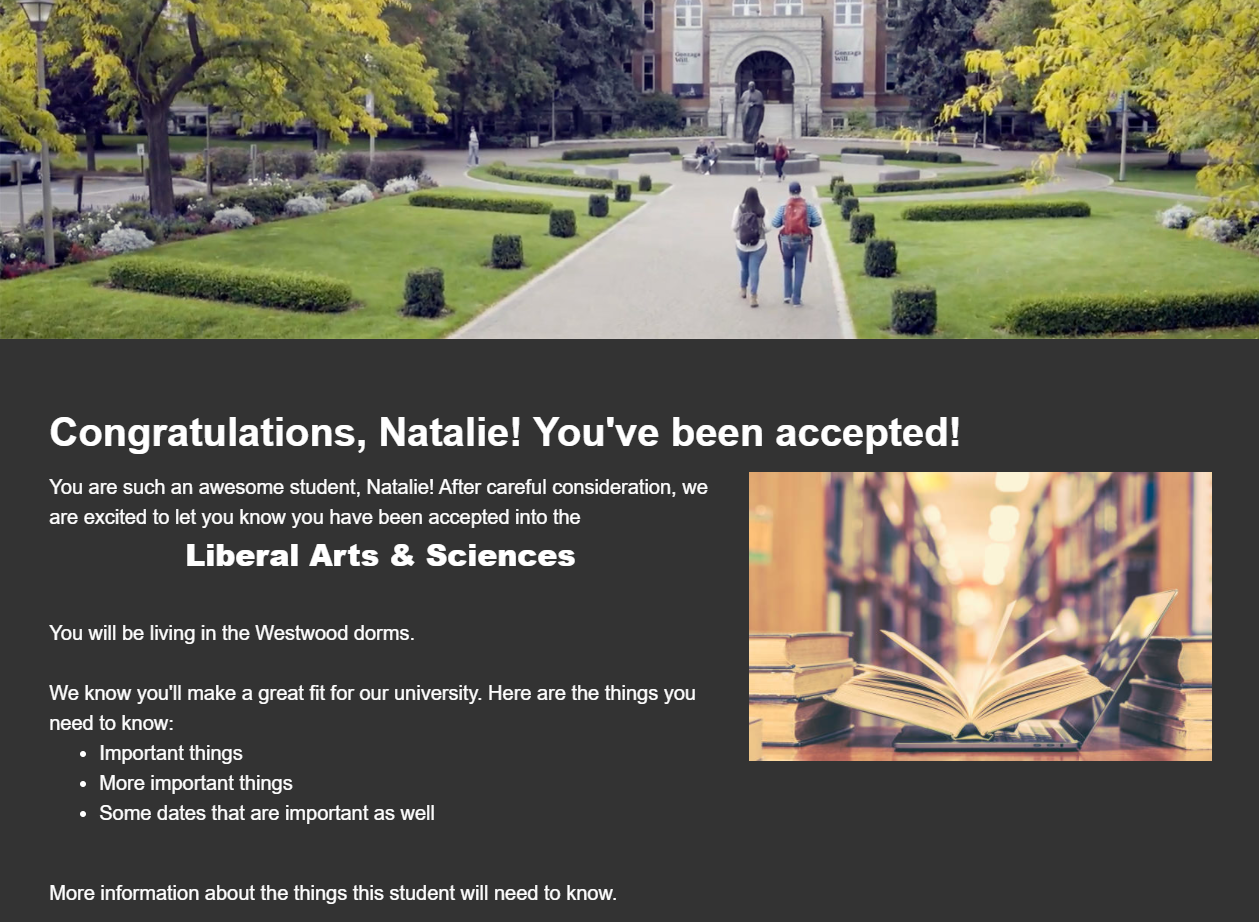 Build a New Student Lead Nurture Series
Build a new student lead nurture series for prospective students with custom decisions to automate emails with relevant information and to get them to book a tour or appointment. You can also automate appointment and application deadline reminders.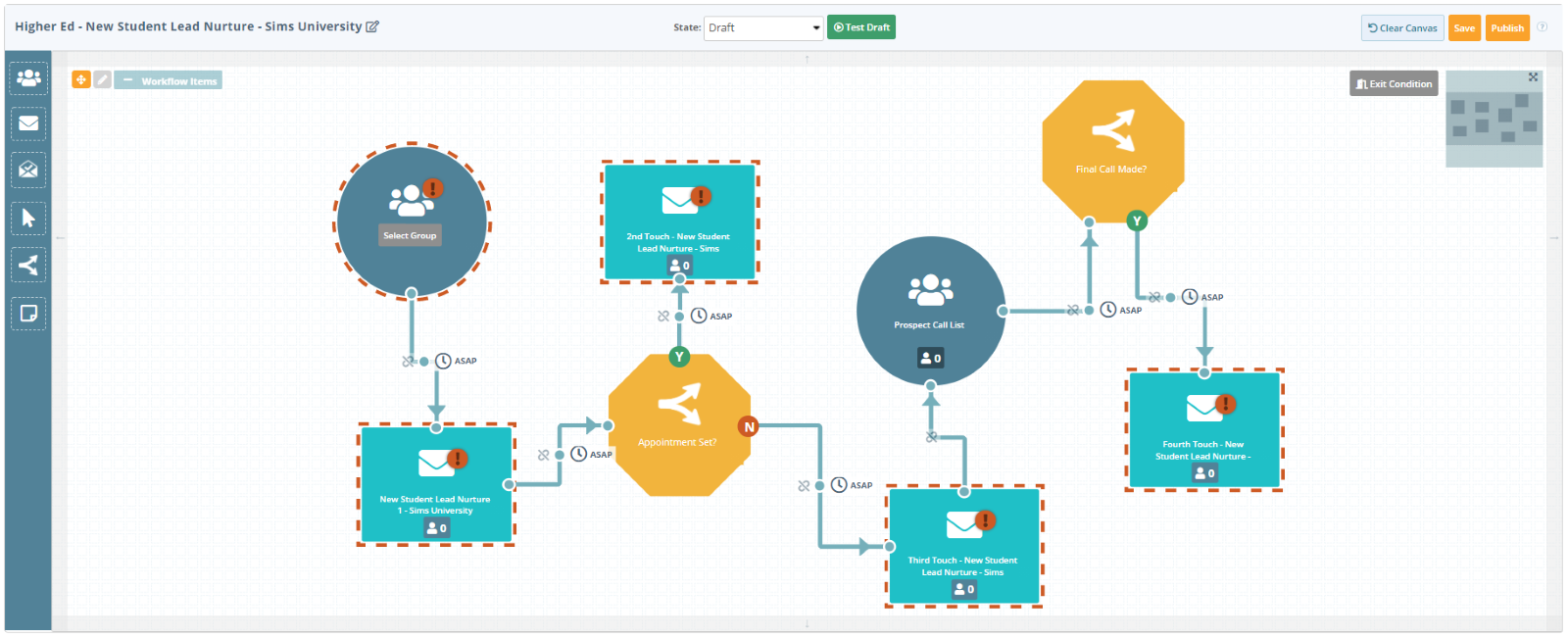 Marketing Calendar to Schedule Emails and Social Posts
Use the Marketing Calendar to schedule emails and social posts to remind prospective students of application deadlines or let existing students know about onsite events.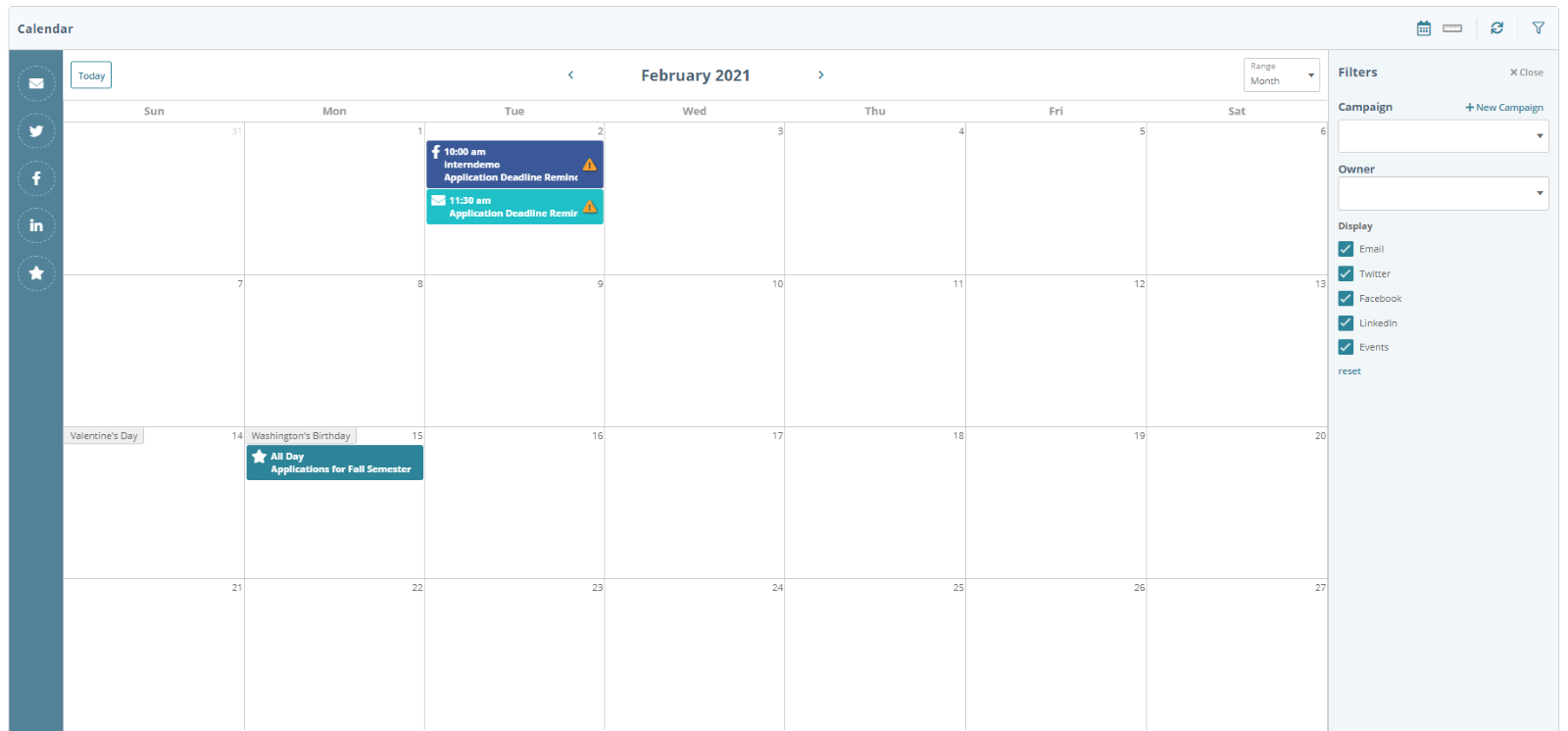 ---
Higher Education Email Templates
Build email templates to use as often as you like. You can create dozens of options for everyone to use, or make unique templates for individuals.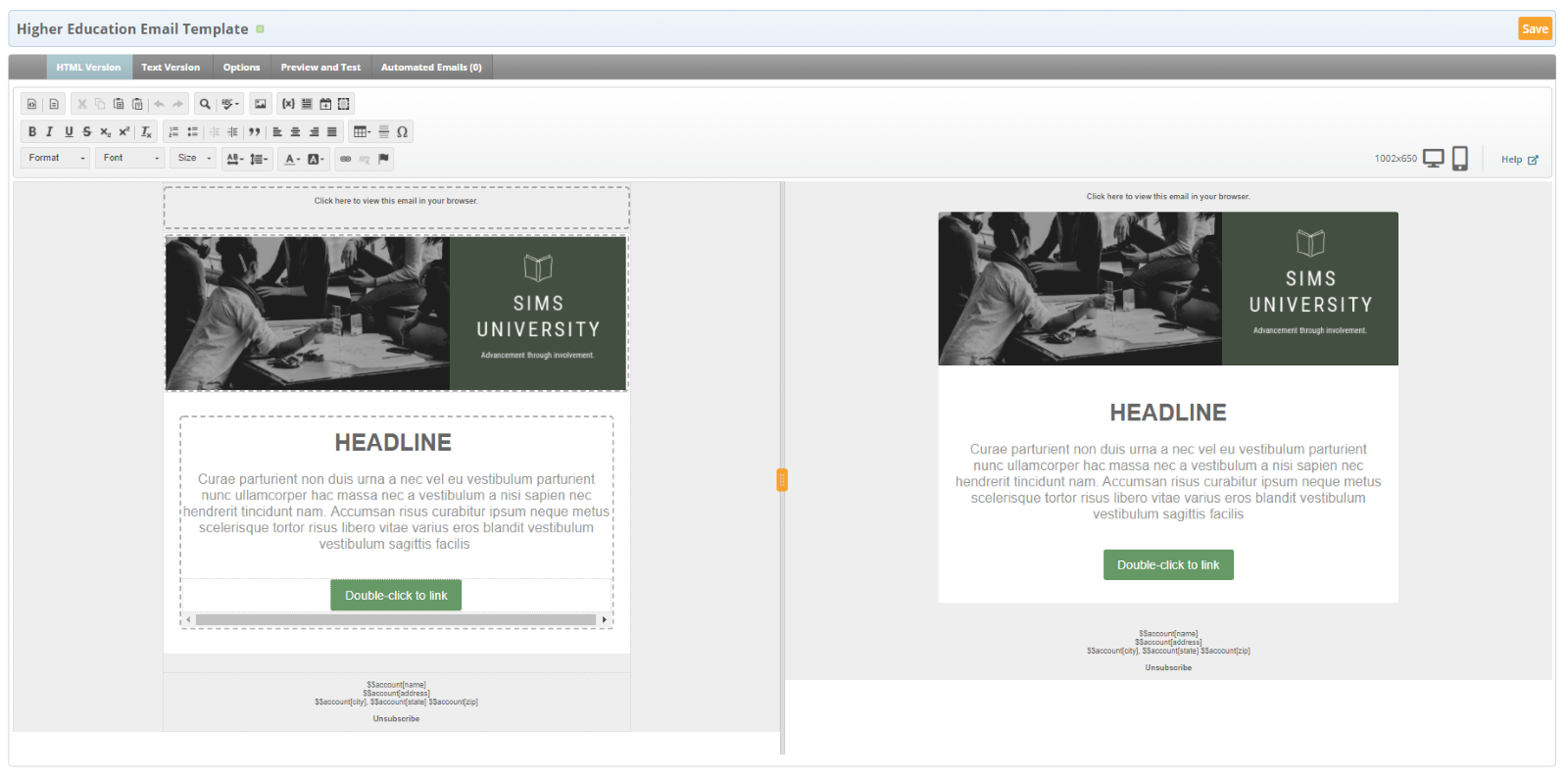 Email templates are built in the emfluence Marketing Platform using HTML or our drag-and-drop template builder.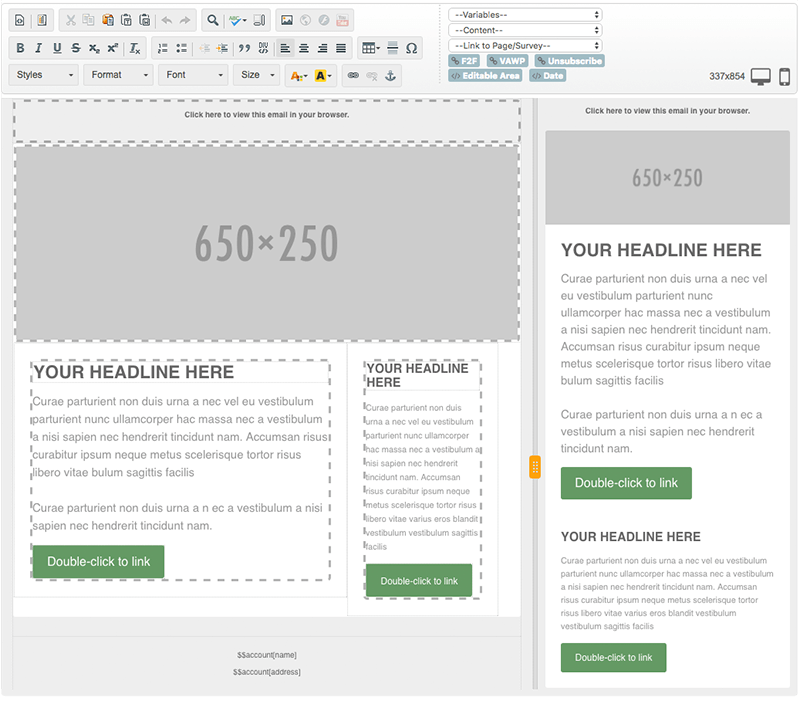 Customize and preset options for your email templates to control email defaults, recipient groups, which users have access, and more.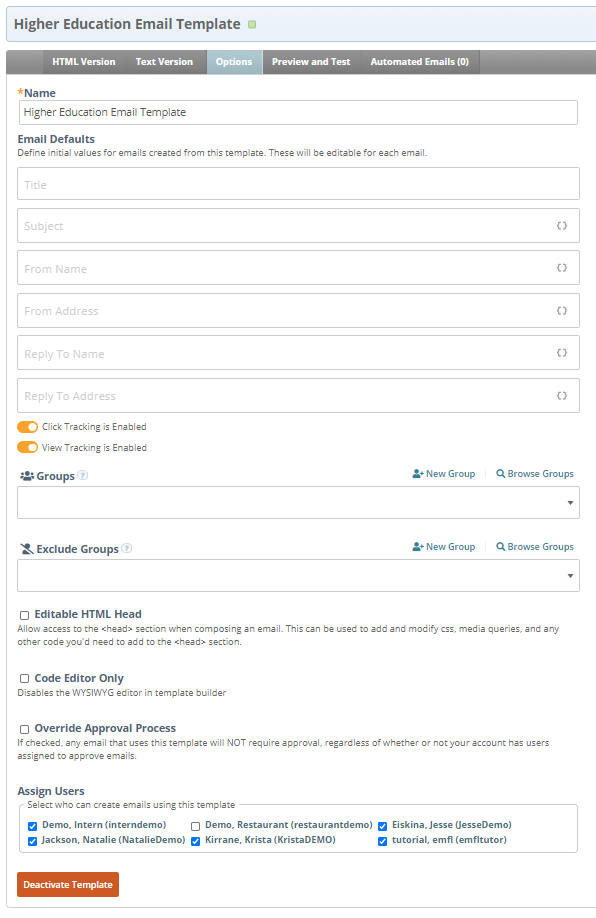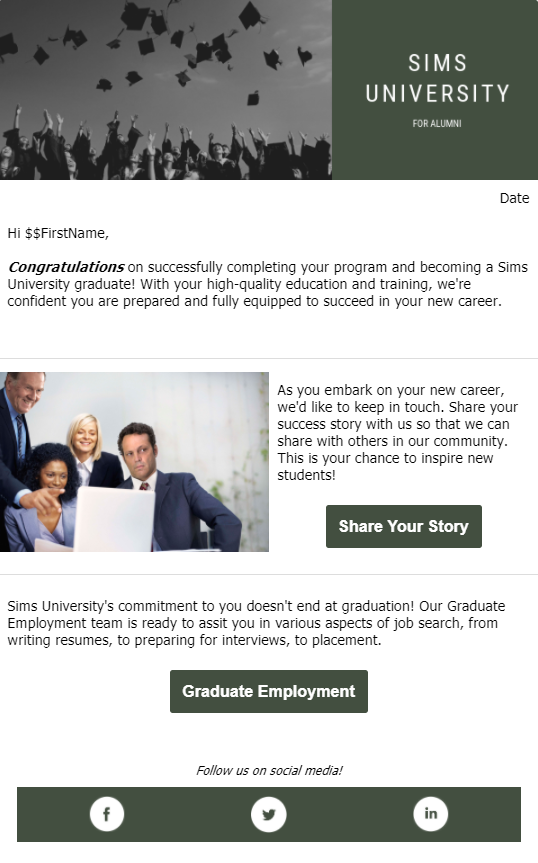 ---
Higher Education Email Resources
Grantham University Case Study
How to Build a Post-Graduation Email Series
https://more.emfluence.com/alumni-series
Concorde Career Colleges New Student Series
https://emfluence.com/case-study/concorde-career-colleges-new-student-series
How to Turn Students into Influencers: A Higher Education Marketing Story
https://emfluence.com/blog/turn-students-influencers-higher-education-marketing-story
How to Build a Newsletter Opt-In Welcome Series
---
A Few of Our Higher Education Clients

---
Higher Education Email Marketing Benchmarks
If you're routinely reviewing your own email metrics, you're off to a great start—and even better if you're comparing your data year over year. But measuring your own data is just the first step. Without benchmarks to compare your numbers to, how do you know if what you're doing is truly successful?
That's why we like to take a twice-yearly look into email marketing metrics compiled by our emfluence Marketing Platform users. Compiling masses of data on who is sending what and how it's performing provides a point of reference for your campaigns so that you can evaluate how your email marketing metrics compare to others in:
Your industry
Your audience
Your messaging style
Each of these reports compiles the unique open rate (unique views divided by total recipients), click rate (total clicks divided by total recipients), click-to-open rates (unique clicks divided by unique views), bounce rates (percentage of hard or soft bounces from total recipients), unsubscribe rate (number of people who unsubscribed out of total recipients), and complaint rate (total number of spam complaints in total recipients).
---
Higher Education Marketing Automation Software
An engaged student and alumni base can help higher education marketers tap into a network of advocates that can refer future students, share stories about their experiences, and fundraise for future initiatives they care about. But first, you have to create student and alumni relations experiences that are worth engaging with.