This month's emfluence Marketing Platform updates include stacking order options in email, downloadable 'Views' report, user types and more. See what our community has asked for and what we built:
Adding Contacts to Automated Emails
AR Asks: On an automated email, can you make it easier for me to queue those recipients for another automated email?

Have you ever added emails to the end of a workflow after contacts had already completed their journey and needed to push them to the next email in a series? Or needed to manually push them to an email in a separate series? We've made it considerably easier to do so by adding the 'Add Contacts to Automated Emails' button to existing automated emails. The option works the same way it does in the Contacts section by allowing you to choose and copy the list of contacts to another automated email.
Column Stacking Order on Mobile
RG Asks: Can you make it possible to reverse the column order on mobile?

emfluence has added an option in the drag-and-drop editor to control the stacking order on two-column layouts. The options allow you to use the template default, force a left over right, or force a right over left option on each column. You can find more information about this feature here. 
NOTE: It is possible custom-coded templates could break this feature.
Downloadable Views Report
SF Asks: Can you make the Views report downloadable?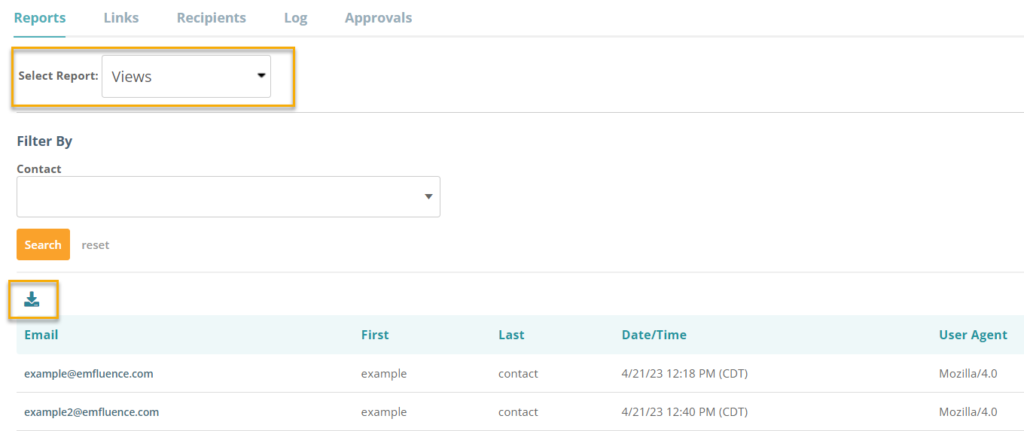 The views report, which can be found on the report download on the summary page of an email, can now be downloaded.
User Changes: Standard User and Notifications-Only User

If you've created new users recently, you might have noticed some additional options. Now you can choose a Standard User (what used to be called "Unrestricted User") and a Notifications-Only User. A Notifications-Only User would be the user type to assign someone who needs to receive notification emails (survey response notifications, scheduled reports, etc.) but doesn't need to log into the platform.
NOTE: Beginning May 5th, only users will able to continue to receive these types of emails and anyone needing to receive them must be a user. For those not needing further access other than controlling their own notifications, they can be created as Notifications-Only Users.
Got another request? Send them to us under the help section in the emfluence Marketing Platform!