This month's emfluence Marketing Platform updates includes connecting emfluence to your Instagram account, throttling over a single hour, the ability to see how contact scoring points are awarded, an easier way to add subdomains to landing pages, and registering domains. See what our community has asked for and what we built in April 2021:
Connect emfluence to Instagram
JH Asks: Can you add Instagram?
Instagram in emfluence is finally here! After being one of our most requested features, Instagram is now available along with Facebook, Twitter, and LinkedIn. You can connect and give access to any Instagram Business Account the same way you verified your other social accounts.
Throttle Delivery Over a Single Hour
KO Asks: Can you allow throttling to be done over a single hour?

While the default is still to throttle between 2 and 72 hours, you can now throttle an email over a single hour if you want some control over how quickly the emails are delivered.
See How Contact Scoring Points Are Awarded
SG Says: It would be nice to see how the contact scoring points are applied.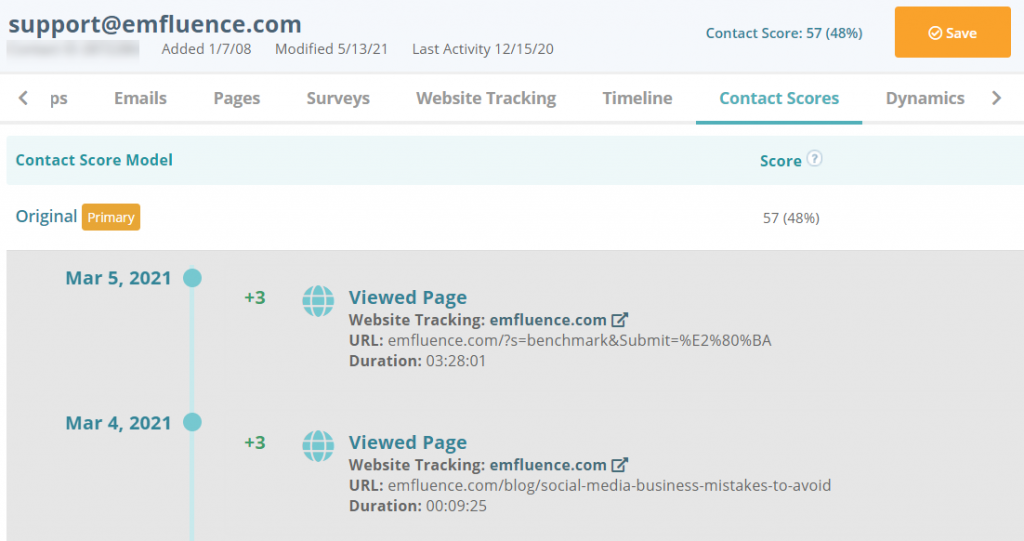 Now on a contact record, under the Contact Score tab, you can expand each Contact Score Model and see the points awarded to that contact for their most recent actions.
Easily Add Subdomains to Landing Pages
KO Asks: Can you provide a list of pending recipients for manual emails?

Can't remember your branded subdomain you set up to use within the emfluence Marketing Platform? Now, we'll give you a list of subdomains set up to use with your account. You can select from the dropdown and continue to type out the page's full individual URL.
Registered Domains

If you've been in your account settings recently, you may have noticed a new tab for Sending Domains. These are the domains that have been verified for use in your account. You may have also noticed when typing in a from address, the platform will suggest a domain for you. It's looking for the list of domains verified in the account and helping you choose one.

Misspelled or unverified domains often cause deliverability issues, so to avoid that, emfluence will soon turn on verification – meaning any emails using a domain not in your list will fail to send.

We would also like to make sure all domains are properly authenticated. If you've received a notification about a domain that is not properly authenticated, or you believe you may have one you wish to use, please reach out to support@emfluence.com.
Got another request? Send them to us under our help section!