Marketing strategies are crucial for any business looking for success. However, even the best strategies can benefit from the support of useful tools to help keep them focused on their goals. A powerful tool that we can't recommend enough is the marketing calendar. This serves as your go-to roadmap for planning and executing marketing initiatives effectively. With the correct use, this can impact your revenue generation and enable you to streamline your marketing decisions and processes.
The Impact Your Marketing Calendar Has on Revenue Generation
There's nothing worse than getting halfway through a quarter only to realize something was not aligned. When marketing efforts aren't properly coordinated, you could be faced with the stress and frenzy of ensuring everything is completed smoothly and on time. As a result, your work suffers, your team suffers, and likely your budget will suffer, too.
A well-designed marketing calendar can prevent all of this.
By having a clear view of where you're heading and how you plan to get there, you'll be able to strategically allocate or reallocate important resources, time, and budget to meet your needs and maximize your ROI.
A marketing calendar is the ideal solution because it enables you to plan campaigns in advance and go through the stages of research, development, and implementation with a clear timeline in mind. It can also help you identify any potential gaps you may face and give you a proactive head start to seek solutions. It provides plenty of notice to allow for adjustments when planning around employees' time off, providing creative briefs in a timely manner, and outsourcing work. All of this can contribute to a more impactful and effective marketing strategy.
Marketing Calendar Types
There are a variety of marketing calendars out there and you've likely encountered many of them while working across various platforms whether it's a marketing automation platform or your social media scheduling platform. These are the common ones that most marketers will utilize:
Social Media Calendar: This calendar revolves around your social media channels. With all of the different types of social media platforms available, having a calendar in place to plan and schedule posts is vital. Platforms to keep in mind include Facebook, LinkedIn, TikTok, Instagram, Twitter, Pinterest, and more. Since each platform has its own unique way of communicating whether it be through text, video, or photos, you'll need to account for that when structuring your own calendar. For some, having a separate calendar for each platform allows them to really flesh each content strategy out. For others, having a complete overview gives them insight on the entire story that's being told across channels.
Content Calendar: This calendar is focused on planning and organizing content creation and distribution. It will hold all of the information on blog posts, video, podcasts, infographics, whitepapers, and any other types of content you produce. The consistent, diverse, and engaging flow of information will ensure that your brand is being presented to audiences in a way that keeps your company top of mind.
Email Calendar: Email marketing is one of the most valuable ways we can nurture and engage leads that come through our sales and marketing funnel. This calendar manages all types of email campaigns you've built and keeps track of the targeted messaging you've created for your subscribers. Whether they've just entered the funnel or are getting close to converting, an email calendar can help you stay on top of what campaigns are running and what campaigns you can build out to work towards your goal.
Marketing Calendar Timeframes
An additional point about marketing calendars that is important to cover is the timeframe. Different types of marketing calendar timeframes serve different purposes and can help you plan your marketing strategy a few months to years in advance. Think about it as a way of setting long and short-term goals.
Before you get started, you can plan out your calendar using monthly, quarterly, or annual timeframes. In some cases, it's even a good idea to incorporate a two to three year outlook on major aspects of owned media that your company has. This could include content like your website, blog, or podcast.
How to Create a Marketing Calendar
There are various factors to consider when planning your marketing calendar. Below are a few to account for and steps for successfully creating your calendar:
Determine and allocate resources. It's always important to keep your resources and budget in mind when you start your calendar. It's not fun to spend all your effort building out a beautiful vision if you're unable to execute it. Figure out the necessary resources and budget that you'll need for each marketing activity and compare it to what you realistically have. Don't forget to include factors like content creation, ad spend, design, development, etc. when figuring this out. This will ensure that you are able to carry out your initiatives effectively.
Be sure to include different marketing calendar timeframes. As we mentioned above, it's important to think about different timeframes to accommodate all the marketing initiatives you're wanting to take on. Some may fall over a short period of time while others will build up over multiple months to accomplish a larger goal. Think about your short-term calendars as well as a comprehensive calendar that encompasses at least a couple of years.
Know your goals and objectives. Remember that your marketing calendar should center around your goals and objectives. This really helps you focus your content and efforts on your priorities. Whether you're wanting to increase awareness, drive traffic, or generate leads, your calendar should align with those goals and each project should contribute to their achievement.
Identify key moments on your calendar. These are milestones on your calendar that will anchor your overall marketing strategy. Think about key events that will kickstart something important in your journey to achieving your goals. For example, product launches, promotions, industry events, or key campaigns should be prominent on your calendar.
The emfluence Marketing Platform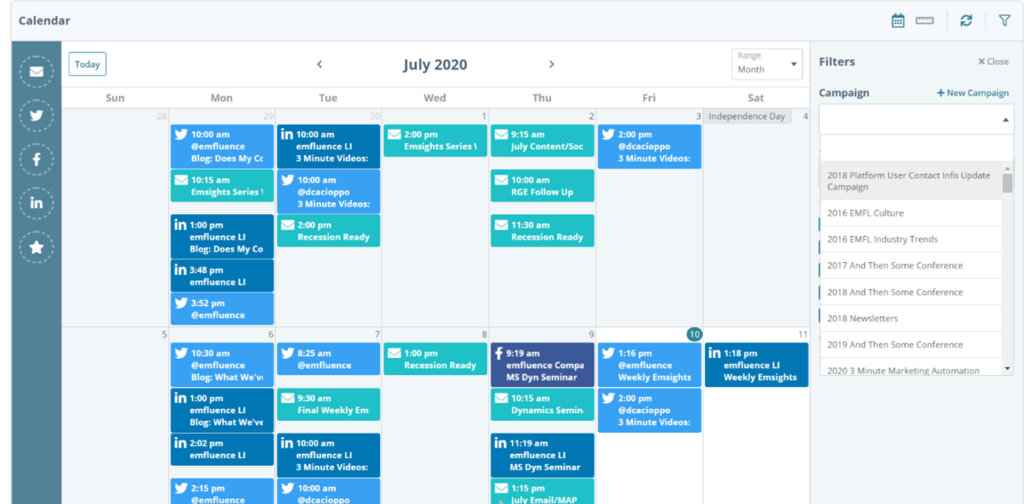 We know that a marketing calendar is more than just a calendar which is why we've built one to satisfy every marketer's needs. With straightforward UI and features, you can easily visualize your digital strategy and make edits to your campaigns as pieces shift in your timeline. Learn more about this marketing tool on our website.
Discover the power of the emfluence Marketing Platform's marketing calendar by watching a short video demo now!
We've also made pre-planning that much easier for marketers who want a bit of help getting started. Check out our Pre-Planning Content Calendar Template that interweaves social media and SEO to help you brainstorm and plan out upcoming content.  
Need some expert advice? Looking for savvy marketers to partner with or a marketing automation platform that was created with marketers' actual needs in mind? Contact us at expert@emfluence.com with your questions!