So you've got a list of purchased email addresses—now what? Whether you were pressured to buy this list, came across it in your marketing automation platform, or discovered it in your company files, the first thing you should know is that you should not send an email to these people. Not even to ask them if they want your emails—not even that.
It's tempting to sit on a list of potential buyers, and even more so if you're in B2B and can make a good guess that these email addresses belong to people in your exact target audience. It's even harder to sit on this list if you're getting pressure from your higher ups (we hear this all the time at emfluence, by the way). And it's even harder still if those higher ups bought the list sitting in your inbox with the expectation that you'll turn it into profit.
So what's a marketer to do if you can't send emails to the people on this purchased list? Our advice: put the list to use as part of a broader digital strategy.
Why You Can't Send to The Purchased List
If you're looking for ways to push back on pressure to send to a purchased list, there are two arguments we've seen work best:
Most marketing automation platforms and/or ESPs (the emfluence Marketing Platform included) have a clause in their agreements that specifically states that clients will not send to persons who have not affirmatively consented to receive emails. To send emails to a purchased list would be in violation of this clause and could get you booted from your contract. Why, you might ask? That's because…
Sending to email addresses that aren't expecting emails from you or that have never heard of you increases the likelihood that recipients will mark you as spam, will hard bounce, or that you will hit a spam trap. With an opt-in (asking for permission) versus an opt-out (sending until they say otherwise) strategy, you're much more likely to avoid the blacklist and see better results from email. You can read more about our perspective on that here: https://emarketingplatform.com/blog/opt-vs-opt-email-sign-whats-difference/
Of course, you may still get pushback. That's where your digital strategy comes into play. Here's how you can use those email addresses to still add value to your bottom line (without damaging your send reputation).
Create Content People Actually Want
In general, people subscribe to emails from brands for one of three reasons: they want an offer or a discount, they are looking for industry or interest-specific information, or they are looking for updates on what the brand sells. Evaluating whether your content matches these three desires is a good first step, and once you know the value you are offering, you can determine where—and when—to send these offerings. Start by mapping your customer journey. From here, you can determine where there are cracks in your sales pipeline, where marketing qualified leads might require attention, or where there are opportunities to nurture the customer relationship. We recommend starting with our customer journey worksheet:
Use Email Addresses as Custom Audiences in Digital Ads
This step in your digital strategy is about to change a bit with Google's announcement of the end of third-party cookies, but if you have enough email addresses, you can still use them on social media platforms like Facebook and LinkedIn to create targeted ads.
"While remarketing done through the use of first-party data will still be doable, the use of pixels to track users across their browsing history and the creation of lookalike audiences based on similar demographic-style info will fade away." –Dave Anderson, emfluence
Marketing platforms will become invaluable in the years to come. They provide a way to directly track users, collect and aggregate data, and execute campaigns without the use of third-party cookies, therefore shielding marketers and their campaigns from the disappearance of these cookies.
The emfluence Marketing Platform, for example, sets its own cookies for the domain the user is visiting and does not use third-party cookies. In the case of the emfluence Marketing Platform, even with third-party cookies disabled in Chrome, the tracking cookie still gets set, and the data collected is not impacted. This emphasizes the need for marketers to create a strong email list acquisition strategy that focuses on opt-in communications.
You can use that purchased email list to create ads on social media platforms designed to drive awareness and email signups. If you're B2B, push a whitepaper and encourage people to subscribe to your newsletters when they download the content. If you're B2C, encourage website visitors to subscribe to your promotions by enticing them with a discount code. Be sure you're making it easy to subscribe without overwhelming the experience.
Get Website Modals Involved
In marketing automation platforms like emfluence, marketers can trigger lightbox modals to encourage email subscriptions, including checkboxes on their content download or event registration pages that encourage visitors to subscribe to emails, and push email sign up as a CTA through paid social media campaigns. Strategies such as these that encourage users to volunteer their information and connect directly with marketers, platforms, and brands will need to be a focus in the future, and marketing platforms will be essential to those efforts.
Remember that you'll need an offer that's worth subscribing to, so be sure to include the "why" they should subscribe. It's also a good place to ask for preferences, like Pact does in their subscription model. These can be used to better target your email strategy in the campaigns to come: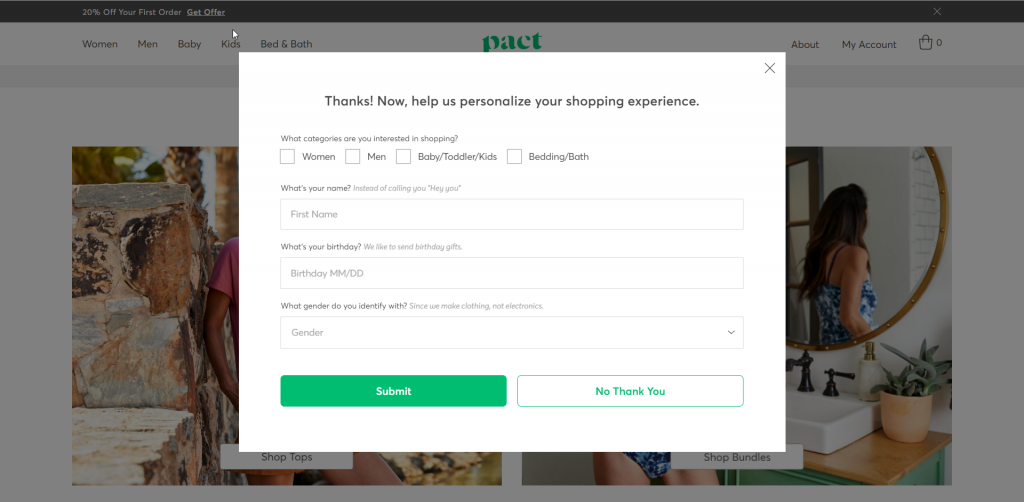 What If You Have Mailing Addresses instead of Emails?
This is common with trade shows and sometimes works well for dormant email addresses where you have mailing address information as well. A mailing address is much easier to acquire than an email, and people are much less angry to receive unsolicited mail. Using the emfluence Marketing Platform, you can create custom landing pages that are designed to encourage visitors to update their information, subscribe to receive an offer, or share their interests. Because the landing page is personal, you'll be able to track each individual who visits the landing page, even if their only source of contact is your mailer: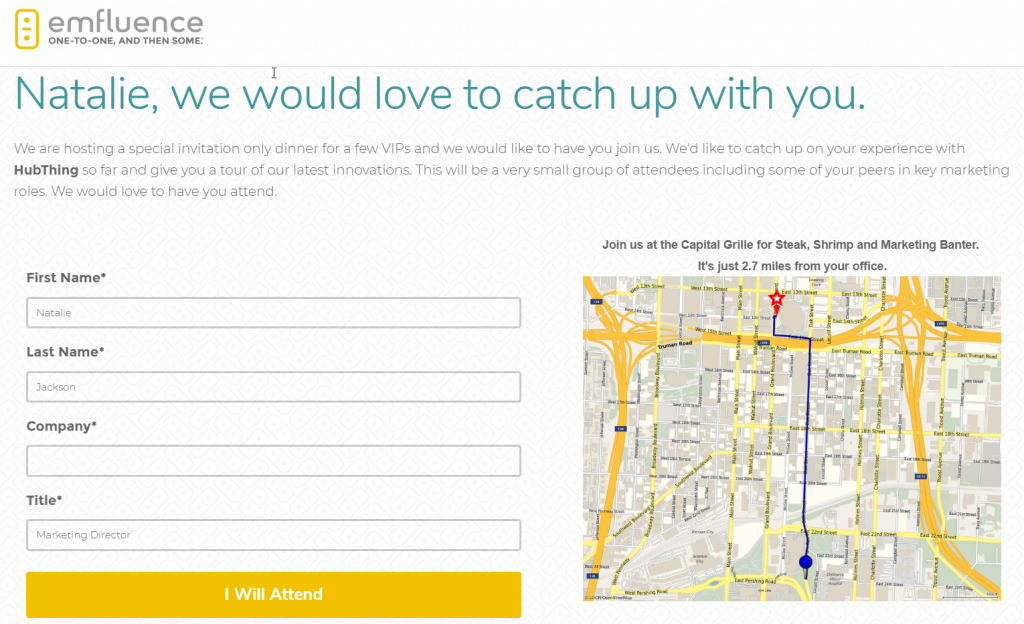 Think About the Journey, not the Destination
As a massive source of first-party data and direct connection with users, email and email addresses will be more important than ever now that third-party cookies are going away. They can be used as unique identifiers to match and target audiences, and they allow marketers to reach users directly—a task which the removal of third-party cookies will make significantly more difficult. Therefore, it'll be imperative that marketers increase their ability to leverage interactive content and content marketing to collect email addresses from users, create opt-in only experiences, and discover exactly the type of content their audiences are looking for. But the first step is asking for permission first, then giving people a reason to subscribe.