Holiday cheer, string lights, Black Friday frenzies, candy canes, and hot chocolate may be the last thing on your customers' minds right now, especially with the sweltering heat of summer bearing down.  
Marketers, however, have to work a few steps ahead which means that while swimming pools and cool drinks dance through the minds of our audiences, sugar plums and Christmas trees are dancing through ours.  
We're here to remind you that the holidays are fast approaching and while half a year may seem like plenty of time to prepare, the holiday season always comes at us fast and furious. For those that are looking to be at the top of their game, we recommend that the planning start as soon as possible.
So join us in getting your email marketing ready for the holidays!
Holiday Email Marketing
The holidays are a busy time filled with the hustle and bustle of shoppers preparing for feasts, gift exchanges, and special events for their loved ones. This is also why the holiday season is a chaotic time for email marketing. We all know that any sort of campaign that is worked on during any other time throughout the year doesn't come with the same opportunities as those that are deployed around the holidays.  
This is the perfect time to craft impactful strategies that not only increase sales but maximize revenue during the busy holiday season. With so much hanging on this short period of time, it's vital to have a plan in place.  
Email Lists and Organization
The first place to start is your email list — making sure these are ready to go is one of the very basics of holiday marketing preparedness.  
Build Your List
This is not the time to slow down your efforts when it comes to growing your list. In fact, it's best to focus on it now so that it is filled with high-quality contacts for your holiday marketing campaign. Take some time to look over your current strategy and content and evaluate where improvements can be made. Do you need to refresh your blog? Create new content? Do an SEO audit? Putting in the work now will lead to more success during the holidays.
Searching for new ideas? Check out our recent article, 10 Infallible Ways to Build an Email List. 
Organize Your List 
One of the most powerful pieces of data your company owns is their email list. This is information that you have worked hard to earn and helps map out how campaigns could run and what to include with each email.  
Before the holidays even begin, take some time to really organize your list. Segment your audiences properly based on their level of engagement so that you know you're showing relevant content to the right people. You may be interested in grouping your audience by VIP customers, high total transaction customers, high average order value customers, and even those who have never made a purchase or haven't made a purchase in a while. 
Making these distinctions can help you create targeted messaging that incorporates personalized offers or shopping experiences rather than sending out a one-size-fits all email.   
Reengage Your List
Once the organizing is finished, you'll probably notice that there are those who are always clicking and those who have not interacted much at all after initial contact. These contacts aren't a complete loss yet. Utilize the benefits of a reengagement campaign to try to pull them back in.  
A couple of ideas to try out:
Share new features that your audience is missing out on.
Send a "we miss you" or "are you still there?" message and offer a discount.
Include a cute meme or joke that pokes fun at subscribers ignoring you.
Give them the option to dictate what sorts of emails make it into their inbox.
And finally, as much as it might hurt, give them the option to opt out. Create a witty opt-out email that expresses your sadness at seeing them go and also gives them the option to stay opted in.  
If they decide to leave anyway, don't take it to heart. While losing an email subscriber may be painful after all the effort that is put into gaining them, it's not worth it to have a disengaged and disinterested subscriber on your list. It's better to weed these contacts out.  
Christmas in July? Holiday Marketing Strategies to Implement All Year Round
You can find inspiration for your holiday marketing strategy from all sorts of places — ads streaming on Hulu to in-store signage while walking around running errands. If you're looking for one place to gather several ideas, we've got them on hand. Check out these email marketing tips to incorporate to keep you ahead of the holidays. We've even included some holiday email examples to help you visualize! 
Develop Content Early
There's a lot of effort that can be put into content long before the holiday season. Remember that it's not just the quantity of content that matters but the quality. Think interactivity, personalization, and engagement when trying to create high-value content. While there may be many emails going out during this time, innovative content that stands out will get your audience excited for whatever you have in store.  
Whether it's a gift guide that highlights all the best products or a how-to rundown of utilizing your services or tools in a way that fits the holiday spirit, customers will appreciate the extra steps you've taken to develop something that helps and guides them.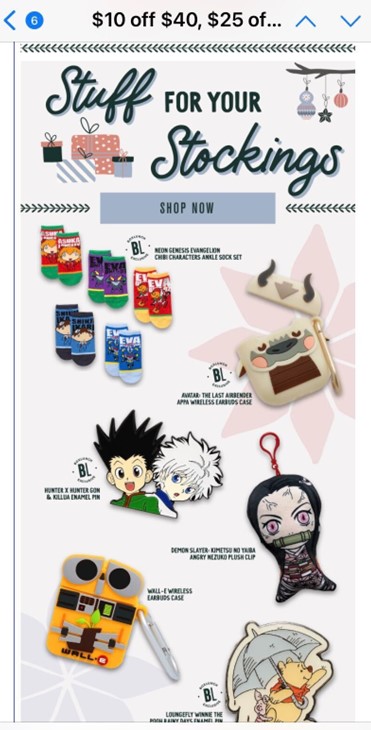 Box Lunch sent out this fun stocking stuffer guide during their holiday email campaign last year. By including a variety of items for people to see right in their email inbox, they've created a clever way to urge people to click and browse the site.  
Branch Out
The convenient thing about holidays is that you know exactly when they are happening each year so while other kinds of email campaigns rely on specific events or triggers, holidays can easily be included in your strategy months in advance.
With that being said, it also means you can celebrate all sorts of holidays since you know exactly when they're occurring. Why stick to just those that fall in the winter season? There are plenty throughout the year and even more "National ______ Days." Make it fun for you and your audience by diving into one of them and offering promotions or features that relate.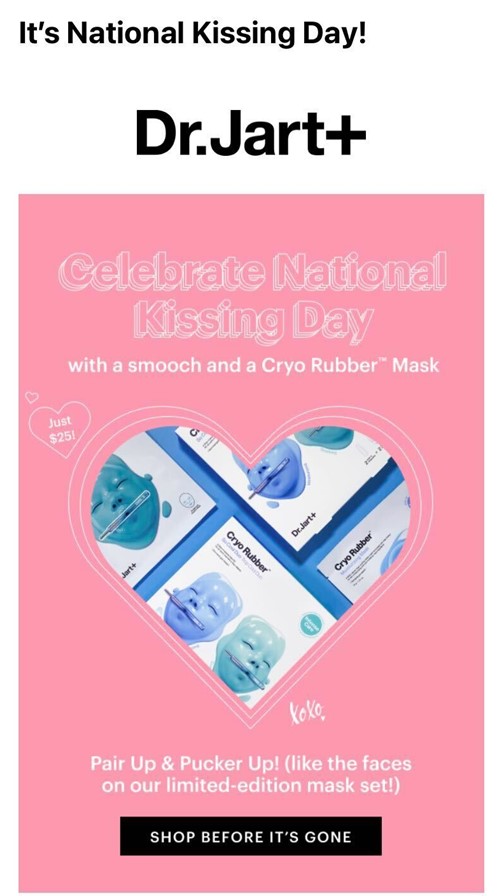 Dr. Jart+ shared a bright email on National Kissing Day promoting their limited-edition face masks. Emails like this are a surprise to receive in an inbox and break up the regular advertisements and sales emails that your subscribers are already receiving.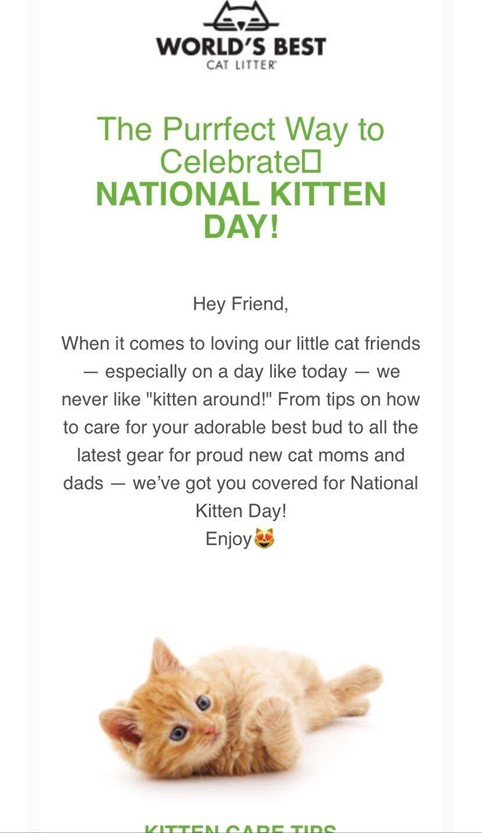 Another place to draw inspiration from in relation to national days are ones that relate specifically to your brand. For example, World's Best Cat Litter is a cat litter brand that used National Kitten Day to send out an email with a care guide and product link. This is a fun way to insert their voice where relevant and you'd better believe they also have marketing mapped out for National Cat Day, National Adoption Day, and others of the sort.  
Learn from The Past
Just because a campaign has been executed doesn't mean it has to stay in your "done" pile. Your past campaigns is a great archive of ideas to browse, and the best part is, you already have all the data associated with the successes (and even failures) of them.  
Looking back on past campaigns can bring significant insights into what works and what doesn't. This way you can avoid any repeat mishaps, saving budget and time, while also borrowing ideas from campaign strategies that did work.  
Insert Reminders
While the holidays are on people's mind pretty much 24/7 between late October and late December, it doesn't mean that your company is on their minds. People may be interested in your deals but your emails have since gotten lost in their inbox or jumbled in with all the other deals that are being offered.  
Again, there is a lot going on during this time of year which means people may remember your deals but forget the company they are associated with or be a lover of your brand but forget which promotions run when. There's also those who are late shoppers and need reminders that their purchases needed to be made right away to receive them on time.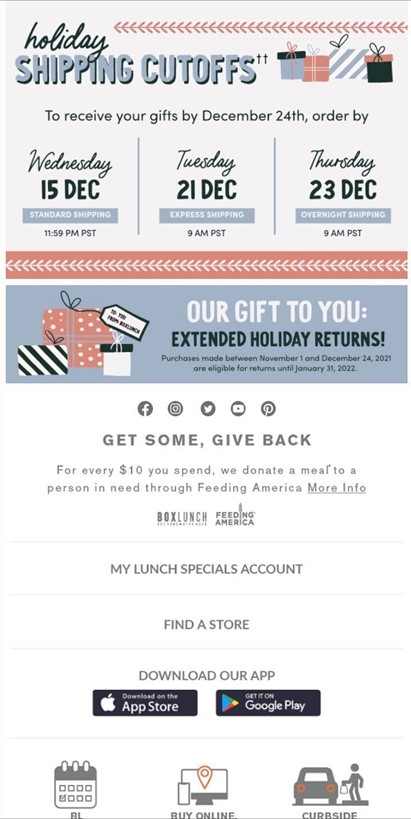 Reminder emails break it down for people, just like this one from Box Lunch that clearly lists out the days someone needs to order by in order to receive their items by December 24. 
Promote Early
Get your customers thinking ahead and looking forward to all there is to offer down the line. Whether you find it tasteful or annoying that people start introducing holiday gear way in advance, you have to admit that it puts the idea in your head. For example, we've all run into the situation where we see stores stocking shelves with Halloween décor and costumes in early September or swapping out holiday décor even before the actual day has passed.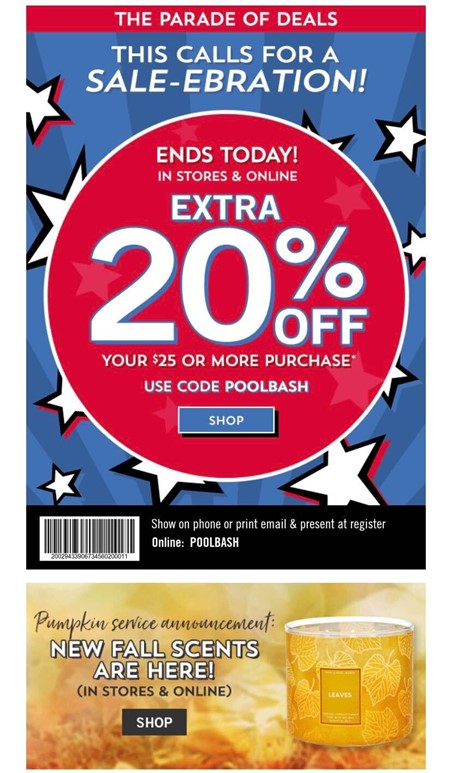 Bath and Body Works operates ahead of schedule. This was their recent Fourth of July promotional email that includes a PSA or "pumpkin service announcement" about the fall scents that are making their way into stores. Does it seem a bit early? Maybe. But it also stores that information in the back of your head and gets you thinking about chilly fall air and sweater weather.  
Highlight Holiday Promotions
It's a given that you're going to include all the best deals your company has to offer in your holiday emails. But also remember to include any holiday-related details that make the offers even more enticing.
Below are a couple of examples of what we mean: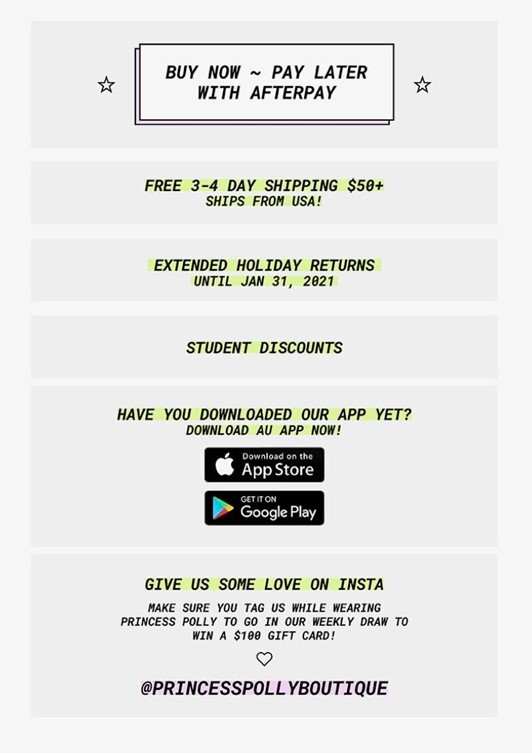 Princess Polly offered extended returns on all holiday shopping by making the deadline for returning items the end of January rather than the standard one month from purchase. This makes shopping a much easier experience because customers feel secure in their purchases, knowing that anything that doesn't fit, doesn't match, or doesn't live up to expectations can be refunded.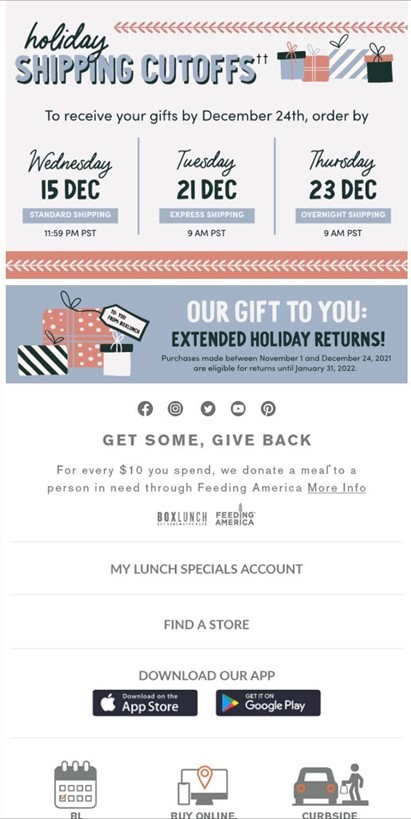 Touching on this email example again, Box Lunch also offers extended holiday returns which is a nice add-on to whatever promotions and sales are already going on. As an even better bonus that fits perfectly with the season of giving, they've also included their mission that for every $10 spent by their customers, a meal is donated through Feeding America.  
Cross Promote Your Platforms
Now is not the time to let up on promoting your other channels whether that's social media or a specially designed app. You want to get your audience onto your sites and profiles, consuming the content you've worked hard on and spreading the love. How does that happen? Add an incentive of course!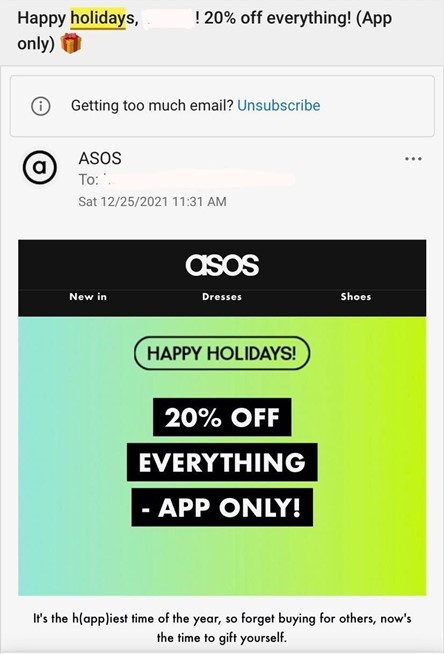 This is a useful example of bundling deals with what you'd like your customers to do. ASOS offered a 20 percent off deal to any and all customers as long as the purchase was made through their app. This is a great way to direct people to specific places and drive traffic where needed. Other ideas include a discount for signing up for text messages or running promotions where the first 100 to purchase a product also receive a freebie.  
Keep It Simple
It can be really easy to get engrossed in creating the most beautiful gift guides or building email designs that highlight the coolest products. However, let's step into our customers' shoes for a second. Maybe they actually have no idea what fits or what to purchase. In that case, make it easy for them by reminding them of an option that works for everyone.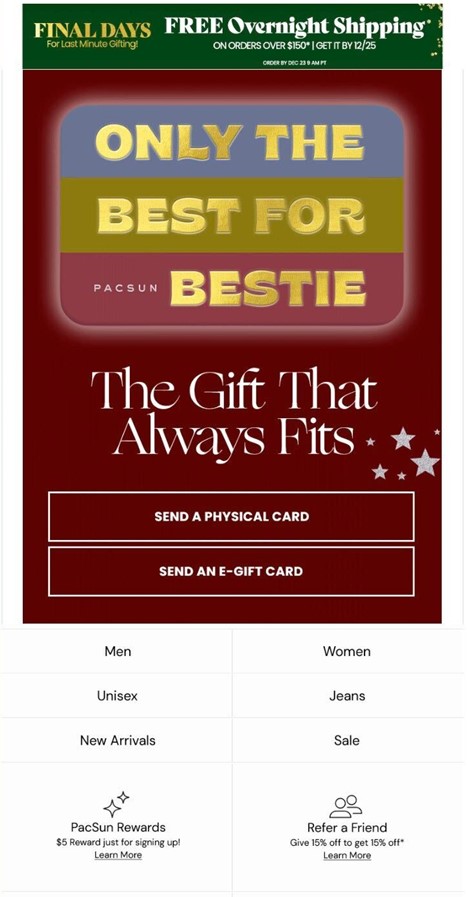 This PacSun email included a rotating GIF of various gift card designs and the entire email was created solely to remind people that, "Hey, sometimes a gift card is the best idea". The email also includes a nice reminder of holiday deadlines and offers free overnight shipping for those who really need it.  
The Takeaway
Email marketing takes on a whole new meaning during the holiday season. Start by solidifying your base to maximize your potential returns when the season rolls around and design your campaigns from there. There's a reason why this is a stressful but fun time for email marketers everywhere. These months come with celebrations, profit potential, and even hints of magic if you prepare properly.