Marketing campaigns are spearheaded by headstrong creatives with data-driven intuition and endless ideas. However, if it really comes down to it, email lists are the bread and butter of the marketing world. Efforts we put into our email lists attract and retain customers, creating a long-term solution that powers growth.  
What is an Email List?
An email list is that oh-so-important stash of data that contains contact information for those that have voluntarily subscribed to receiving emails from your company.
This is one of the best assets you own because it is a media and communication channel that you have complete control over. Also know as "owned media", this form of outreach is unlike social media or search engine marketing because it isn't impacted by algorithms.  
What is List Building?
List building is half the job for marketers. It's obvious that we value campaigns that get the message across in a creative way. However, you need email addresses to send these messages to! That's where list building comes in. Marketing isn't just about creating the materials but also generating the contacts to share them with.  
How to Build an Email List
You probably have some sort of system in place already to keep track of the email addresses that come your way. This might be a pile of business cards and scrap pieces of paper if you're someone who meets new contacts and prospects out and about, or it may be some sort of listserv created with the email provider that you're utilizing.  
When it comes down to it, you can do whatever makes the most sense to you, but we always recommend marketing automation software when it comes to managing and organizing your database. Not only is it specifically created to store contacts, but it also helps you keep track of the types of interactions each contact has had with your brand and use these insights in each email campaign. This means personalized and unique experiences for your subscribers as well as the right messaging sent at the right time. If you're looking for a place to start, check out all the features included in emfluence's intuitive marketing automation platform.  
How to Grow an Email List
While numbers are an important metric when it comes to growing your subscriber database, you also want to focus on list health as you scale. A long list may get you some sort of outreach (if people choose to open your emails), but a healthy list will get you conversions.  
When looking at list health, prioritizing engagement metrics can help you determine who is interested in your brand and who isn't. This will look a little different depending on your company so use your data to inform your strategies. There may be instances where people are only interacting with your emails during an annual sale or the holidays but are big spenders when they do, so keep all types of customers in mind.  
Another point that we like to bring up is permission. The email inbox is a safe space that requires an invitation. Most people don't appreciate messages they didn't sign up for. This is why we emphasize consent when growing your audience, which means buying lists or randomly adding emails is frowned upon. Not only can it create problems for your email deliverability, adding these names will only lead to a cluttered list.
List Building Strategies
1. Embedded Sign-Up Forms
When just starting to grow your list, you may want to keep it simple. People know to look for a sign-up section if they're interested so having the form on your site in an easy-to-spot location can do the trick. Embedded sign-up forms blend well with the rest of the web page and won't take away from what's already there but still offer visitors the option to receive communications.  

2. Welcome Lightboxes
Lightboxes appear after a few seconds of browsing a web page. These are quick ways to redirect your visitor's attention towards future interactions. The useful thing with lightboxes is that they aren't solely limited to home page visits. You can customize them to appear on any page of your site and for any number of reasons. Some people like to throw one up just as visitors are about to exit their site.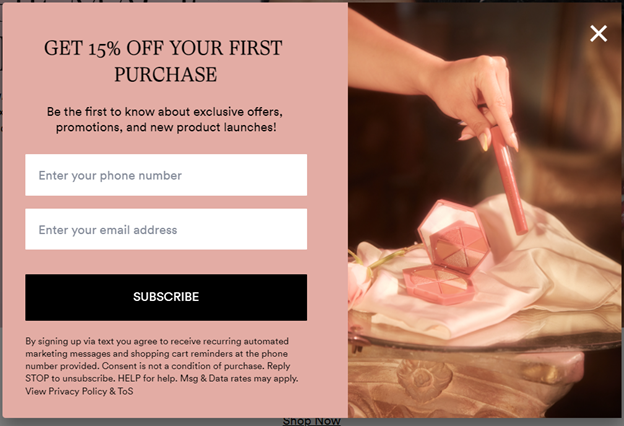 3. Overlap Your Strategies
Email marketing doesn't need to be completely separate from all other marketing channels you're using. In fact, when you find a way to integrate your strategies, you're able to get more out of it. Social media is one way to expand your email audience by tapping into your audiences on other channels. Run ads on Facebook or link to your email sign-up form in your Instagram stories. Your website content can also be leveraged. Invest in good SEO research to bolster your credibility with search engines. 
4. Incentives
There are plenty of fun deals and promotions that you can include for first time subscribers. You've probably come across many examples of this yourself—typically a lightbox will appear with an offer for first-time purchasers in exchange for their email. These are quick and easy to fill out and help you get that initial foot in the door.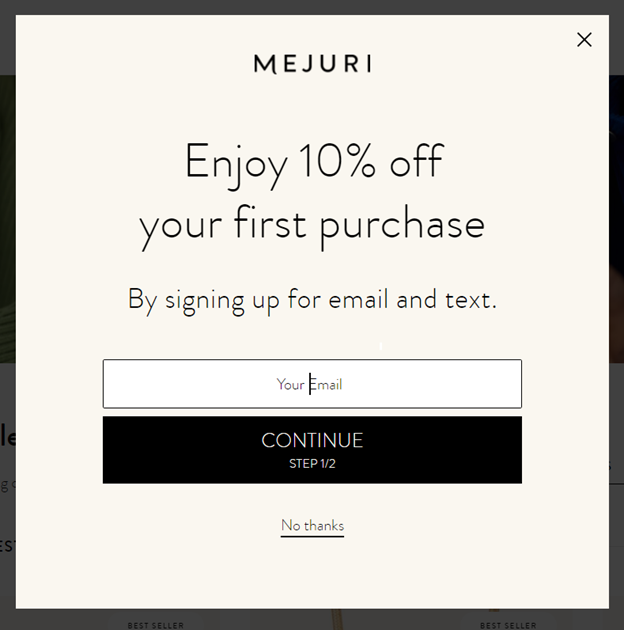 5. Giveaways
Urban Outfitters got pretty creative with their giveaway by offering a chance to win a gift card in exchange for a review. The catch? Submitting a review involves creating an account and providing your contact information.

6. Creative Copy
Have you ever thought twice before clicking "no" on an email sign-up, especially when it's cleverly phrased in a way that creates some type of dissonance in your thinking? For example, being presented with "Yes, sign me up!" and "No, I don't like saving money." as your two options during an email opt-in. Creative copy like this makes people pause and reconsider. Instead of an automatic no, the train of thought becomes, "Wait, I do like saving money and even though I wasn't originally intrigued, maybe I should sign up just in case".
7. Gated Content
We're most familiar with the gated content that's offered through subscription sites such as your favorite streaming service or your daily news briefing. Putting this type of barrier between what the consumer wants and what you offer is one way of growing your list. If they're interested enough, they'll sign up and then you have yourself a quality lead.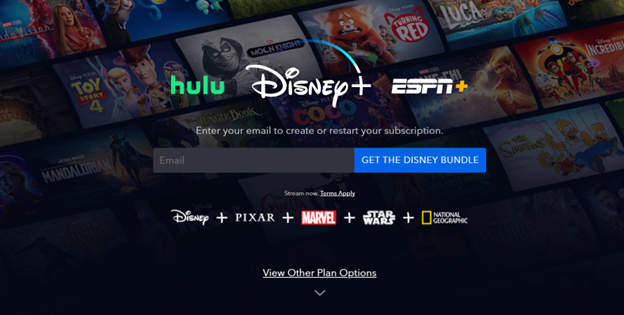 8. Lead Magnets
"What's a lead magnet?" you may ask. These are valuable resources that you are able to offer your audience in exchange for a sign-up. Examples include how-to guides, exclusive content, members only videos, etc. Think about the kind of content that visitors may be interested in receiving and use that to determine the details of your lead magnet. This can help turn visitors into subscribers.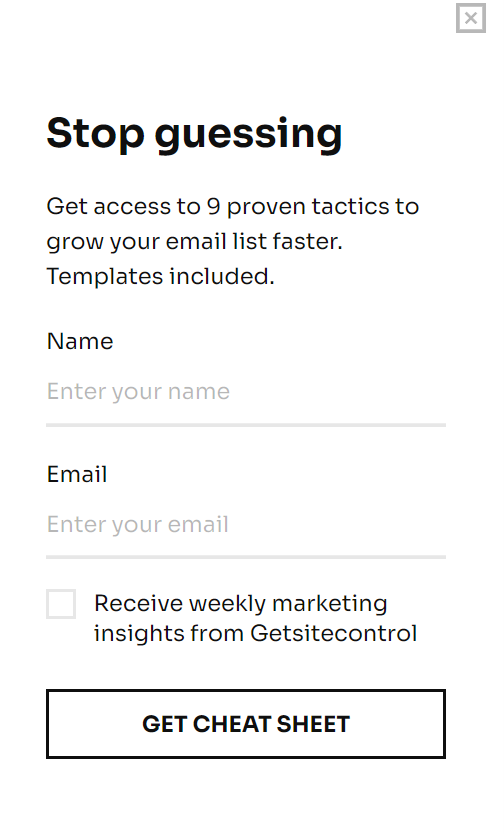 9. Email Signatures
Make the most of your digital space! Your website, ads, and social media aren't the only spots you can include a link for people to sign up for emails. Your signature located at the bottom of your emails are also a subtle way to point people in that direction.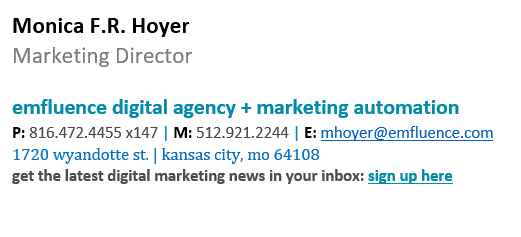 10. Referral Programs
Take advantage of contacts that are currently on your list by creating a referral program with incentives for new and old subscribers. Most companies offer a discount to the person that does the referring and the person that signs up. It's a win-win-win for everyone involved.  
The Takeaway
There are endless ways to build an email list, some tried and true and others that come with a bit of experimenting. Marketing strategies are ever evolving and adapt to audience behavior. Next generation marketing channels like texting and podcasts are becoming big but that doesn't mean a good old lightbox has lost its value. 
Continue to explore new ideas as you work on your list and try out any that pique your interest. Like most things that come with the marketing territory, these efforts take some trial and error, and success comes in various ways and looks different for everyone. Building and growing a list takes time but those who put in the work will see results.