Google reviews are user-generated feedback and ratings on a Google My Business listing. You are likely familiar with these from your own searches and managing your company. They provide a snapshot of the public's opinion about a business, product, or service and are important to monitor.  
It's now easier than ever to keep track of your Google reviews with the emfluence Marketing Platform. We are excited to introduce this new feature to our community, as we believe it will greatly enhance marketing and insights for our platform users.
Importance of Google Reviews
Google reviews are crucial for businesses, especially in the digital landscape we operate in these days. This is a platform that allows customers and clients to share experiences and influence others. Keeping a close eye on these is important for improving your business, managing your reputation, and even gaining a competitive advantage.  
Here's why Google reviews are so important: 
Customer Feedback: You receive firsthand insight into the customer experience. By monitoring Google reviews, you'll be able to understand your strengths and weaknesses. Positive reviews will let you know what you're doing well, and negative reviews will show you where to improve.  
Reputation Management: Engaging with your customers through Google reviews is one way of fostering community, building loyalty, and also managing your company's reputation. These situations allow you to demonstrate good customer service. Responding to reviews in a professional manner can show your commitment to your customers. 
Competitive Advantage: There is a lot of valuable data and insights you can gain from looking over your Google reviews. You're able to analyze trends in feedback and use it to finetune and enhance customer experiences. This allows you to differentiate yourselves from competitors and attract customers that value reliable, well-reviewed companies.  
Google Reviews and the emfluence Marketing Platform
The emfluence Marketing Platform now offers integration with your Google My Business account, allowing you to conveniently view and manage your Google reviews directly from your dashboard. This new feature merges the power of a comprehensive marketing automation platform with valuable insights.  
With this integration, you'll be able to stay on top of customer feedback all within a unified dashboard. This eliminates the need to toggle back and forth between multiple platforms, saving you time and effort.  
With convenient access to this information, you'll be empowered to make data-driven decisions and proactively optimize your strategies and build your online reputation.  
How to See My Google Reviews
We've made this new integration straightforward and easy for clients to use.  
Begin by navigating to the Linked Accounts section in the platform (this is the same place you connect Google Analytics and your social media accounts). 
Pick "Linked Account" and choose Google My Business (you will likely already be logged in to Google). 
Follow the prompts on the page. Once you've linked your accounts, you have the option to add or hide the reviews on your home page. The results will look like this: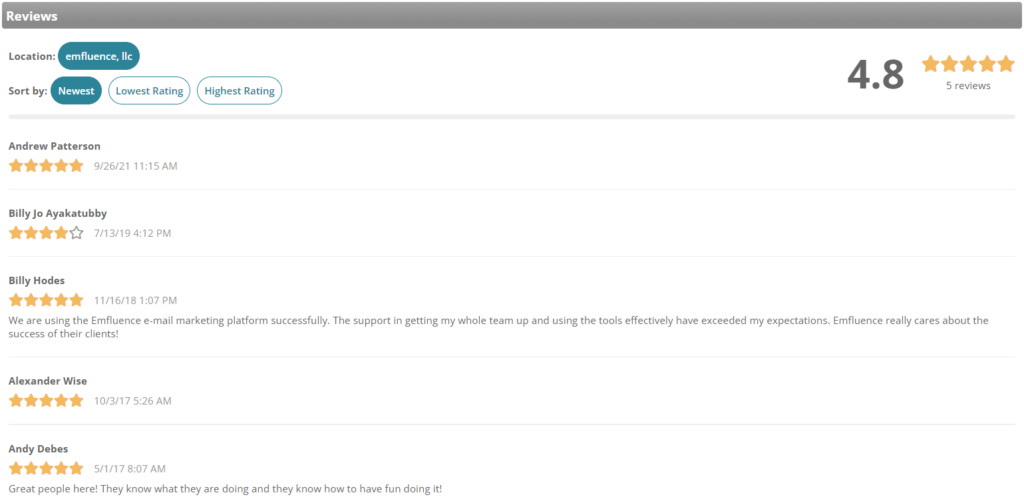 We're excited to bring Google reviews to the dashboard. By leveraging this enhanced functionality, we believe platform users will have a significant advantage in optimizing strategies and fostering meaningful customer relationships.
Have additional questions or need help with the platform? Reach out to us at expert@emfluence.com or through our platform support form.