Using rich media in marketing campaigns is definitely trending up for 2015. Email is an excellent way to drive your contacts — buyers, prospects — to your content, and so every so often, we get the question, "Can I embed a YouTube video in my email?"
The short answer is, "not really." The standard video embed code won't work with any inboxes, but HTML5 video can be used to render in iOS, Outlook.com and Apple. HTML5 still won't work in Gmail, Yahoo!, or Outlook, though — arguably the three biggest email clients. Plus, it means taking the extra time to do the HTML5 coding. Some emails are worth it (check out Litmus' conference email, which they sent to a bunch email marketers), but for many marketers, it won't increase the return on investment.
| | |
| --- | --- |
| What you thought it might look like. | How it shows up in Outlook, Yahoo!, etc. |
If you're looking for a fast way to include video and a call to watch it, instead, snap a screenshot of a key moment in the video. Add a 75% transparent play button over it in a photo editing software (like Photoshop). Then drop the image into your email and link it to your YouTube video. Gmail will see that you have a YouTube link in your email and pulls the video in at the bottom. Hotmail also does this and pulls in the video in at the top.
| | |
| --- | --- |
| Gmail pulls YouTube links in below. | Hotmail pulls YouTube links in above. |
If you're looking for something with a little more eye-catching motion, try creating an animated GIF of your video, like a silent preview. Animated GIFs don't work in Outlook 2007-2013, but otherwise work for most major inboxes and can help drive up response. This is a quick (faux) sample: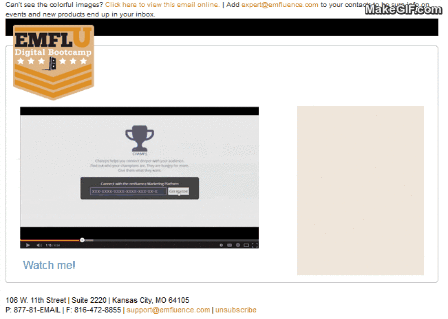 ---
What goes into a great marketing email?
Download the anatomy of a marketing email template
---
You can change the speed and number of frames of your GIF. If you don't have Photoshop, here are a few free tools you can use to create a quick animated GIF from your video:
It's worth noting that there are services out there that will help you play videos in inboxes when available, and will fail gracefully to an image otherwise. They cost a fee, though, and most times one of the simpler options above works well. We're eager to see how that changes when/if inboxes start allowing video inside email.
---
Ready to get started?