Here's an instance of something we learned when we were younger that still applies: always say 'thank you'!
Showing your gratitude in a situation is always noted. This is the case in both your personal and professional life and even more so when working with clients and customers. A thank you makes people feel appreciated and valued. Curious to see how a simple thank you can translate into your marketing strategy? Read on for more insight! 
Thank You Emails
Thank you emails enhance the customer experience. While they may feel commonplace at this point, they are reassuring and necessary in many situations. Your first thought may be a thank you email for completing an order or signing up for a newsletter and, while these are super valuable, there are lots of other useful applications.  
Why are thank you emails so important? For one, they help take that brick and mortar experience to the digital landscape. We're used to being thanked when we're out and about doing our shopping, but there aren't physical staff members to interact with us and thank us when we're browsing online. This is where emails can help fill the gap!
Not only do thank you emails develop a connection, but they also provide assurance. How often do you find yourself checking your email immediately after making a purchase to look for a confirmation/thank you email? This is something many consumers have grown accustomed to. It not only signals that their order went through, but it also lets them know they can expect it soon.  
Finally, these emails can be very beneficial when it comes to repeat business, referrals, and building engagement and loyalty. While the gesture is simple, it gives your brand opportunities to bring old customers back and new customers in.  
Loyalty in Marketing
We've touched on this before, but loyalty is a major consideration in creating a marketing strategy. You've taken the time and resources to nurture your leads and convert them. Don't make the mistake of losing future business by forgetting about them.
In addition, building loyalty creates success for the future. You're able to build a good brand reputation while also keeping tabs on the satisfaction level of those who purchase from you.  It's also much less challenging than having to earn someone's business all over again from square one. These are people that have been exposed to your brand, made an effort to know you, and even do business with you. Expressing your appreciation is one way of retaining these customers.  
Thank You Email Examples
We've compiled some thank you emails that we've received to get you inspired for your next campaign. Check out how these companies have utilized the thank you email to speak to their customers: 
This first one was sent out by the company Cat Amazing which creates puzzle feeders for cats. Their thank you email featured a recap of their success but rather than focusing on personal profit, they chose to highlight the impact they were able to make with their success.
They thanked customers for supporting their brand and giving them the ability to donate products to shelters all over, providing a better life for shelter animals and educating new owners on the importance of enrichment. Combined with some humor and links, this is a great email to get customers engaged while feeling like they've played an important role in making a difference.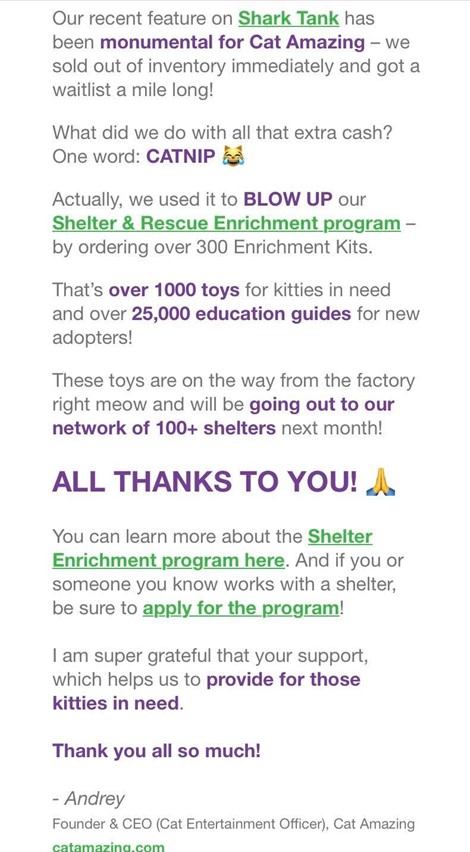 This next one was sent out to Taylor Swift fans as an appreciation for their love and loyalty. They thanked everyone for making the release of her newest album a success by giving fans a boost in line for purchasing tickets.
While the Ticketmaster fiasco that ensued after was out of their control, many fans appreciated the acknowledgement of their devotion to Taylor.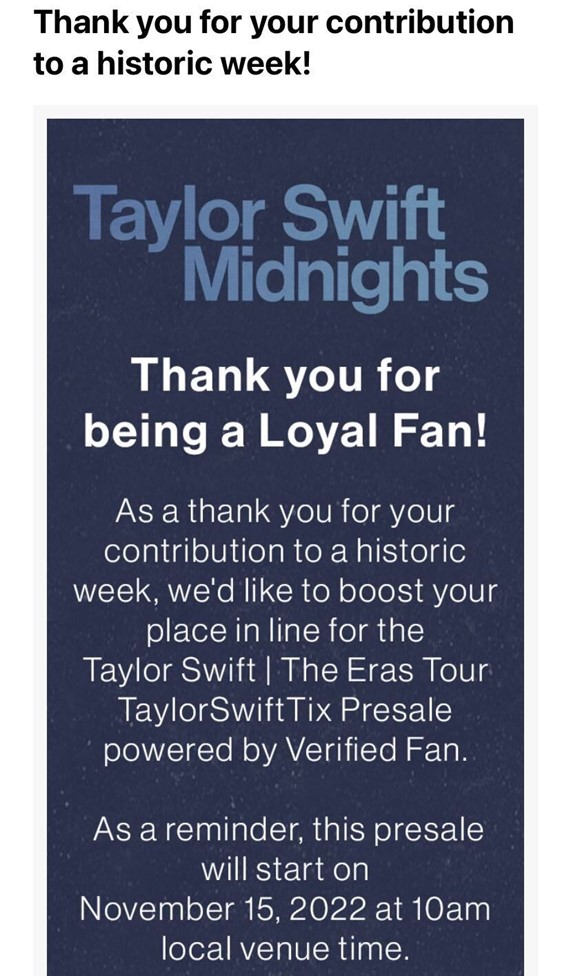 Using thank you emails to share an added bonus is a clever way to make customers happy. This Black Friday deal came with a download for a game. While those who purchased knew that ahead of time, it's still a fun message to receive. "Thanks for purchasing and here's us delivering on what we promised!"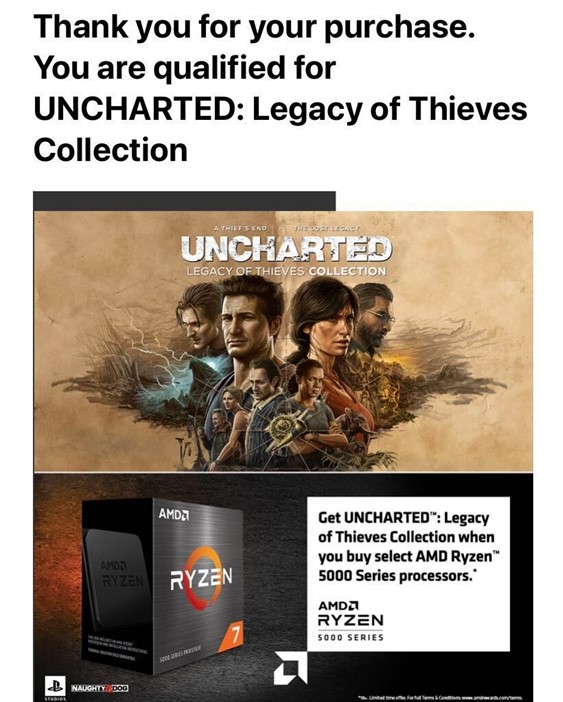 It's not just current promotions that you can bundle into your thank you emails. You can also use them to encourage future purchases.
For example, Dick's Sporting Goods included a coupon for 10% off next purchase as a part of their messaging. This one was only valid for a week after receipt of the email, but it came in handy during the height of holiday shopping. It was an easy way to encourage people to browse again or even revisit their site for items they may have forgotten the first time around.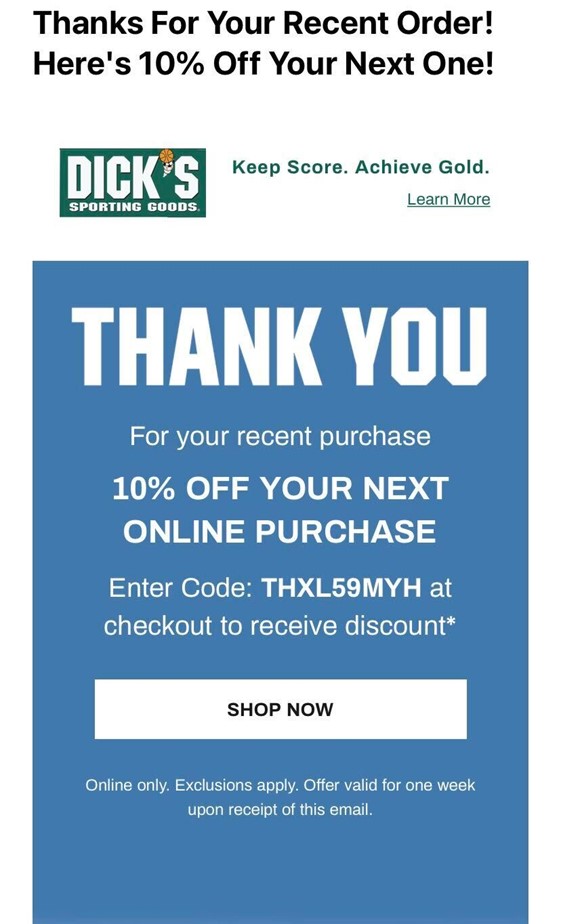 Sometimes a thank you email is meant to make customers feel seen and that's exactly what Happy & Polly chose to do. This thank you email did not include any offers or bonuses and was not triggered by a purchase. It was simply sent to let customers know that the holidays were a busy time, and they appreciated their patience and support. 
It also made customers feel valued by reminding them that the team has their back and to expect a prompt response to any concerns.  It's a refreshing email to receive when you're used to an inbox full of advertisements.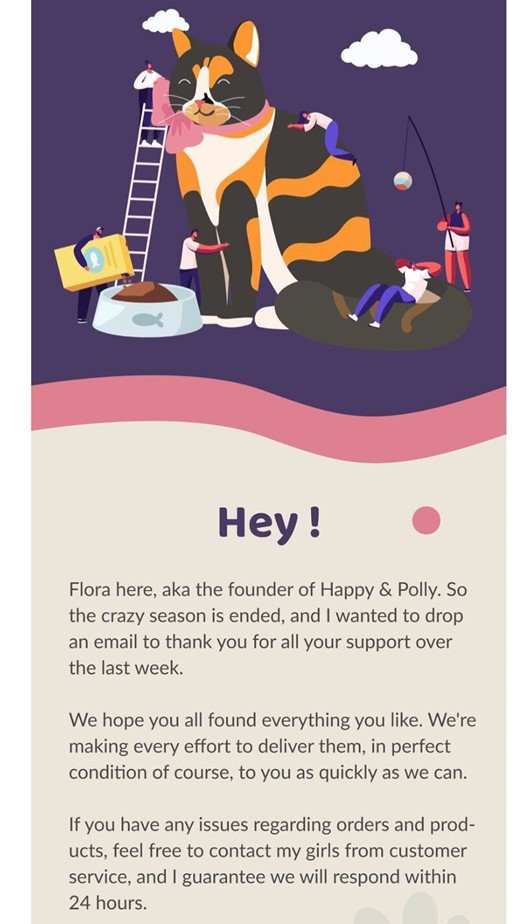 Next up is your classic transactional thank you email. While straightforward, this lets the customer know that what they intended to make happen, did happen. It's also a relief to see that a purchase you wanted to make went through and you can now enjoy it.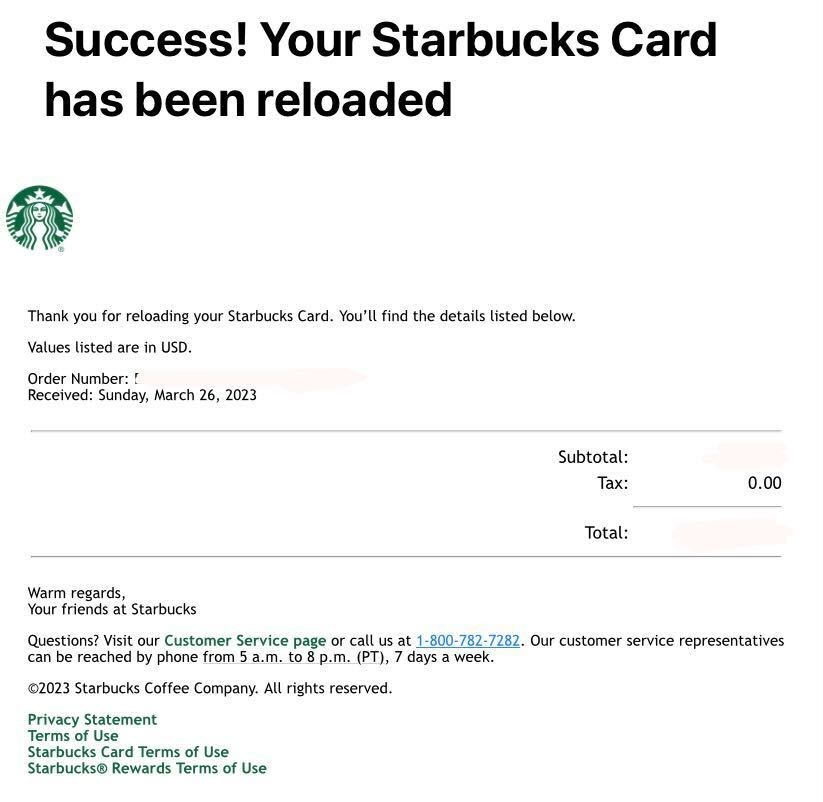 Finally, this last example is a mix of a thank you email and a welcome email. It's a warm recognition of the subscriber becoming a member and offers a little treat to kick things off.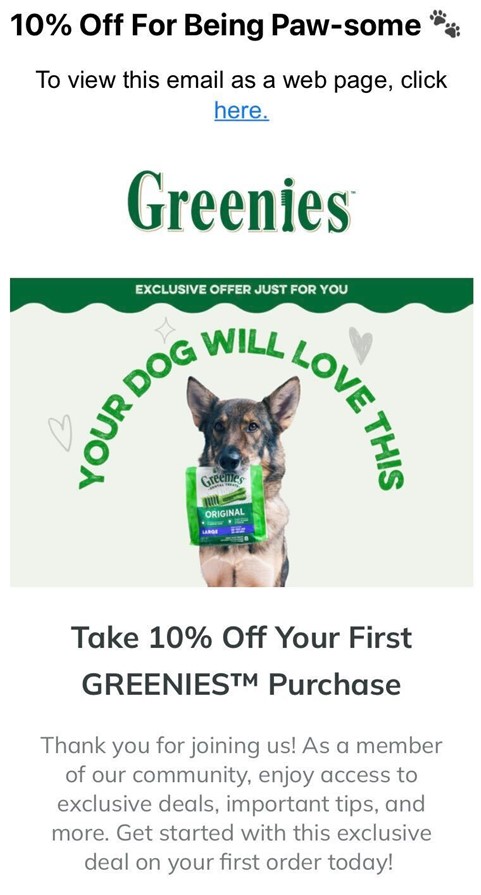 The Takeaway
As you can see, there are plenty of ways to utilize a thank you email and all of them are useful in their own way. When it comes to sending the perfect thank you email, keep it short and sweet while also staying genuine.
A thank you email serves a purpose — there's a reason why you're sending it, which means there is also a reason why your customer is expecting it. Take advantage of that and use your thank you emails to express your gratitude in a way that continues to build on your relationship with your customers.