We're not just listening, we're listening. It's easy for marketing automation platforms to toss up a feature request button, but we're taking it a step farther. Each month, we recap the features requested by–and built for–the emfluence Marketing Platform community. Here's what we accomplished in January 2020.
Webhooks
MS asks: Can the emfluence platform notify our CRM immediately when a sales lead comes in?
Most CRMs retrieve data from the emfluence Marketing Platform on a set schedule. For business issues that are more time-sensitive, such as a sales lead, webhooks may be the better option. Webhooks proactively notify your CRM when a specified action takes place on the emfluence Marketing Platform. To create webhooks for your team or to learn more, please contact Support@emfluence.com.
Modifying Automated Workflows
WC asks: We automated an email series that was previously manual, and I have some customers who have already received the first messages. Is there a way to start them later in the workflow, rather than restart at the beginning?  
You got it, WC! The emfluence Marketing Platform now allows you to manually advance contacts to a point later in a workflow.
•    In the Workflow builder, click on the green arrow icon in the first Contact Group. A pop up box will appear.
•    In the pop-up, box select the Target destination for this group.
You may want to bookmark this page for future reference.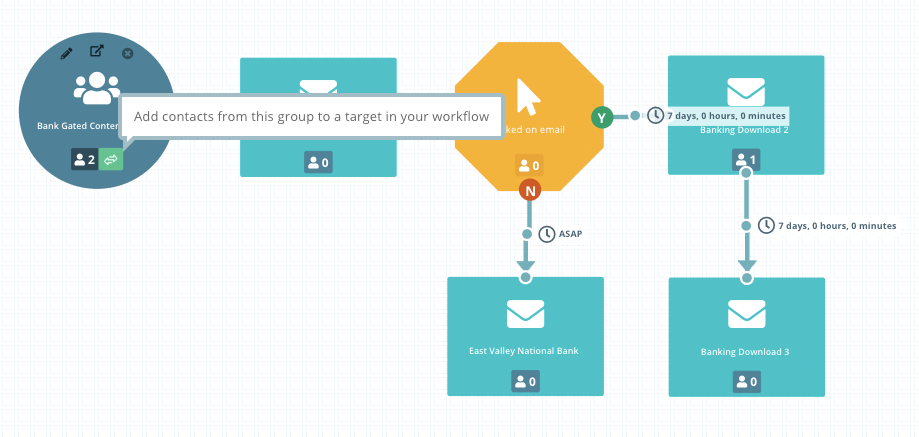 Restoring Email Template Defaults
KS asks: I want to copy an email, but it has some customization that I don't want to carry over. Can I copy it and revert to the original design?
Great idea, KS! To restore an email to its default template, simply click on the thumbnail of the template in the header of the Compose step of the email builder. Select the area that you want to modify. A pop-up window will show side-by-side comparisons of current and default designs. To restore the default design, click on the orange button in the lower right corner Restore Template Default Value.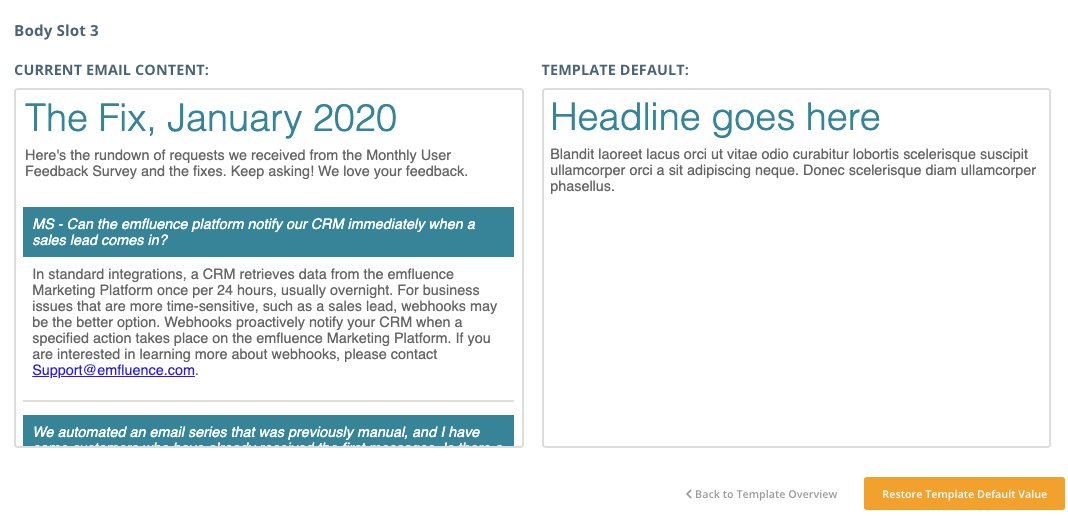 Code Your Own Emails
MS asks: I know some people like WYSIWYG editors, but we code our own emails. Is there a way to disable it? I'd feel more confident knowing that my code is going to render exactly as I designed it. 
Don't like the WYSIWG editor? No problem. To disable it, select the Options tab in the template builder. Scroll toward the bottom and check the box for Code Editor only.

Other Updates
Twitter update. In Twitter, emojis count as two characters. We updated the character count in the Social tool to accurately reflect the count.
Google Analytics. For convenience and better visibility, Google Analytics information is now included in the summary header of the email builder: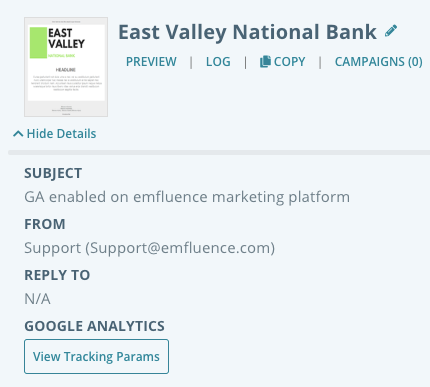 Got a suggestion for the emfluence Marketing Platform? Let us know what it is!