Email marketing is a two-way street. You've got emails to send out to your list and they have content they want to read about in those emails. Until they don't.
Did you know that email fatigue is an actual thing? Yes, we said it. Emails aren't just beautiful graphics and witty copy—they can be stressful for those in charge of campaigns (even if it is a creative, anxious but mostly excited type of stress) as well as those on the receiving end.
Your subscribers can experience exhaustion from your emails especially when their inbox is getting filled with more communications than they have the energy to go through. Soon enough, your most engaged email addresses will become the ones that hit "delete" before you even get an open from them.
So how do we fix this, and better yet, become conscious email marketers that never run into this problem to begin with? The answer is understanding the basics of email marketing frequency and how to generate a healthy amount of content to send so that both your brand and your subscribers benefit.
How Often Should a Company Send Emails?
We hate to break it to you, but there isn't a one-size-fits-all answer to this question and that's because we all function differently with different objectives, different sized customer bases, different lists, and different segmentation strategies. The factors are endless.
Objectives. In a general sense, we're trying to get people on our side. When we break it down it becomes different for each company. You might be trying to sell a service or a product, garner support or donations, or spread a message.
Products or Services. The lifecycle of what we're selling depends on the product or service we provide. Fast fashion companies have entirely new stock every few months which means they need to capture the attention of their email lists in a different way than a company that sells software that's building on the same foundation.
Engagement. Since email marketing is about relationships, many marketers will actually tailor the frequency of emails based on how responsive their audience is. This is a useful place to leverage segmentation.
While strategies may start everyone on the list off with the same number of emails each week or month, this should evolve into separate groups as you learn more about your customers and clients. For example, those who aren't interacting through clicks or opens get moved onto a separate list that centers around a different marketing strategy as well as a lower number of emails.
In all cases, data is super important. Looking at recipient behavior and other metrics using an effective reporting and analytics dashboard can clue you in on what's working and what needs to be adjusted, making for happier subscribers.
How Many Emails is Too Many?
When it comes to emails, less is more except when it's not.
Again, this isn't a straight answer. From anyone's perspective, how many is too many is when your contacts are receiving them so often that they unsubscribe.
While you don't want to overdo it, you also don't want to underdo it. Remember that these people signed up to receive emails for a reason—they want to hear from you! So, withholding anything out of fear isn't going to do either party any good.
The best way to remedy this is to know your audience and know your emails. This is how you find the right cadence. Use your analytics to observe how your emails are being interacted with, if at all. Then, adapt and segment from there. You'll come to know the preferences of each group in no time.
The other half of the battle with nailing your cadence is understanding the emails you are sending and their purpose. There needs to be value in your content and as long as your subscribers are finding use in what you send, you're already in a good spot.
When You Should Send Email
Like we mentioned, knowing your emails gets you halfway there. We're not saying you need to pause everything until further notice and release information at the rate of a slow drip out of intrusion paranoia. But there is a key to balancing when you should and shouldn't send out an email.
A useful rule is that if you're doing it just to do it, take a minute to think it over before you hit send. Each email that goes out should have a purpose, whether that is to share a new product or update, announce a sale, serve as a reminder for an event starting or ending, etc.
Remember that marketing campaigns are meant to lead your audience through the sales funnel, whether that's creating awareness or enticing them to convert. This means each email needs to be able to hold its own in terms of value.
Here are some examples of emails that serve a purpose:
Welcome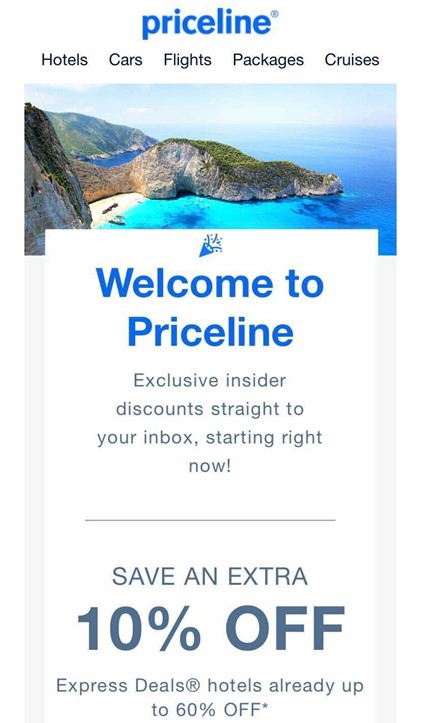 Welcome emails show your subscribers that you care. They're a great way to greet someone as they come in and give them a look into your company. Oftentimes, people are enticed into signing up for these because of the promise of a sweet deal so including incentives in these emails is common.
This Priceline email was simple and straightforward, sharing a quick hello and a ten percent off deal.
Sales
Announcing upcoming sales and promotions is one function of marketing emails. Regardless of whether or not someone has the intention of buying anything when they wake up in the morning, a sales email is capable of enticing consumers to at least open and browse the deals.
Krispy Kreme has made light of the stress people have been feeling lately about rising gas prices by creating a weekly donut deal where a dozen glazed donuts will cost the same as an average tank of gas that week. I don't know about you, but it definitely had me questioning whether I should snag a dozen just to brighten the day.
Information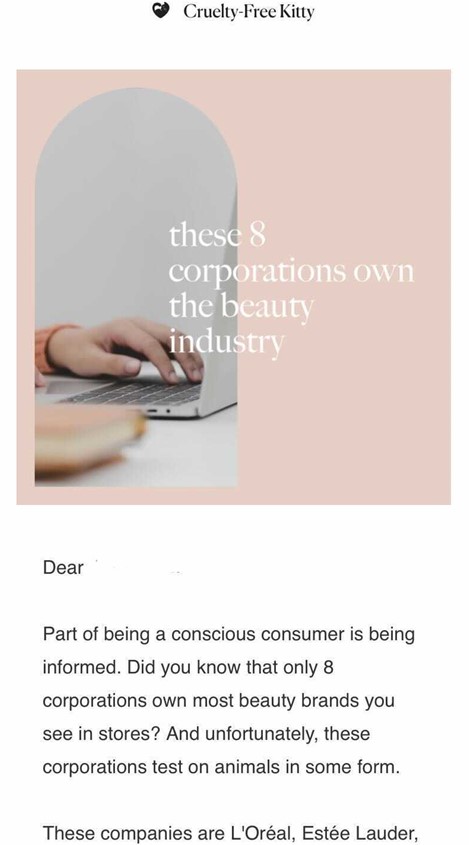 Many of us know that it's not just selling that we need to push onto our subscriber lists. Showing them that we can offer them valuable information is just as important to achieving our goals. If you sell a service like teaching others how to code, this email could include some fun blogs you've written on the topic. Or if you sell a product like makeup, you can send your subscribers news about new trends and how-to's.
This company, Cruelty-Free Kitty, does extensive research and outreach to curate lists of companies and products that do not test on animals. Their mission is to verify brands and help consumers shop cruelty-free. They split their information channels between email, social media, and their website to keep people in-the-know.
Reminders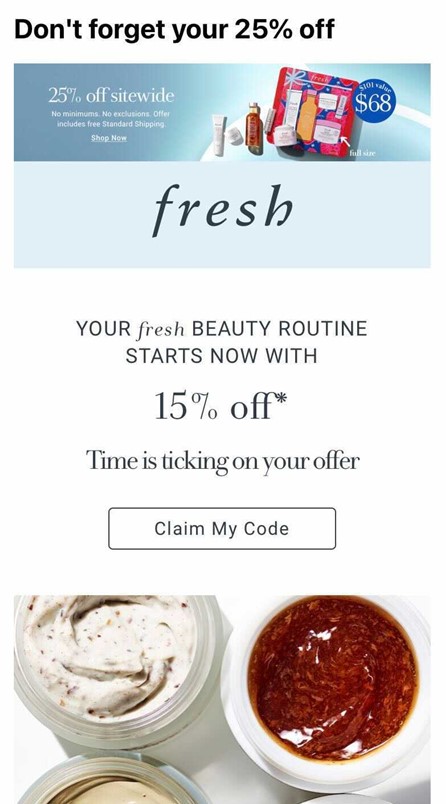 While we'd love for all emails to be read and remembered, it's easy for emails to get lost in an inbox or forgotten amid busy schedules. Maybe you sent an email out last week about a sale, an event, or a deal. It's okay to send a follow-up to nudge subscribers to take action.
This fresh email was a quick reminder about deals that were ending soon. The copy was friendly and gentle and made me double check whether I needed anything at the moment.
Feedback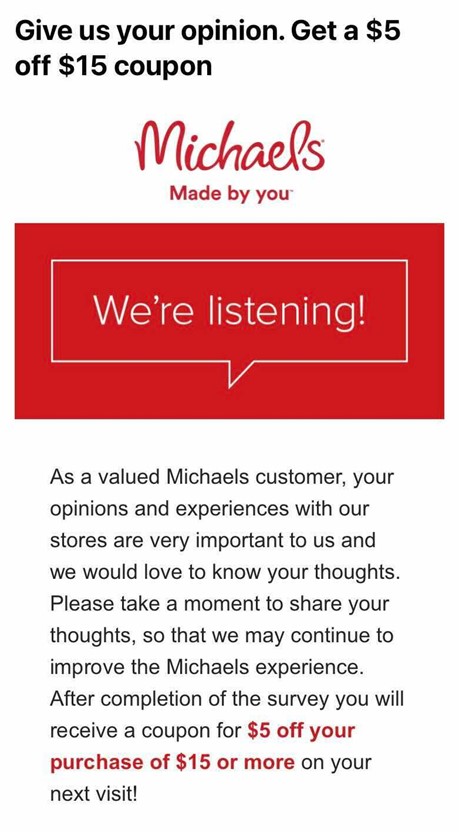 Because emails are a form of communication, you can also use them to gather feedback from subscribers. "Hey! We noticed you just made a purchase; would you like to leave the product a review?" Or "If you have a few minutes, let us know how your recent trip into our store was." It's also a way to show your customers that you care about their experience even after they've made a purchase.
This Michael's email came soon after I made an in-store purchase, and you better believe I was quick to share my experience after seeing the coupon they offered with completion of the survey. Jackpot!
Action Required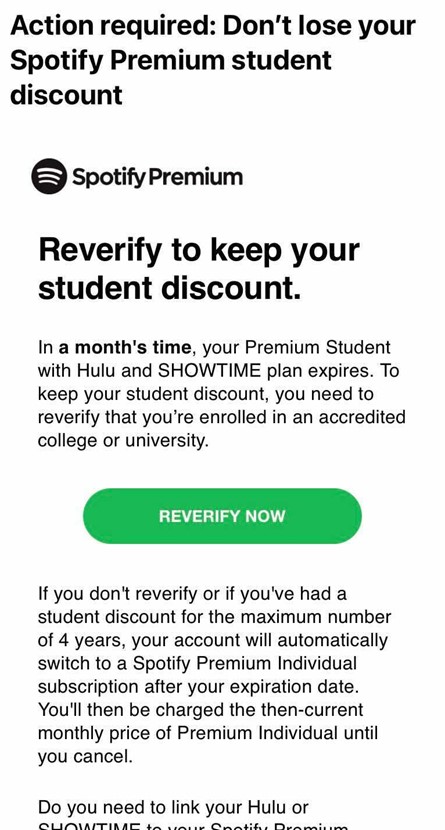 Sometimes we need people on our list to take action such as updating an address, sharing a birthday, or in the case of this email, reverifying Spotify Student status. These emails keep the flow going by providing you information that's relevant to the email address/customer but also by making their lives smoother for future interactions with your company, too.
Announcements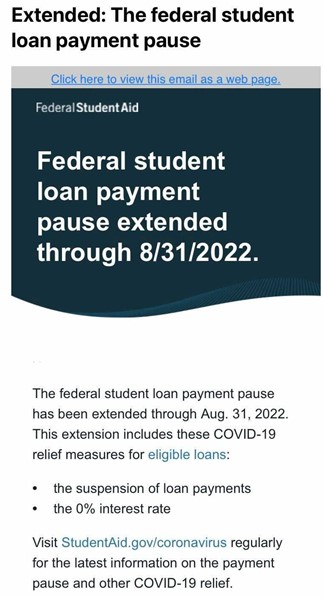 Emails are a good method for sharing important updates that you want those on your list to be aware of. For example, your subscribers would want to know if your store is moving locations, if your site will be experiencing some downtime for maintenance, or even if your holiday hours are changing. These emails are wanted pieces of information that your audience can file away for later use.
Students only receive emails about their student loans every so often and honestly, that's all they really need based on the purpose of them. But lately, if they've received more emails to let them know that the loan payment pause is being extended, they're probably more than happy to see them in their inbox.
Unsubscribe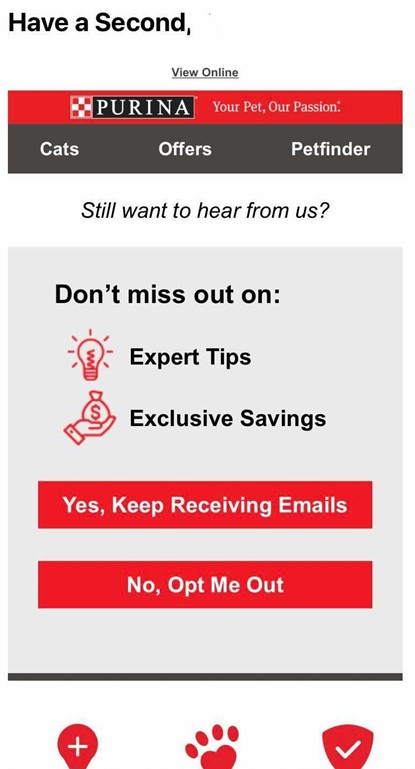 Finally, a "sign of life" email. When there's a growing list of inactive addresses, the easiest path to take just might be an opt-out email. These aren't the most common emails in the marketing world especially because we know the budget and effort spent on gaining each subscriber. But remember, this month is all about health which means asking subscribers outright if they still want to hear from you. It is a quick way to clean up your lists.
In this case, I actually hit "Yes, Keep Receiving Emails". This brought the brand back to my attention and made a bigger impact than if they'd just sent another version of their regular marketing content.
Email Marketing Frequency Best Practices
Let's recap.
There isn't a right or wrong number of emails to send. It all varies based on your company and your audience. What is wrong, however, is getting unhealthy with your email sending habits and pushing your audience to hit the unsubscribe button.
Tap into you marketing instincts by listening to your audience, keeping a close eye on your data, and understanding the purpose behind each of your emails. We're looking to achieve that sweet spot by finding the balance between all these aspects of healthy email marketing frequency.
The trick is to center what you do around your audience. Are my subscribers interacting with my content? Is the data telling me that my subscribers like what I'm doing or hate it? Are the emails I'm sending providing value to my subscribers? Once you've found your rhythm, you'll be able to focus even more time on creating valuable and engaging emails!
Happy email marketing!
Have questions about how much email you should be sending? Contact us at expert@emfluence.com!