From the future of AMP to the @ sign's past, emfluence's first webinar in a series of three with our friends at Email on Acid was a huge success! Featuring Women of Email Co-founder Jen Capstraw, emfluence's Director of Digital Strategy Cory LaGrange, and Email on Acid's Betsy Grondy, we covered a full slate of where email has been, what's happened to email since COVID, and where email is headed next.
If you missed the session live, you can sign up to watch the event here.

We had so many questions asked during the session that we didn't have time to answer them all (even with an extra 20 minutes tacked on to our session). With a little help from Betsy, Jen and the emfluence email geeks, here is our take on the questions asked during the session:
Q: "My team and I currently use Foundation for Emails 2.0 for creating responsive emails. This framework created by Zurb hasn't had many updates over the last 2 years. Our main purpose for using this framework is workflow as manually inlining the complicated table structure needed to create a responsive email. This framework has lots of bloat and as a result we are constantly at or over the 103KB file size limit where Gmail clips emails. Is there another framework that is utilized like MJML or others that you recommend? Utilizing an ESPs html tools to create the entire email as opposed to just the components that don't repeat are not ideal. With MJML or Foundation for Emails 2.0 you can create headers & footers to pull in all the various components of an email instead of re-coding them. However, with Darkmode, there seems to be no end to the amount of things needed as fail safes so an email renders the best that it can. With all that said what is everyone else doing to combat this? Recommendations?"
A: From Trevor Rawls, Digital Marketing Manager at EoA: In my experience, MJML has a much simpler syntax for creating emails when compared to Zurb, but I'm not sure how different the compiled HTML output is in terms of file size. MJML does have a minify HTML ability which would help a little with file size. I would recommend giving MJML a whirl to see if it has any impact. They have a Slack channel that's very helpful with this kind of thing, and they update that framework regularly.
And from Ed Ball Email Developer at EoA: Both of these platforms they're mentioning are transpilers that translate components to HTML/CSS to create an email and I create emails writing HTML/CSS. If they're getting an email over 100KB I feel they have to reduce the content of the email to mitigate the size and keep it from truncating in Gmail. With MJML or Foundation for Emails 2.0 you can create headers & footers to pull in all the various components of an email instead of re-coding them. For dark mode, I think the best thing to do is deign your email for it, which you can learn more about here: https://www.emailonacid.com/blog/article/email-development/dark-mode-for-email/ 
Q: How do you join Women of Email?
A: Membership is currently free, but restricted to individuals with professional experience related to email marketing who identify as women, genderqueer or non-binary. You can join here: https://womenofemail.org/join-us. You can also join our online community at https://www.facebook.com/groups/womenofemail/.
Q: Are there concerns that once people start working in the office again, email will digress in popularity as quickly as it made traction in 2020?
A: Jen: Nah! Email is, hands-down, the highest ROI channel. Rest assured it will not become irrelevant post-pandemic. We will likely see some shifts related to when and how subscribers access email marketing, such as mobile versus desktop and most popular times of day and days of the week, but email will certainly remain the top-performing channel. We won't see send volume continue to increase as dramatically as it did in 2020, but it's unlikely it will taper back down to pre-2020 levels in the next few years.
Q: How do you push back on stakeholders who are set in their ways and refuse to pivot from the batch & blast mentality?
A: Jen: First, ask why they are beholden to batch 'n blast. Acknowledge that you understand and respect their explanation. Validate them. Simply telling them their way is wrong is not going to get you the buy-in you need to spearhead change. Email is such an effective channel that even really bad email can get decent results.
Next, propose small changes or experiments that take your stakeholders' concerns into consideration and don't require significant risk or expense. Be ready to take on the extra work necessary to execute these ideas. Then execute and compile your results. Be honest about the successes AND failure—show them what you accomplished and learned. And continue to build your credibility incrementally so you can continue to implement change incrementally.
And what if this doesn't get you anywhere? If you're not feeling challenged and feel your opportunities are limited, consider whether it's time to move on. Email expertise is in demand! Spruce up the resume and see what's out there!
Q: Should ESPs start building out a "kill switch"? Like… one button that pauses ALL campaigns (automated and manual batched)?
A: emfluence: With the uncertainty of the last year in particular, this is a question that's come up more and more frequently. It's something we're investigating for the emfluence Marketing Platform!
Q: Do you think there's still place for 'batch' type of emails? Thinking product launches, flash sales, etc. – where you send to a 'batch' of your engaged list?
A: Jen: There is one occasion in which a blast is appropriate: When the message is relevant to the entire list.
Q: Anyone have success with a newsletter/content email instead of batch and blasts?
A: Kasey from Email on Acid: Newsletters can be an excellent way to reach larger groups with valuable content. However, it's also an ideal opportunity to use segmentation to tailor the kinds of content you're sending to different groups. If you have three main personas or target audiences, and you slightly alter the content and messaging into three different email newsletters, you're going to get better results. You could even brand each newsletter differently.
Q: What do we, as consumers, like or dislike? Are others in the general populous also getting jaded by the automation of the marketing now?
A: Kasey from Email on Acid: We recently published an article about Seth Godin's book Permission Marketing. After publishing it, he reached out to point out a misnomer I made. Using personalization in email doesn't necessarily mean you're being personal. It's easy for automation to become impersonal if you don't pay attention. When we use automation and personalization in email marketing, we still need to find a way to keep it authentic and relevant. That's challenging but definitely worth striving for!
Q: We've backed off on some automation and are seeing higher interactions from recipients. Do you think this is just an interim during these crazy times or do you foresee this trend continuing?
A: Betsy: I think there's a greater question there in what was the overall volume of email you were sending including the automations? Something to consider is to set a priority hierarchy in your sends, i.e. is automation A more important to be delivered than BAU email? Setting those rules up will reduce fatigue from your subscribers.
Q: Are there metrics that show sends done during one of these crisis events have a negative/lower conversion rate? Wondering if there is a segment of people who look for these types of messages as an escape/distraction during these times.
A: emfluence: It's possible that some segments would be okay with messages during a crisis, but this would definitely be specific to your audience and could be a gamble (depending on the type of crisis). In emfluence's mid-year Benchmarks Report, we saw no sizeable changes in engagement or in unsubscribes/spam complaints, despite a major increase in send volume during the first part of the pandemic: https://emarketingplatform.com/email-marketing-benchmarks/
Q: How many email clients and/or ESPs support AMP?
A: emfluence: You can get a great recap of browser and ESP support for AMP here: https://amp.dev/support/faq/email-support/. Many ESPs (including the emfluence Marketing Platform) are working on support for AMP in the coming months.
Q: What frequency is recommended when sending a series of emails? Once in two days is an overkill? Twice a week? Is once a week not engaging enough?
A: Betsy: My answer for this is to always test. Every brand's subscribers are different and there is no one size fits all. 
emfluence: This is really audience specific! At emfluence, we would recommend answering the following questions first:
What's the desired goal of this series? Lead nurture? Onboarding? Other?
How important and/or time-sensitive is the information you're sending? In onboarding, for example, what you're sending might relate to what the customer needs to onboard efficiently.
Is the information in the email relevant to the recipient or to the brand? We recommend sending what's relevant to the recipient and to keep the information contained in each email specific to what's helpful to the recipient throughout the series.
Q: How is Outlook supported? (AMP)
A: emfluence: Outlook is currently not supporting AMP (no surprises there!). If you're looking for guidance on Outlook, you can always reference emfluence's B2B Email Marketer's Guide to Outlook here.

Jen: AMP for Email was in developer preview for Microsoft's webmail properties (outlook.com, hotmail.com, live.com, msn.com) last year, however, the developer preview was ended on October 1, 2020, without explanation.
Q: Is AMP similar to Movable Ink?
A: Jen: Not quite. AMP for Email is a new mime type that enables interactivity within the inbox. It's like a microsite or app packed right inside of an email. Movable Ink is a product that works within the HTML mime type to update select images at the moment of open. AMP for Email is more robust but works in fewer email clients. Movable Ink has more limitations but is compatible with more email clients and requires fewer technical skills to implement.
Q: Has there been any A/B testing done with AMP interactivity vs. not to see if there is a significant increase in engagement? It would be great to have data points to convince the team to adopt AMP.
A: Jen: Here's an A/B test from Stripo that showed a 520% increase in engagement with an AMP for Email form versus an HTML email that linked to a form on a landing page: https://blog.amp.dev/2020/05/21/stripo-amp-dynamic-email-boost-customer-engagement/
Q: What are the reporting capabilities for AMP emails re: constituent engagement with different elements in the email? Ex. can we see what percentage of users interact with a drop down or use a calculator?
A: Jen: This is dependent on your ESP and may vary from one to another. Check with your customer success rep to find out if your ESP supports AMP for Email and what metrics they can track.
Q: Can you do AMP without a provider (can you hand code it)?
A: Jen: You don't need a third-party provider to create the code, but you do need an ESP that supports it. Check out the documentation at: https://amp.dev/about/email/
Q: I get the idea of AMP but I still don't get why they cannot make their own readers safer and run HTML5. Same with Dark Mode. Why?
A: Jen: That might be a great question for the AMP for Email Working Group: https://amp.dev/community/working-groups/amp4email/
Q: Even if the ESP supports AMP, how can we control all the email client's capabilities in rendering AMP?
A: Jen: AMP for Email is an entirely new mime type which renders consistently across the email clients that support it. Rendering is only an issue for the HTML mime type.
Q: How does AMP content play with Accessibility?
A: (bonus answer from Salesforce): From a design, layout and content point of view the accessibility rules are the same. But better HTML/CSS support in AMP means this is easier to achieve. There is also an extra consideration that interactions need to be accessible and changes that are triggered by interactions need to be communicated to the user. AMP can do some of this automatically (for example amp-carousel has it built in) but other things we need to do ourselves. And as always it's still very important to test the accessibility of your emails.
Q: What are the best tips for dealing with dark mode for accessibility? The color changes are unpredictable in different clients.
A: Check out Email on Acid's blog on dark mode and accessibility: https://www.emailonacid.com/blog/article/email-development/accessibility-and-dark-mode-the-latest-buzz-words/
Q: Does Email On Acid run accessibility check in terms of the code?
A: Email on Acid: Yes, learn more: https://www.emailonacid.com/accessibility/
Q: How does EOA preview/view AMP? Is there any capture option for motion or additional tabs that require clicking, etc.?
A: https://www.emailonacid.com/blog/article/industry-news/whats-the-latest-with-amp-and-how-can-i-use-it-for-email/ Because Email on Acid's previews come from live devices whenever possible (simulators are used for Apple devices), you'll get an accurate screenshot showing how an AMP email will look. However, because it's a screenshot, you wouldn't be able to click around and test interactivity. Email on Acid is keeping a close eye on AMP and looking at ways to incorporate it into our product as adoption grows. Meantime, this validator tool from AMP may also be helpful.
Q: Any recommendations for accessibility guidelines?
A: You can read emfluence's tips on email accessibility here: https://emfluence.com/blog/8-tips-email-accessibility, and here's a fairly recent white paper on accessibility standards from Email on Acid: https://www.emailonacid.com/resource/accessibility-standards-in-email-marketing/ 
Q: Do you think it's (the increase in email volume) because people are homebound and email provides another avenue of contact?
A: emfluence: In a year of disruption, email has been a reliable point of contact with your owned audience. B2B marketers have seen disruption in tactics like account-based marketing (since no one is in the office to receive phone calls or direct mail pieces), direct mail, location-based digital advertising, events and trade shows, and even standard networking opportunities—but email has proven a reliable way to inform and connect (from an opt-in standpoint!) with their target audiences. For B2C marketers, particularly those in the brick-and-mortar category, email has been a crucial way to inform buyers and fans of pivots to the business model—the B2C marketers who had practiced list acquisition ahead of the pandemic were better able to announce changes to operation hours, pivot sales models (like curb-side pickup or the rollout of ecommerce) in a more affordable, better targeted fashion. So yes, email has been even more important (and reliable) during a period where so many people were homebound!
Q: Have engagement metrics (opens/clicks) declined with increase in volume of sends?
A: emfluence: Not that we have seen at emfluence, and in reviewing benchmarks reports from other ESPs, we haven't seen an impact on engagement in their statistics either. You can review our latest Benchmarks Report here (and stay tuned for our annual recap later on this month).
Q: Wow! While ESPs didn't see significant changes, do you still advise better marketing vs playing the volume game?
A: emfluence: Our opinion at emfluence is that good email is email that's personalized, behavior-based, and valuable. Volume depends on your audience, so rather than give general guidelines on how much email you should send (because that could be a different recommendation for each company), we instead like to ask: is the email you're about to send personalized? Timely? Behavior-based? Adding value to the inbox? Answering these questions—and testing your audience for trends in engagement alongside send volume—will help you understand if you're sending too much (or too little).
Q: Since many professionals are WFH, have the best times/days to send shifted?
A: Betsy: I'd test this for your subscribers. We are currently testing this at Email on Acid with our subscribers and have seen that there is ample engagement during days/times we'd not used before.
Q: What is something unique you do with your newsletters that help increase engagement?
A: emfluence: Newsletters are a wonderful way to share industry-specific information with your target audience—but one of the biggest failures in engagement we see is when companies send out newsletters to people who haven't opted in. If you have lots of different types of information to share, we recommend creating newsletter segments for each topic and using your blog content calendar to distribute that information to people who have requested it. In terms of design, keep it simple and do some testing—some brands see a long-form scroll work really well, whereas others do better with a 150-word intro to a single call-to-action to finish the post on the blog.
Q: Have you noticed a shift in engagement on mobile vs. desktop? Has desktop increased since WFH?
A: Kasey: This will likely depend on your audience and you should keep an eye on it. A shift to desktop email viewing was something a lot of people assumed would happen. However, Oracle reported that it only saw a slight shift away from mobile email viewing in the early stages of the pandemic. A habit like constantly checking your phone is hard to kick, especially when you're working from home!
Q: What do you think about the remote working topic? Is it overused already or still has some potential in an email to show the benefits of our product in these times/this situation?
A: Betsy: I think if you can show it specific to your product and make it relevant to the user, it's not burnt out. If it's just an H1 with no additional supporting context, I'd let it go.
Q: Have you seen a change in the style of emails that are getting engagement? We keep finding that HTML-light email, that look like they came from Outlook, are more effective than image-heavy, overly-styled emails.

A: emfluence: This is super common in B2B, where so many recipients are leveraging Outlook (and wouldn't see images automatically anyway). B2C still tends to favor images (based on placement and the fact that those products tend to be prettier and easier to photograph than most B2B products or services). We haven't seen any changes at emfluence with regards to HTML-light email performance in the B2B space other than that it continues to work as a component of B2B email strategy (and even better when it's integrated to custom data points pulled from your CRM system). 
Q: We have been A/B subject line testing with our sales promos for two years now. Each year our subject line A won. Our email client is Adestra and our main clients are non-profit, professional organizations in the healthcare industry. I'm just suspect that subject line A won quite handily both years. Can you provide resources for us to study other A/B subject line testing for emails?
A: emfluence: Subject line testing is just the tip of the iceberg for A/B testing—and what will work best in terms of personalization, numbers, data points, and variables really will depend on your unique audience. If you're looking for ideas on more items to test, check out our guide to A/B testing inspiration here.
Q: Speaking of automations, is there an optimal time to wait before sending an abandoned cart email?
A: emfluence: It's worth testing for your audience, as this answer will change based on what you sell (and how much of a commitment the purchase is for your audience). Here's more details around abandoned cart strategies and timing: https://www.emailonacid.com/blog/article/email-marketing/how-abandoned-cart-emails-maximize-roi/, or you can play along with emfluence's abandoned cart campaign/t-shirt shop at emfluence.com/shop.
Q: What can you tell about BIMI? Is it already somehow relevant? When will more email providers like Gmail support BIMI? We implemented a while ago without seeing any impact which is not surprising as Yahoo is not really relevant in Germany.
A: Betsy: Google is supporting BIMI as of mid-2020 https://cloud.google.com/blog/products/g-suite/gsuite-security-updates-for-gmail-meet-chat-and-admin I think with the shift of more email content that we've seen over the last year there's going to be a greater emphasis on consumers wanting to see it for authentication purposes, particularly in industries where secure information (i.e. banking and finance) is transmitted.
Q: How do you push back on stakeholders who are set in their ways and refuse to pivot from the batch & blast mentality?
A: emfluence: We would recommend leveraging benchmarks reports from ESPs on this (you can see emfluence's here). They often have data points about performance of automated vs. batch and blast email that could support that push back. 
Q: Do you have links to share with us to understand and learn how to create interactive emails like the "findomestic" ?
A: emfluence: You can find AMP for Email documentation at go.amp.dev/learn-email. You can also create a simple AMP carousel using Bee Editor. Stripo offers templates for AMP carousel, AMP lightbox and AMP accordion.
Q: About this functionality to deploy the content (AMP): No limitation to display the message in Gmail inbox?

A: emfluence: HTML emails are clipped at 102kb. AMP for Email is clipped at 200kb.
Q: Is there a link for this BIMI thing?
A: Email on Acid has a great blog to get you started with BIMI: https://www.emailonacid.com/blog/article/email-marketing/bimi/
Q: Is this (BIMI) contingent on your ESP or is it just tied to your domain?
A: Betsy: It is tied to your sending domain. 
Q: What contrast tips would you have to adjust for the recent dark mode updates?
A: See above dark mode and accessibility Email on Acid blog.
Q: What are the ratio or part of ages in email users?
A: Email is leveraged heavily across all adult categories, as referenced here: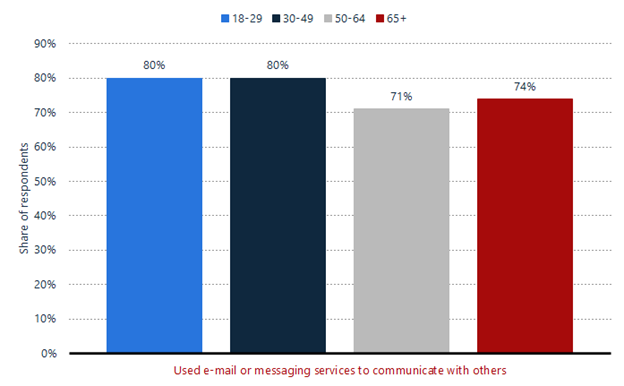 Q: Why is email most of the time considered a not so important channel when after 50 years, it is still here?
A: Kasey: It might be because so many marketers have "shiny object syndrome." We like to constantly chase the latest thing (cough, TikTok, cough). There are tons of stats and studies showing that marketers get great ROI from email and that many consumers prefer it as a form of marketing communication. If you've got decision-makers who are skeptical of email, it should be pretty easy to make a case for investing in it. Spend 15 minutes Googling and you'll come up with big-pictures stats and proof points. But you may also need to prove email's value in your industry and to your organization. Email on Acid CEO John Thies recently provided his thoughts on this exact topic: https://www.emailonacid.com/blog/article/email-marketing/email-marketing-budgets-how-to-ask-for-more/ 
Stay tuned for the next in our series on Feb. 16th when we talk about How to Prevent Email Disasters Before They Strike! You can sign up to receive information on upcoming events from emfluence here (so you don't miss a thing!): https://more.emfluence.com/subscriptions