Last year, we suggested a Spring Cleaning for your emfluence Platform account to clean out your users, files, and inactive groups. This Spring, it's time to take a look at your contact lists.
It's a reality of the digital age in which we live that over time, up to a third of your email subscribers list is going to go bad over a the course of a year.While these email addresses may still be technically valid and won't bounce, some may have stopped using an old personal Yahoo! or Hotmail account. Your subscriber may have changed internet providers, meaning they have a new email account. Smaller domains with email hosting could have gone dormant. And professional accounts can be abandoned months before they actually go bad as people change jobs or businesses reorganize their email system.
---
Don't Love Your Email Results?
Download the anatomy of a marketing email template
---
When was the last time you checked how many of your subscribers were inactive?
That portion of your list that never opens, clicks, or responds is costing you money to send to, while also hurting your metrics. If you get an average 20% open rate, but 40% of your list has gone inactive, your actual open rate out of potential engaged readers is better than you think… 33%!

There are a lot of ways to keep your list clean and emfluence does many of them for you. For example, you don't have to worry about cleaning out bounced email addresses. But for those who are simply sleepy, you can reach out and either re-engage them or drop them from your list to save money and drive up ROI.
Step 1: Search for email subscribers who are NOT bounced (bad) or unsubscribed, who have been on your list for a while, but have not opened or clicked for the past 6 months or a year.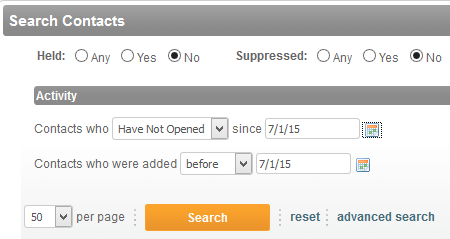 TIP: Make sure you tailor your search to only including those contacts who were added prior to the period in which we are searching. For example, if you're looking for subscribers who have been inactive for 6months, be sure they've also been ON your list for at least 6 months. You likely have some newer subscribers who haven't been sent anything yet or just haven't opened an email yet, but might still in the coming months.
Step 2: Remove these contacts from your regular sending group and add them to a new group so you can send them a re-engagement campaign or keep them for one or two big sends each year.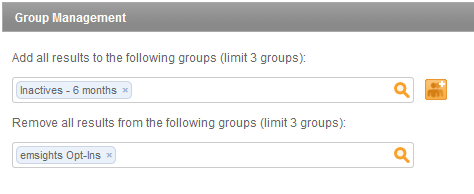 There could be a variety of reasons people may have stopped opening your emails.
Perhaps their interests have changed
Maybe they no longer check that email address
You may be getting stuck in the Junk/Spam folder (in fact, you may never have gotten through to their inbox!)
It's possible that you send too often for their needs and that they've started ignoring your emails
Using a re-engagement campaign can certainly address a few of these. Reach back out to these inactives and offer the opportunity to decide which emails they get or how often, using their Email Preferences Center. You'll need to have Groups for them opt into or out of on the Preferences (or Unsubscribe) page.
TIP: Use a very clear subject line that lets them know that you need them to take action to stay on the list.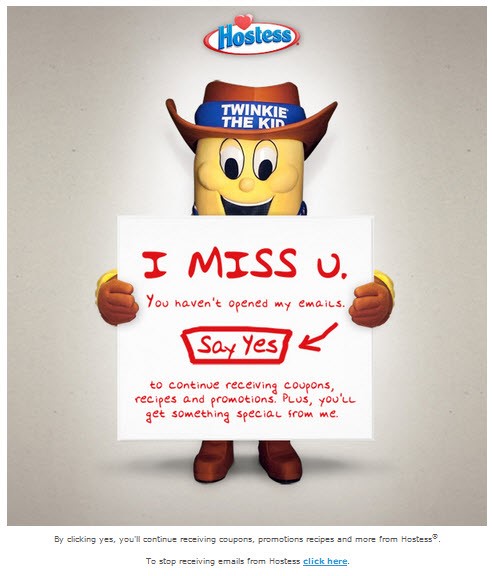 In fact, since this group is known to ignore some of your emails, don't just send once and call it quits. Try a 3-email series, with increasingly more severe subject lines. You might make one of those emails a true text-only email that doesn't use any promotional language, to ensure that it's got the best chance of landing in the inbox. Strike up a call campaign for your inactives – and your hard bounces for that matter – to get an updated email address.
BIGGEST TIP: Offer very obvious opt-in and opt-out options to make it easy to stay in or get out if they do want to unsubscribe. Link the No Thanks button to your unsubscribe link to allow them to immediately remove themselves from your list if they choose. Keep in mind that some of these folks won't see images in their inbox, so you may not want to make the Yes and No buttons images. (Try a bulletproof button like these.)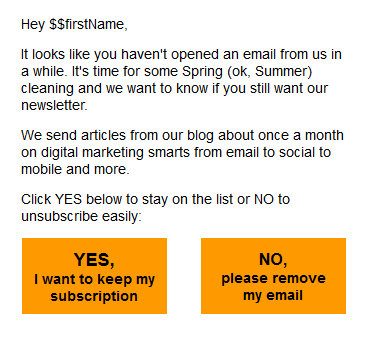 Checklist for a great re-engagement email:
Include a clear subject line stating that some action is required from them (Respond to keep receiving our emails)
Use the pre-header as an additional call to action
Provide clear Opt-In and Opt-Out options.
Ask them to add you to their address book, whitelist, or safe senders list
Set expectations and reinforce the value of staying on your list. Let them know how often you plan to send to them and when to look for your email (perhaps you send a monthly newsletter on the second Tuesday of every month).
Make sure your email – and the calls to action – work with images off
Link the Yes Please option to a Thank You landing page where they can update or provide additional information about themselves
It's important to note that even if you follow all the above suggestions, a re-engagement campaign may only reactivate 2-5% of your inactives. You'll clear out up to another 5% with the unsubscribe option and you'll have another 90%+ who still don't open, click or respond. Move these folks off your master email list and use a call campaign and/or your biggest deal of the year to try and re-engagement.
---
Ready to get started?