Any company that understands the value of email probably already has a strong email strategy in place, but does that strategy include asking for reviews? Whether your company is offering a product or service, reviews are crucial to your brand's reputation and business growth, and in some cases, even your lead generation efforts. Did you know that 45% of buyers use reviews during their purchasing process (TrustRadius) and 92% of B2B buyers are more likely to make a purchase after reading a trusted review (G2)? Add to that the fact that most buyers are spending a significant amount of time doing their own research before making it into your sales funnel, and you can see how important reviews are to a buyer's decision-making process.
Before we dive into how to incorporate asking for reviews into your email strategy, you need to ensure you have a good foundation for collecting reviews in place. There are the obvious places customers leave reviews: Google, Facebook, Yelp, etc. And then there are review sites where consumers spend most of their time comparing different products and services. For example, the emfluence Marketing Platform is listed on every major technology review site, like G2, TrustRadius, and Capterra. It's important to list your company on review sites specific to your industry—don't forget to fill out each profile in its entirety and include a link to your website or a landing page where prospective buyers can contact you! Businesses that claim their free listings on at least four review sites earn an average of 46% more revenue (Womply). If you are collecting reviews in multiple places, you may want to consider creating a landing page with links to each review site, like this: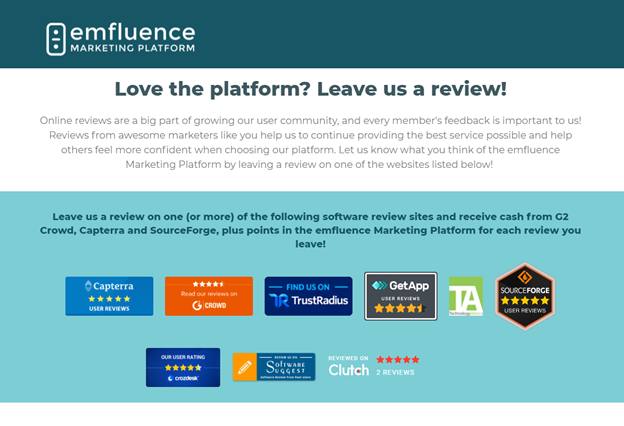 Once you have your foundation in place, it's time to start asking for reviews:
Ask at the End of a Client Satisfaction Survey
If you routinely send out customer satisfaction surveys, you should be asking your survey takers to leave a review. Now, you may not want to ask for a review EVERY time—if someone's response to the survey is unfavorable, you should be reaching out to that person to resolve any issues. However, when someone gives a high satisfaction rating or a positive response to your survey questions, that is the perfect time to ask for a review! We do this with an alternate survey ending—if a client leaves a satisfaction score of eight or higher, they are shown copy that asks them to leave us a review on one of our review sites.
Ask in Your Customer Support or Customer Service Emails
Don't ask your customers for a review right after they reach out to you for support but do ask them for a review after you've resolved their issue. For example, whenever a client reaches out to our support team for help, an email goes out once the issue has been resolved to ask them to review the support they received, as well as our platform.
Ask Shortly After the Point of Sale
This one may seem like a given—we've all grown accustomed to receiving emails asking for a review after we purchase a product online. However, it's not always as straight forward for non-ecommerce companies. Hopefully, if you are selling a service or some other non-tangible product, you have an onboarding email series in place. Consider adding review buttons to the footer of the emails or use the final email in the series to ask directly for a review. You can include a link to your landing page where your review sites are listed, or only include links to a few that you would like to gain more traction on.
Ask in Your Regular Client Communications
Asking for reviews in sales and marketing emails that are sent out in a regular cadence is a great way to gently nudge your customers into leaving you a review. For example, if your Customer Success Director regularly checks in with clients, it may be a good idea to also use those emails to either ask directly for a review or add a link where customers can leave a review. We like to feature different review sites and include review buttons in the footer of a newsletter that goes out to our clients each month: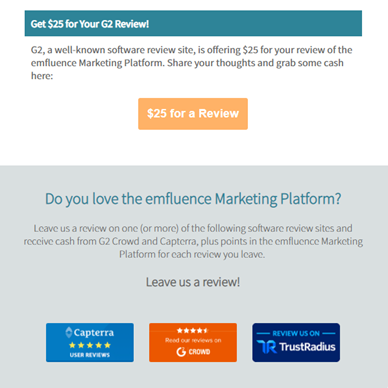 Ask in a More Personal Way
Sometimes the most effective way to get a client to leave your company a review is to just ask them. Up to 80% of reviews originate from follow-up emails urging customers to leave a review (Spiegel). Consider following up at key moments when they are most likely to leave a review—after onboarding a client that is excited to use your product, after going above and beyond to resolve a client's issue, after meeting with a client that had positive things to say about their experience with your company, etc.
Ask in a Fun Way
This year, we decided to incorporate gamification into our review strategy by holding a review challenge. We came up with prizes based on the number of review sites that clients posted their review on, built a landing page, and sent out a few emails.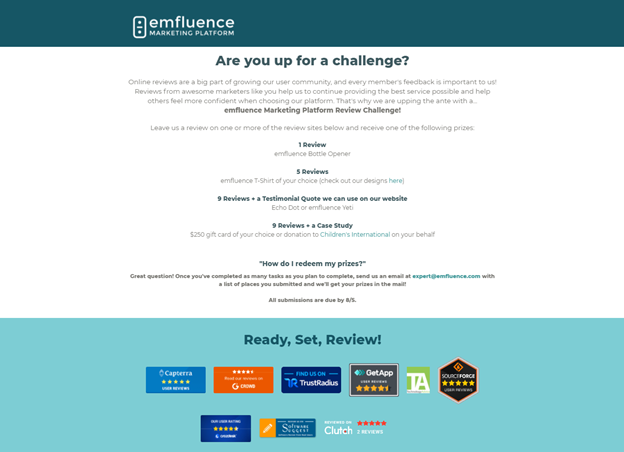 Incentivizing people to leave reviews isn't only a great way to collect multiple reviews in a short amount of time, it is also an opportunity to show your clients how much you value their feedback and reward them for supporting your business. And it's fun!
Getting customers to leave a review for your company can be challenging, but so important now that most prospective buyers are doing their own research before contacting your sales team. Helping buyers feel confident and make an informed decision isn't something to be passive about. With the right review strategy in place, you can improve your company's visibility and generate more sales qualified leads.
Looking for help with developing a review strategy? Contact us at expert@emfluence.com.