According to our report on the State of Email Marketing, email is becoming increasingly more relevant with 87 percent of marketers believing that email marketing is or will be critical to their overall marketing success.
However, there is no email marketing without an email list, and building a robust database is a top priority for marketers everywhere. We're here to share some tips and tricks on building and growing a subscriber base you'll be proud of.
What is an Email List?
An email list is a database of important information collected from website visitors, customers, social media followers, and others that contain email addresses, names, locations, etc. This is an ever-changing list that evolves as companies grow and as customers opt in and opt out of communications.
Why Build an Email List?
An email list is a valuable marketing asset to your company because it is one of the few channels of communication that you fully control. It isn't affected by ranking, SEO, or algorithms which means that if you are following the rules and regulations for commercial email such as CAN-SPAM compliance, your brand's story is always yours to tell, and your audience reach will remain untouched.
Email is also a marketing strategy that is easy to track with important performance metrics like open rates, click-through rates, and conversion rates available almost immediately. This gives you and your marketing team real-time data on what's working and what's not, allowing you to pivot your future campaigns.
There's also plenty of room for some good ol' A/B testing which can offer valuable insight on what your audience resonates with. Trying out different subject lines, CTAs, or offers through email makes it easier to determine what your customers are most interested in.
List Building Strategies
When it comes to strategies for building your email list, you can go high on budget or pinch pennies, make it complex or simple, and make it as massive or minimal as you'd like. What brings success to one company may need to be completely revamped and tailored differently for another one.
How to Build an Email List
To build an email list, you'll need to start collecting names and email addresses and find a way to store them. Someone just starting out might do so by creating a designated distribution list used for business and manually organize it all. However, these lists can quickly become difficult to manage by hand, which makes it even more important to find a reliable marketing platform to send your correspondence from.
A good marketing platform is designed with you and your company's needs in mind. You should be able to efficiently manage your growing list and your campaigns, automating where needed and using the tools available to create a powerful and creative nurture journey for your subscribers.
Having one from the very start can be a huge benefit when it comes to maximizing your campaigns and finding new subscribers. You're able to see the full potential of email marketing from the get-go. Check out all of the intuitive features that emfluence's Marketing Platform has to offer fresh and seasoned email marketers! 
Capturing your audience is one of the first steps and can be done in a variety of ways, whether you're walking around with sign-up sheets or getting creative with your website. Utilizing both in-person and virtual opportunities can increase the potential to discover new audiences.
For example, if you're presenting at a conference or hosting a pop-up booth, make sure to have a spot either on paper or electronically for people to enter their contact details. The same idea works for your virtual storefront as well. After someone has idled on your page for 30 seconds, generate a lightbox with a form for them to fill out to stay updated on company news, events, or sales.
You'll want to avoid buying email lists or adding emails without consent. These are some of the worst tactics to try.
For one, you're not reaching your target subscriber which means they'll be quick to unsubscribe. Secondly, you weren't given permission to send them emails. The inbox is a safe space and anything that wasn't asked for can be marked as spam (not to mention that a poorly vetted list could also contain spam traps) which can affect your deliverability. Finally, buying lists can be illegal according to email law so it's better to avoid it all together.
How to Grow Your Email List
Growing your email list is just as important as taking the first steps towards building one. Maintaining a healthy email list will only play into your favor. A healthy list is one that consists of active, valid email addresses that have reason to build relationships with your business.
While a massive list is enticing, you want to focus on the quality of the list just as much as the quantity of email addresses on the list. These quality contacts are going to be that ones that end up opening emails just to see your sales, click on links to browse your newest products, and add items to their shopping cart. They are prime candidates to target later for conversions. Clever abandoned cart emails? Send!
Get Far with Personalization
You're trying to create a well-rounded experience where you are able to fit the needs of whoever comes by, whether they're loyal customers or new to the brand. Take your personalization efforts a step further by creating additional landing pages. Having more pages to redirect your audience to allows you to cater to a wider demographic.
Create Incentives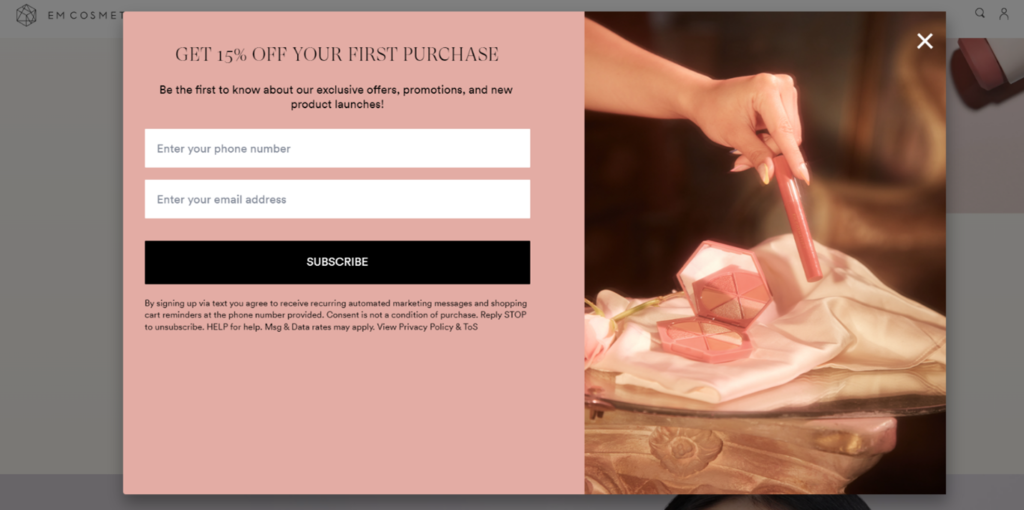 Start looking at marketing as a two-way street beyond the selling and buying relationship. What else can you add to it that would enrich the customer experience or make it worth signing up for your emails?
Why subscribe to blog articles when I can simply browse your blog section on my own? Well, maybe if I subscribe, you'll send me a curated email with blog posts based on my interests each month.
Why sign up for news on sales when I can just pull up your webpage to see the current deals? Maybe those on your email list get a 24-hour notice on any sales with a code to access offers before anyone else.
Why hand out my email at all? New subscribers get a free download of a case study, an eBook, or a free course.
Think about the reasons why you sign up for emails. People aren't going to want to give you their email address for no reason. They need to be given a reason—either because they love your brand so much and want to see you in their inbox every day or because you offer something they want to get their hands on.
Gatekeep Information
Not everything has to be out in the open for everyone to see. While having a website with all the relevant info works wonders, playing the role of gatekeeper can also grow your email list.
This strategy can commonly be seen in brands that offer quotes or rates. For example, I want to find apartments in the area that are within my budget, have the features I'm looking for, and are available by a certain date. Apartment List gathers my wants and needs and compiles a list of all eligible apartments in exchange for my email. This way I get the information I need to make my decision while they get a potential lead to nurture.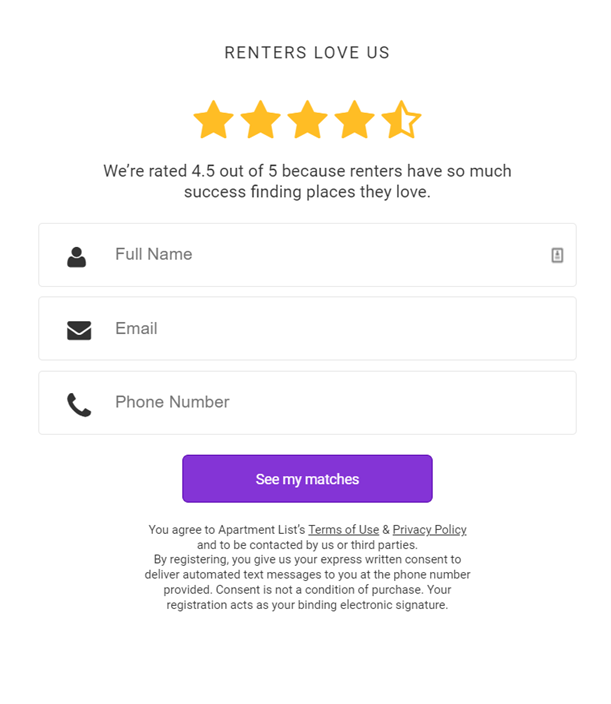 Pumpkin is also another example of this. They have pet owners answer questions about their pet's age and what they're looking for in an insurance plan. The final quote is only accessible once they fill out a form with their contact information.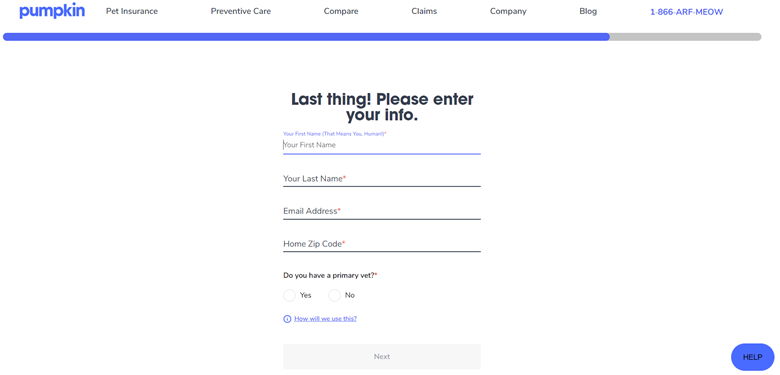 Referrals are Your Best Friend

Bring back old audiences and use them to help generate new ones. Old subscribers are in a position where they aren't eligible for those first-time subscriber offers but that doesn't mean you have to leave them in the dust when it comes to growing your email list. There's nothing better than being able to continually receive deals. Establish a referral program by offering deals to both parties — the one who refers and the one who signs up and completes the action.
Many brands have done a great job of using this tactic to grow their lists. Marcus by Goldman Sachs allows customers to double their interest rate on savings accounts when they refer a friend and Kendra Scott offers exclusive deals for both plus free shipping.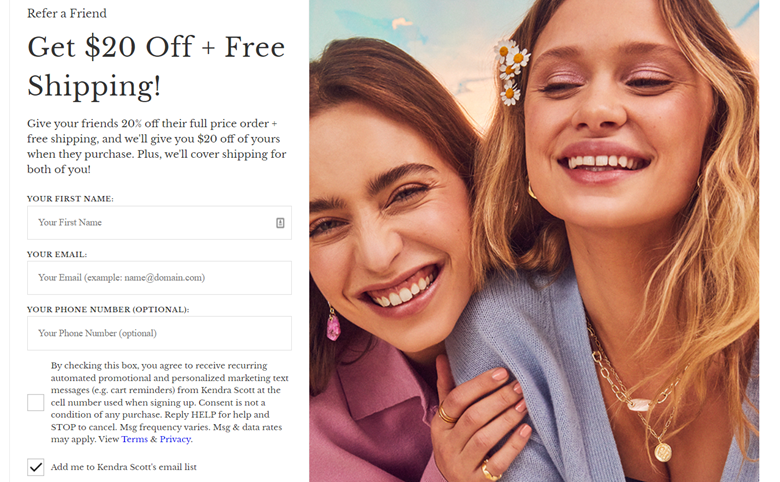 Be Intentional with Your CTA
"Sign up" is everywhere. It's so expected that we all just click at this point without even reading the button. But what about the people who aren't clicking? "Sign up" isn't always going to do the trick and many marketers are catching on. Get creative with your calls-to-action. And if the website visitor wasn't going to subscribe anyway, at least make them stop in their tracks before they hit the x and leave your page.
In addition, allow your audience control over what shows up in their inbox. Some people want it all while others only want to browse specific topics. If they are only wanting to see emails about sales events, give them that option if you can.
At emfluence, we let subscribers dictate which emails they receive by content. If they're looking for emsights on social media or search they can sign up for emfluence Digital Marketing emails only while those interested in CRM and marketing automation can choose to sign up for emfluence Marketing Platform emails only.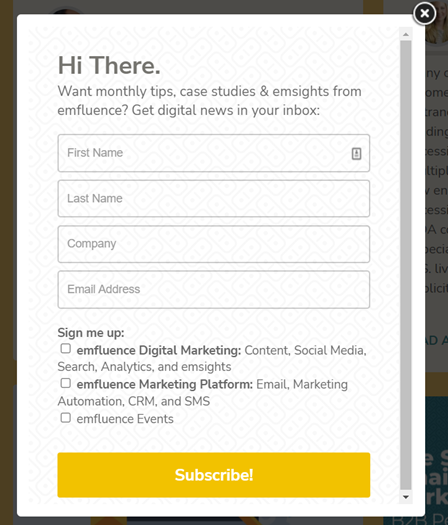 Use Your Social Media Accounts to Your Advantage
Just because someone is following you on social media doesn't mean they're subscribed to your emails and vice versa. Take some time to cross promote and use your social media campaigns to help your email and your email campaigns to boost your social.
There are many ways your social platforms can be used to attract followers to your email list. One of the easiest steps you can take is to include a button or opt-in form on your business page on Facebook or include signup links in your bio section.
You can also use these platforms to offer email exclusive deals. Ad campaigns that target this typically include an offer (ex. 10 percent off for new subscribers or a coupon code for a free gift) for those who sign up for newsletters.
The Takeaway
There are plenty of creative ways to grow your list. The important thing to remember is to be thorough and be conscious. Put yourself in your customer's shoes and figure out what conveniences will entice them.
Be thorough. This may mean including a small signup button on each page of your website so that it's easy to find no matter where they navigate, coming up with the best content, or meeting them where they're at in the real world and earning their email addresses at events. Focus your efforts online and off and look for new places to leave a signup such as your email signature or a community board at your local grocery store.
Be conscious. If it's not attractive to you, it probably won't be to your audience. Create a good understanding of what your audience is after whether it is deals, knowledge, or news. Once you have an idea, keep that as your focus.
Growing a list, especially one that is clean and healthy, takes time and isn't something that just happens overnight. High-quality subscribers are worth the effort, and it will feel much more rewarding when they share their email with you.
To refer back to our list building tips & tricks, download our infographic: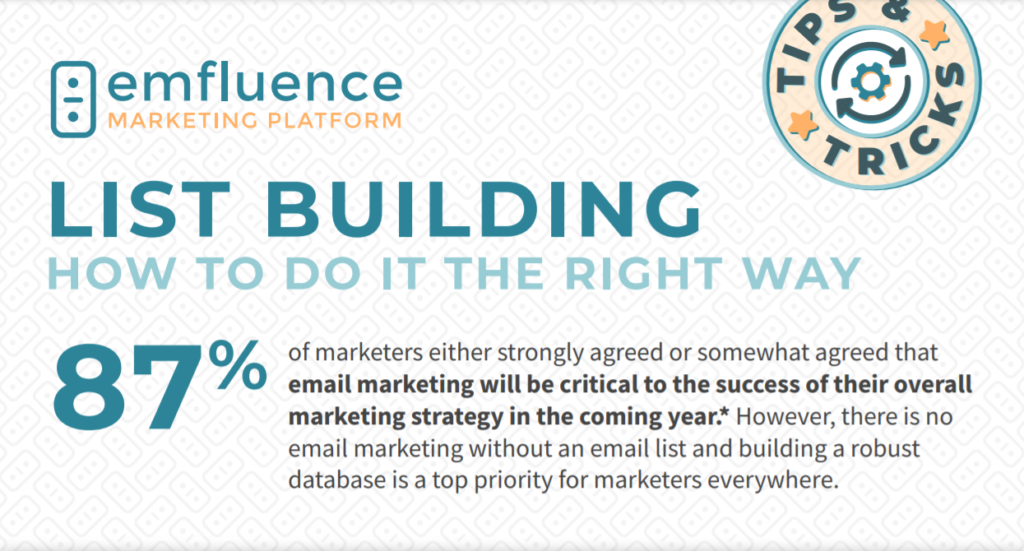 Have questions about building and growing your subscriber database? Reach out to us at expert@emfluence.com!