Next generation marketing is filled with lots of shiny toys for the marketing creative to experiment with, from text messaging communications to the world of podcasts, influencer marketing, and more. There are more marketing channels than ever where marketers can connect with audiences about products, services, and company updates.  
While all these methods of communication provide unique ways for engaging audience preferences, it's the time-tested email that we'd like to highlight when it comes to showing off your cool new marketing tools.  
Emails are a tried-and-true way of nurturing a connection between your company and your potential customers. Customers willingly opt in for company updates, product information, and more when they sign up for an email list. This show of trust is something you've earned and is also a great way to introduce loyal customers to the new channels you've been exploring.  
Types of Next Generation Marketing Channels
Next generation marketing channels are taking over. How many of you listen to podcasts hosted by your favorite brands, sign up for SMS alerts, or buy the products or services promoted by the influencer you follow? These are all examples of ways that marketing is expanding beyond your traditional forms of media and even beyond some of the digital tools that have found a foothold in marketing strategies. (Check out our blog post about social media marketing versus traditional marketing). 
We're here to touch on a few of the many innovative methods for reaching your audience these days. 
Podcasts
Podcasts have quickly become a regular part of everyday routines and many religiously listen to their favorite podcasts on a weekly (or even daily) basis. Audio content is a convenient way to get information and is ideal for those who are always on the go. They make it easy to get the news, the gossip, the trends, or information on any topic imaginable while commuting or going about your day-to-day.  
This hands-off method of receiving information is also a great way to market your brand. If you have a big enough budget, you can create your own podcast that hits on all the relevant topics in your industry. There are literally all sorts of things you can brainstorm when it comes to content. Those that aren't looking to produce their own show can reach out to hosts of existing podcasts for ad slots or guest appearances where they can present a conversational experience for audiences.  
Influencers
Influencers are everywhere these days, and they exist in all sorts of industries.  
While you may automatically think of accounts promoting clothes, skincare, or vitamins, social media is so diverse that you can find influential creators in every industry. Just take a look at @your.richbff, a former Wall Street Trader who specializes in finance content or @loewhaley, a professional in her 20's promoting healthy work cultures and serving as a "virtual work bestie", or even @chateaubarefoot who's taken her passion for Victorian period dramas and attracted tens of thousands of followers.  
What's great about influencers is that they have a loyal follower base already and oftentimes, will only promote what they personally believe in. This creates a trusted form of advertisement backed by social proof. The potential is there if you're willing to look for the right partner.
SMS
SMS marketing campaigns are a form of communication with customers that sends messages straight into their hands. This is a strategy that can easily be integrated with a current marketing plan by supplementing other forms of communication and sending out important reminders and details.  
Text messages are short, giving you a set number of characters to get your point across. Because people know this, the open rates for texts are much higher and people are able to get information about promotions or order updates with a quick glance.  
Video
If a picture is worth a thousand words, then videos are surely worth millions. Videos are known for boosting conversions and creating higher ROI. This is a useful form of media to tap into and leverage when it comes to building relationships with your audience.
There's a lot you can fit into one video, from specs for a new product to your company's origin story. The best part is that video is widely used across all sorts of social media platforms (think Facebook, Twitter, Instagram, YouTube) and can even be plugged into emails.  
Podcast Marketing Strategy
Should you insert an entire audio recording into your emails? Maybe not. No one wants to keep an email open for 40+ minutes just to listen to a podcast. However, there are lots of other ways you can incorporate your podcast into your regular email updates that can draw in new audiences.
One idea is to include it as a link towards the bottom of your email, similar to how you'd include links to your social handles.
Book Riot promotes their podcast with an extra-large play button as well as details about the specific podcast that is being highlighted like the title, summary, and name of the hosts. Choosing to promote the latest podcast rather than the show as a whole is a great way to entice people to click. It gives them a good episode to start at and they know the exact topic that is being covered.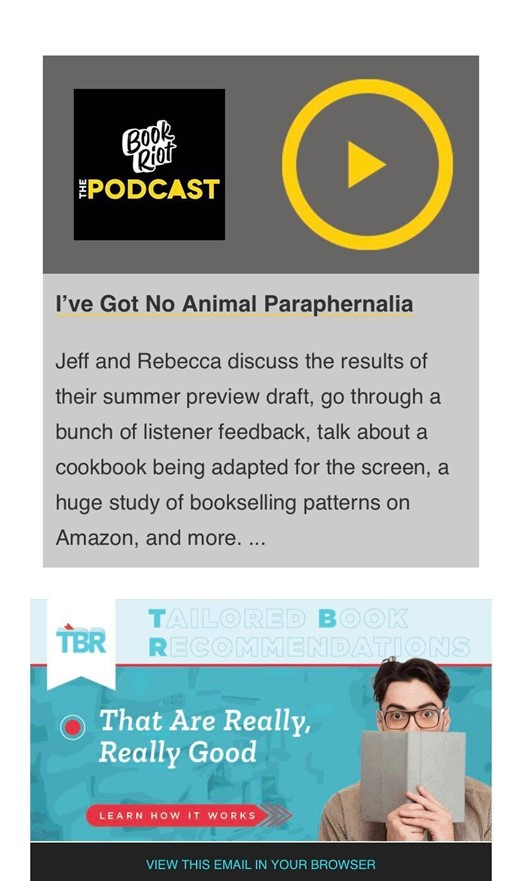 While promoting a specific episode can help draw interest, you might be the type of podcast that doesn't need to highlight your content at a topic level. Some podcasts, while still broad, are also niche enough that someone has a good idea of what will be covered in each episode. 
The News Not Noise podcast is a great example of this. Being a news outlet, there is some understanding that new episodes will cover recent events.  They promote their podcast by drawing attention to their success at making the top 100 news podcasts on Apple. This one in particular also touches on the topic of their recent release since it's not directly related to current events.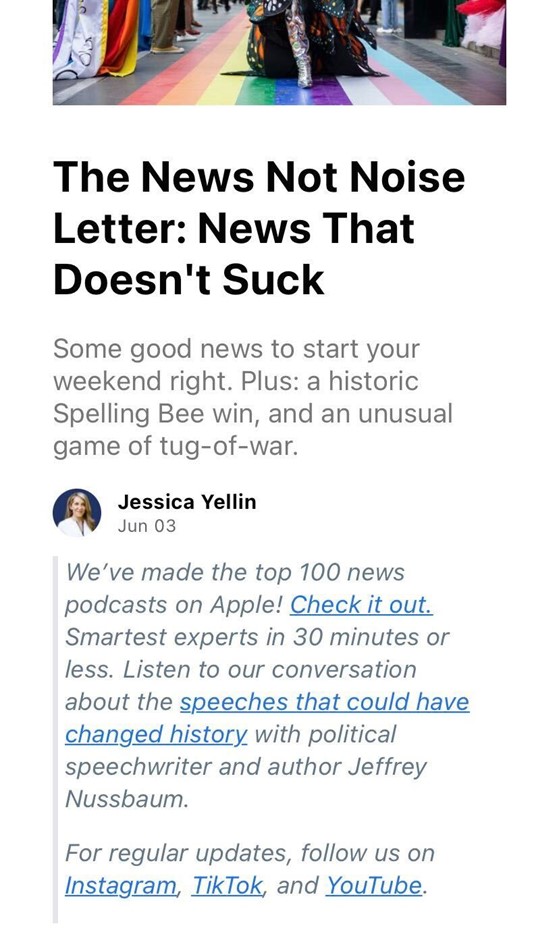 Influencer Marketing Strategy
Influencers can be a fun group to work with because they have their own creative ways to incorporate your brand's talking points into content for their followers. But when it comes to emails, what's the best tactic for promoting your partnership?
A useful tip is to include relevant social media tags in your emails and make it known that you're partnering with specific influencers to highlight your products or services. This can be done by sharing the content they've created through your emails, including hashtags (one common example to represent partnerships is the #brandXinfluencer format), or sharing pictures from brand experiences or events that the influencer has attended.  
Delta reminds their email list to "stay inspired" and uses their own members as a source of inspiration to book travel adventures. They've created a hashtag that all Sky Miles members can jump in on (#SkyMilesLife) and chosen two picture perfect dream destinations that their members have posted about on social media.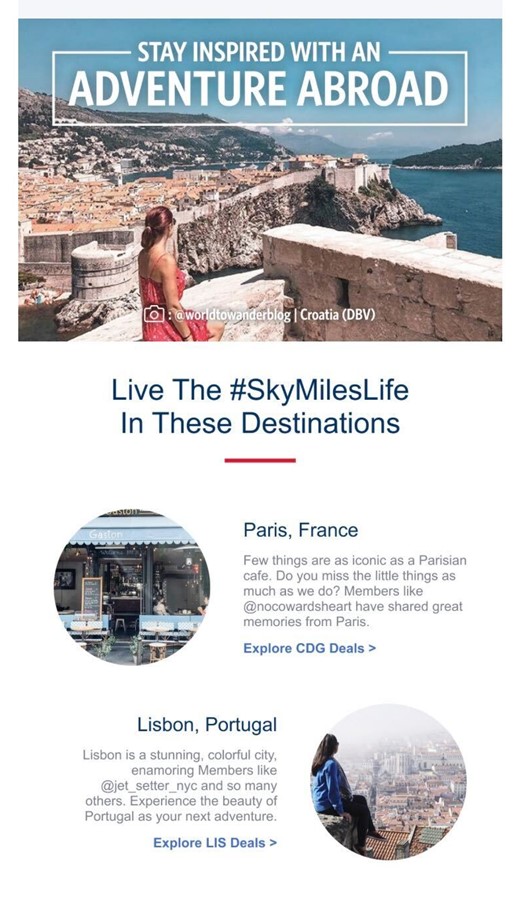 SMS Marketing Strategy
The goal with SMS is getting people to opt in. Similar to how emails work, you don't want to send texts without permission. Oftentimes people want to get news about their favorite brands on their phones, they just aren't aware that it is an option.  
Regularly including a sign-up section in your emails is one way to build your list. Bath and Body Works started including a "More to Love" section after their top promotions, letting people know they can receive texts from their go-to candle and body care company.  
Think you may need to nudge your audience to subscribe to texts? Try including a deal like 10 percent off with SMS sign-ups or find other, subtle ways to show why it makes their life much easier.
Kérastase doesn't make a huge deal out of text messages. Instead, they gently include it in reasons why shopping online is the way to go. Along with a lot of other useful features like live chat and exclusive offers, they include text messaging updates as part of their why, making you think that it was your idea and not theirs to add your number to the list.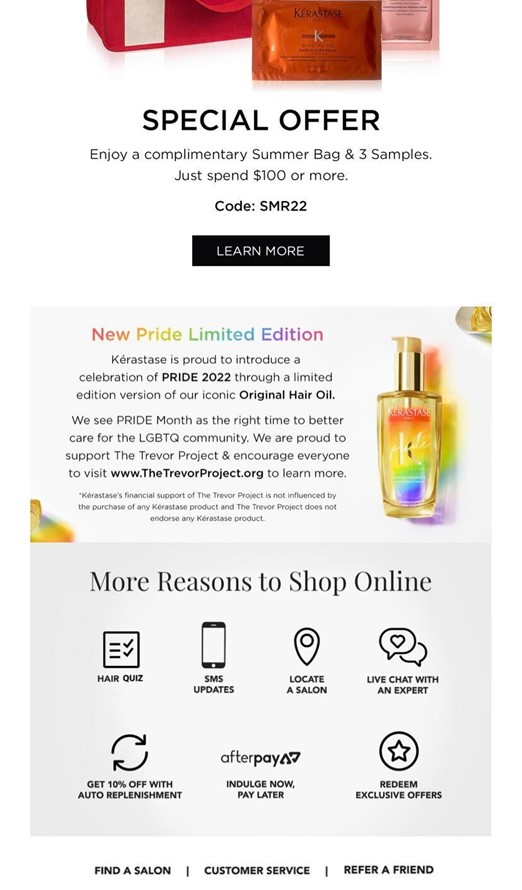 Video Marketing Strategy
While emails aren't meant to hold lengthy videos, they are a good place to redirect audiences towards the work you've put into your video marketing efforts. An easy way is to link a YouTube channel and a list of recent videos that have been created. Or, like National Geographic, include a short clip, a summary, and an easy link to watch the video in full.  
If you're not a brand that is consistently creating new video content, try incorporating some clever copy to entice people to learn more. For example, if you create quarterly updates about latest trends in your industry, share that in email newsletters as an update that will get them all caught up in under 30 minutes or if you've budgeted a beautiful video showcasing your latest product, advertise it as a sneak peek into your company's newest innovation.  
The Takeaway
When it comes to getting your audience to check out other content, create a natural flow in your email and ensure that everything that goes into a campaign serves a purpose whether that's consistent links in what's being sent out or monthly highlight campaigns that reflect on content that's been released. 
The convenience of email is that it has its own ways of keeping up with next generation marketing tactics. While emails of the past were filled with blocks of text, emails (and email strategies) of the present are capable of holding their own while still having room left over to promote all types of creative marketing strategies your company has branched into.