If you love the drag and drop experience of the emfluence Marketing Platform's email builder, you are going to be very excited about this month's update! We're rolling out some awesome new features sure to make you feel like the emfluence Marketing Platform is so intuitive, you'll swear it was built just for you.
New Drag and Drop Editor Makes Creating Landing Pages a Cinch
Creating landing pages is now easier than ever with a Drag and Drop editor. As on the email builder, the drag and drop features allow you to fully customize landing pages without code. Even better, you can now save your landing page as a theme.
When creating a new page, you have three options:

Template is the traditional editor that allows you to create a new page or work from an existing template.
Drag and Drop lets you create a new page using the drag and drop editor or using an existing theme.
Paste in Code. This option presents a blank page where you can paste your own code.
Read more about the new landing page builder here.
Save Drag and Drop Landing Pages as Reusable Themes
Saving your newly created landing page as a Theme allows you to reuse that design without having to start from scratch. Themes will show up in the Drag and Drop editor, whereas Templates will continue to display under the Template option. To save your landing page as a theme, select Manage Themes in the left-hand navigation on the Pages main page.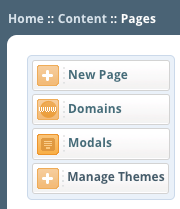 Updated Contact Detail User Interface
As part of our ongoing update to the user interface, we've updated the contact details. You'll find all of the same information in a refreshed look.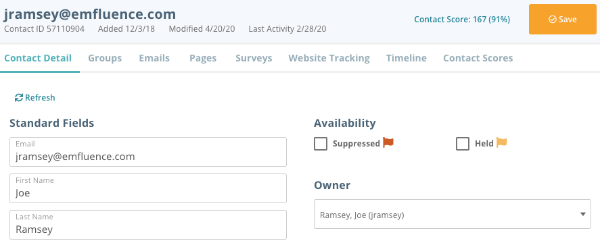 Transactional Emails
SQ asks: The nature of our business requires us to send transaction confirmations to quite a few people. Is it possible to increase the limit on the number of transactional emails? 
Answer: The threshold for transactional emails was intentionally set low to prevent the inadvertent use of the transactional account for marketing related communications. Based on customer feedback, we increased the threshold of transactional emails to 1,000 contacts per call.
 Download Summaries
JB Asks: We love that we can download contact information for people who have clicked on individual links within an email, but it would be nice to able to download the summary as well.
We agree! You can now download the Link Summary.  Simply click on the download icon in the upper right to receive the report.

Got more feature requests? Keep them coming! We're listening!