If a picture says a thousand words, then videos surely speak millions. There's a reason why videos are becoming a popular medium on social media, email, and other marketing channels. Videos do a great job of telling a full story without much explanation from the brand. Ready to up-level your next email campaign?  
Why Use Video in Email Marketing?
Using video comes with a whole host of advantages that images or GIFs can't offer. There's a lot it can do for your existing audience as well as new audiences in terms of showing what your brand is all about. For example, you can use it to showcase a new product, share a how-to tip, capture attention, or create an emotional connection.  
Just picture some of the recent video advertisements featured during the Super Bowl like the Amazon commercial featuring the family that adopted a new friend for their rowdy dog or even the Tubi commercial that made everyone stop and pause, thinking someone had changed the channel. It's obvious that videos work in marketing and that brands know to capitalize on them.  
What about email, though? We've seen less of video in email marketing efforts but it's a growing trend that is here to stay. Video has a way of amplifying the power of email and it's so different from what we're used to seeing when we open our inbox that it does a great job of getting someone to actually pay attention and even click.  
Videos are intriguing enough to capture someone's interest — imagine a still with a big play button in the middle of your email. It's instinctual to hit play regardless of what the video is actually about. The curiosity is enough to get your customers through the door.  
In addition, videos can easily tie in with the rest of your marketing strategy. You don't have to create new videos specifically for your campaigns. In fact, you can repurpose ads, YouTube videos, Instagram Lives, etc. This helps you get more use out of existing video content and ties all of your platforms together.  
Adding Video to Email
Videos can be included in any sort of email you're sending whether it's a promotional email, a thank you email, a nurture, or more. There are a few ways to include videos in your email campaigns from embedding them directly to clever linking. We'll quickly run through them here: 
Embedded Video: This allows users to hit play directly in the email, without ever having to leave their inbox. While this may seem perfect, it can also lead to some issues. Many email clients don't support all video formats, especially more recent ones. This means there's a chance your video won't work, resulting in a less than optimal experience.
Video Thumbnail: This is one of the most common tactics used to share video in emails. A thumbnail looks like a video with an enticing play button. The only difference is that when the image is clicked, it will take the viewer to your website or, say, your YouTube channel to watch the video.  
Linking: In situations where we may not want a video to be the highlight or if we want a more graphically interesting email, simply utilizing links can be a good way to go. Links are quick and easy to include and can lead to a number of creative video campaigns. We'll highlight this in some of the examples below! 
Examples of Video in Email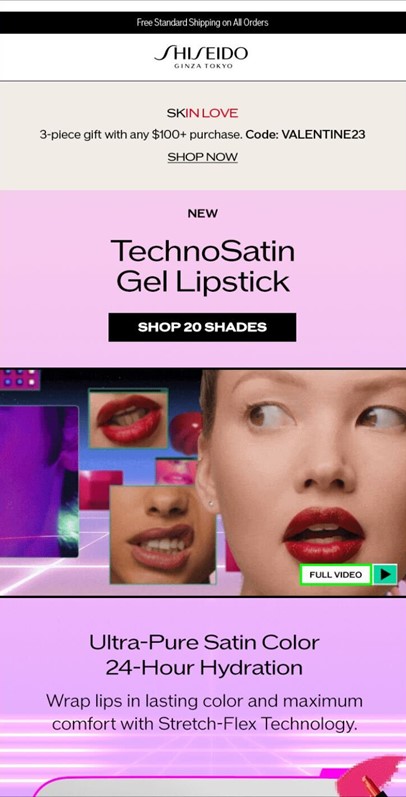 This first example is an email sent by Shiseido to introduce their new gel lipstick and all the shades it's available in. Those that received the email got to see a little bit of all the elements of video marketing. The email uses a GIF with a small clip of the video instead of a thumbnail and, while the full video doesn't play, the recipient has an easy way to click and watch it in its entirety. Here's what recipients see when they click "full video" in the corner.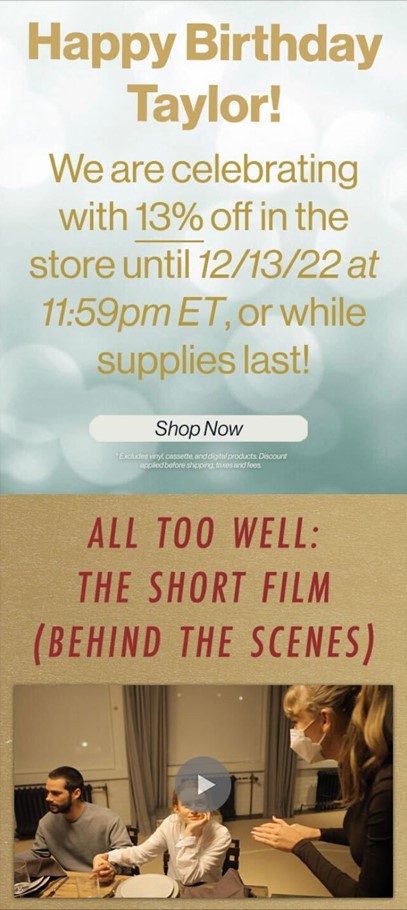 This example is much less fancy than the first one but still gets the job done. In honor of Taylor Swift's birthday, everything in her merchandise shop was 13% off as a tribute to her favorite number. The marketing team didn't leave it at that, though. They also promoted her latest music as well as her directorial skills by including a link to her short film, All Too Well. They did this by stylizing the video to fall in line with the look of the rest of the email. However, if you click on the play button, you're taken to the full video on YouTube.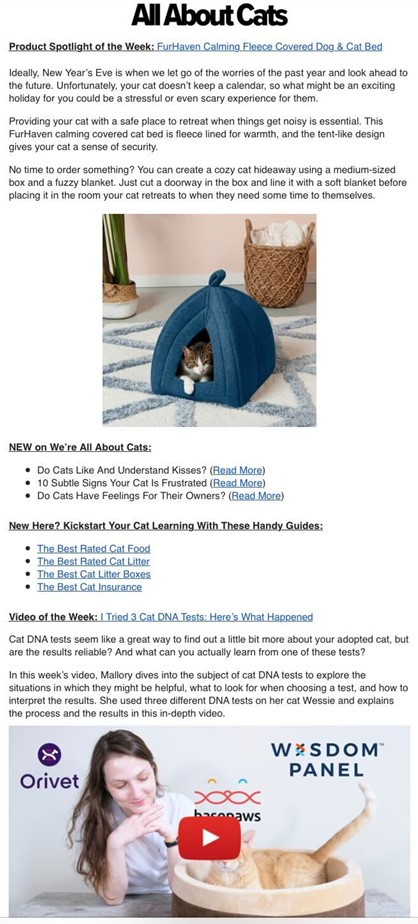 Another example of how a thumbnail image can entice your subscribers to click. This email features the same video strategy that's only a quick click away on YouTube. In this email, they decided to use the iconic, red YouTube play button. This actually does a couple of things. For one, it's another attention grabbing graphic that leads to clicks. On the other hand, it also helps them advertise the fact that they do have a YouTube channel with regular content being posted. If someone isn't interested in the exact video featured, they may be curious enough to click through anyway just so they can explore other topics that have been covered.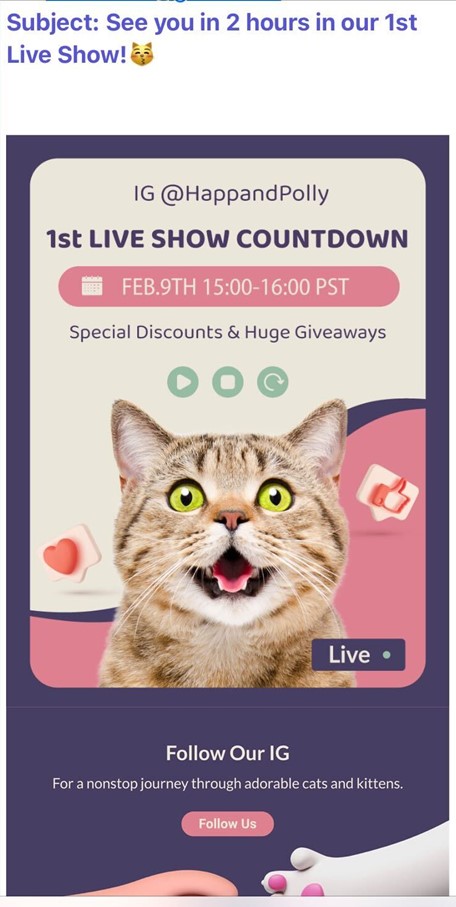 This email was a fun and creative marketing effort. It really pushes the boundaries of what we're used to seeing by using video formats that aren't as commonly featured in emails. YouTube and website videos are expected; however, this company uses IG Live to advertise. While there isn't a direct video link attached, the email promotes an Instagram Live event with discounts and giveaways for those that attend. This is just one innovative strategy that brands can incorporate in the future.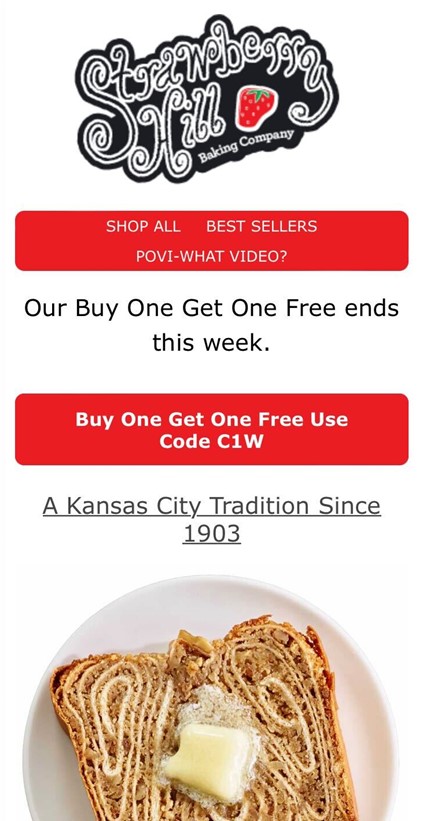 Finally, this last example keeps it straightforward and simple. Maybe you aren't a brand that regularly releases video content. That's okay! You can still share the one-off videos you have created with your email list. Strawberry Hill does just that in a subtle way. While the email is meant to promote a sale, they've generously included a "Povi-What Video?" at the very top to highlight what their company does.  
The Takeaway
Video marketing ideas can come from anywhere and can easily (and creatively) be included in your next email campaign. There's no question that this is a great tactic for making emails more exciting for your subscribers. Rather than sending what's expected, you'll have added something new and different to the mix that will grab your audience's attention and add some fun to their inbox.