This month's emfluence Marketing Platform updates include new notification settings, API endpoints for SMS, the ability to create new groups from within Dataverse sync settings, and more. See what our community has asked for and what we built:
Notifications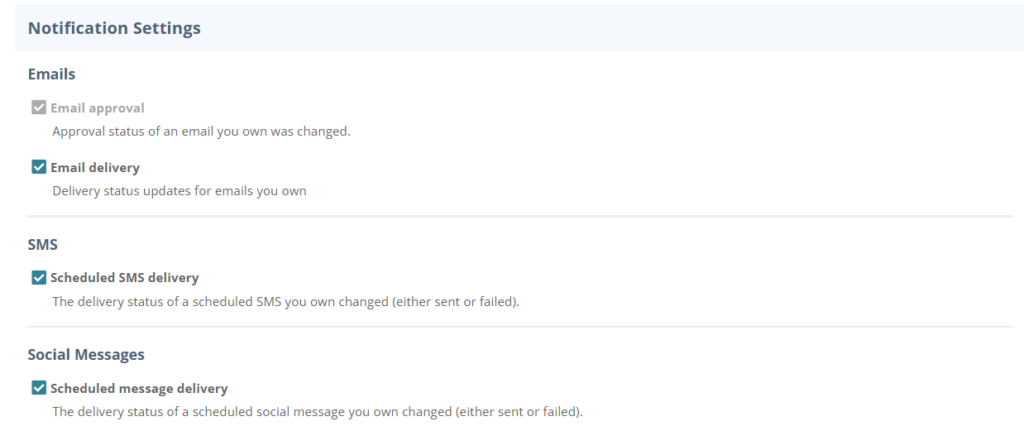 In the Options menu, you will now find a "Notifications" section allowing you to opt out of certain types of notification emails. Some notifications, such as those tied to user security, cannot be removed.
Landing Page Ownership
GC Asks: Can you allow us to change the owner of a landing page?

When a new landing page submission is completed, the new contact is saved with the creator of the page set as that contact's owner. On the Response Page, you now have the ability to change the default owner for future form submissions under the "Data Processing" options.
SMS and the emfluence API
SP Asks: Can you make it possible to send SMS over the emfluence API?

We have added several new endpoints over the emfluence API for SMS messages. If SMS is available in your account, you can now send manual SMS, activate automated SMS, as well as pull in SMS summary results over the emfluence API. Learn more about SMS endpoints here.
Contact Owner in Search
CO Asks: Can you add Contact Owner as a column on Contact Search?

Owner has been added as an available field when searching contacts.
Dataverse Group Mapping
KG Asks: Can you add the ability to create new groups in the Group Mapping section of the Dataverse Entity Sync Settings?

Mapping your marketing lists from Dynamics to emfluence and forgot to make a corresponding group first? Now you can create one on the fly inside the Dataverse integration. Click on the icon to create your new group and select it as the location to map to from your Dynamics Marketing List.
Twitter API Changes
Twitter has made multiple changes recently, and some of those changes have caused issues with emfluence's integration with the social platform. We are currently in the process of investigating and addressing these issues and will reach out when we know more. 
Got another request? Send them to us under the help section in the emfluence Marketing Platform!