This month's emfluence Marketing Platform updates include a new way to save drag and drop content, updates to the SMS inbox, and more. See what our community has asked for and what we built:
The Library
AU Asks: Can you allow me to save D&D content?

The Library now allows emfluence users to save content created inside the Drag & Drop Editor for later use. Like content blocks, Library Items can be saved and dropped within a future email. The new Library Items also will save Drag & Drop elements (i.e. a social widget with the color, size, and links you want included, a layout including multiple elements such as text elements, buttons, images, and more!). A separate Library is also available for Landing Pages. For more on the Library, check out our Help section.
SMS Inbox
CO Asks: We have multiple SMS messaging services, can you make it easier to differentiate them in the SMS Inbox?

The SMS Inbox allows you to see when a contact has replied back to your number. For clients with multiple messaging services, we've now listed more detail for these messages along with the name and number of the messaging service they have replied to.
Replying to SMS Messages
KT Asks: Can you provide more options for replying to a contact's SMS message?

When viewing the SMS column on a contact's record, you can now reply directly to them (as long as SMS is enabled in your account and your user has the proper permissions). If a contact is receiving communications from multiple numbers/messaging services in your account, you can change the messaging service at the bottom to respond from the appropriate number.
Blank Values on Manual Import
LC Asks: I would like the import to ignore blank values rather than overwrite them when importing a new file.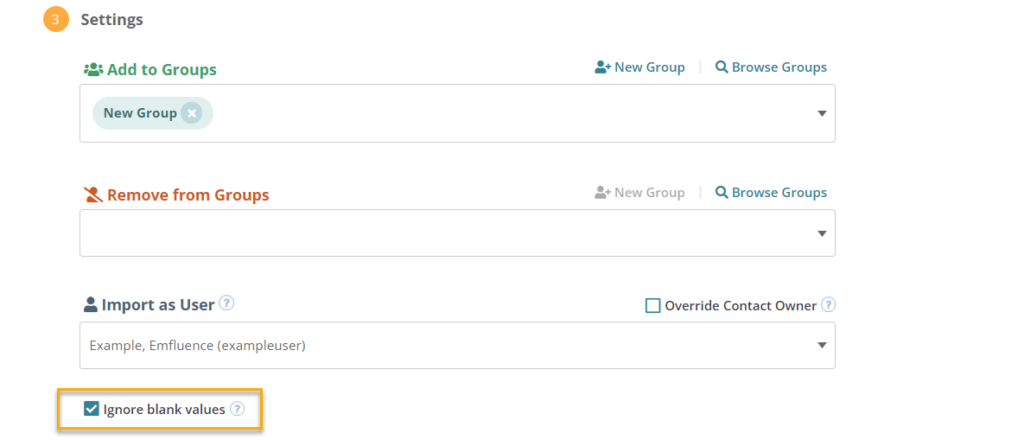 By default, any data you give us on an import for a contact already in emfluence will be overwritten. This includes overwriting current data with a blank value. We've added an option on a manual import where you can choose to ignore blank values, which if checked, will not overwrite any existing data with a blank or empty value.
Podcasts in Social URLs
MS Asks: Can you add a podcast icon to the social element?

Podcast has been added to the list of Social URLs in your Account Settings and the podcast icon (available in the same variation of sizes and colors as the other social networks) is now included on the social element inside the Drag & Drop Editor.
Login History

We've made an addition to the user record where a user can see their login history. Client Admins within emfluence can see the login history for all users within their account. Clicking the icon next to Last Login will open a pop-up with the available login history for that user including date, IP, browser, and operating system for each login.
Got another request? Send them to us under the help section in the emfluence Marketing Platform!