This week we heard from another client who wondered how and why to use variable images in their campaign. In this case, they have an outreach campaign that should be sent "from" a different university depending on which was closest to the prospect, but otherwise, the content of the campaign stayed largely the same with some variable text. They wanted to know if they could use variables for images the same way they do for "area of interest" or "first name" to display the logo of the prospective students' university in the header of the email.
The answer is, of course you can! In fact, another of our clients, Boulevard Brewing Company, uses a variable image to display the label a subscriber's favorite beer in the "Beerfinder" call to action in their emails. Ok, so maybe you don't sell beer, but you might want to show a recipient's own account rep's signature and/or face or show the store front of a subscriber's favorite location. This is used especially often in eCommerce, for example, an image of what a shopper has in their cart with a call to action to come back and buy. Because this changes from recipient to recipient, it's also sometimes called dynamic images. (If you're familiar with in-email motion, like countdown clocks, dynamic image may mean something different to you!)
Here are a few examples of when you could use variable images:
Favorite, recently purchased, and other upsell and related product images
Service/Sales Rep headshots, i.e. "Here's a picture of the person coming to your home for service next week!"
Location or "branch" logos, specified by the recipient's region
Image alt text can be variable too, but probably not the same Data Field, since image names can't have spaces.
---
What goes into a great marketing email?
Download the anatomy of a marketing email template
---
So how to tackle variable images? Here's a peek at how Boulevard Brewing Company used theirs.
First, they have to have that information (or a default) for each subscriber, which they collect on their sign-up for and used as part of a re-permission campaign to longtime subscribers: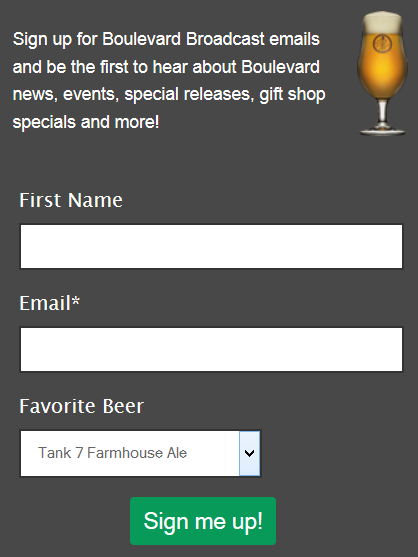 The trick is that the dropdown options (the field labels) are the actual beer names, but the field's value that is being saved to the subscriber's contact record is the image file name: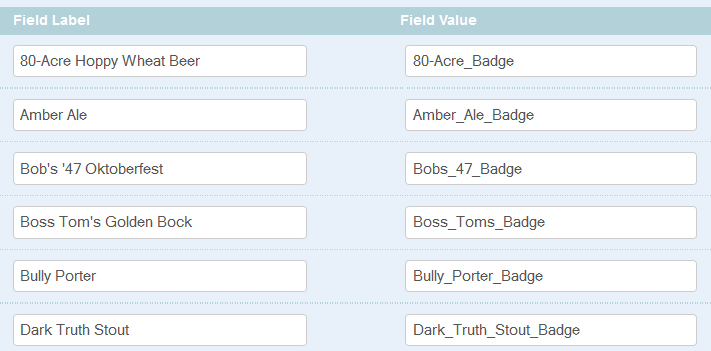 This way, when someone submits the form, the data in their contact record looks like this:

It's important to note that this is a required field for all new sign-ups! Plus, Boulevard used the Bulk Update tool in the emfluence Marketing Platform to assign a "default" favorite to anyone who didn't have one. With these two things in place, they can be sure that no one sees a broken image.
All beer label images are the same dimensions and are stored in the same image library folder, so that they'll have the same image path: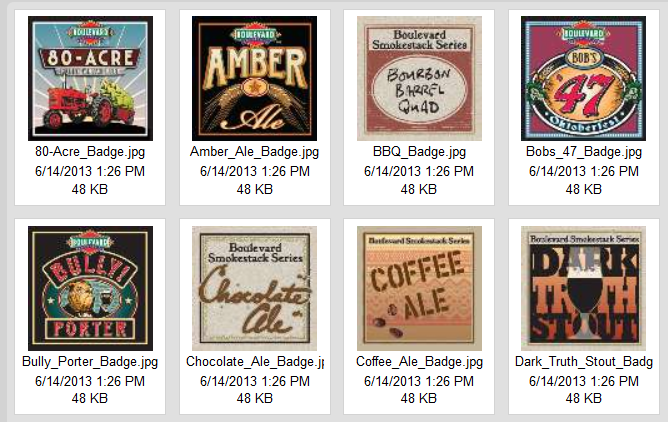 Then, when creating the email, we can drop in one of the 175×175 pixel images from this folder and then modify the image path to replace the image name with the variable name, in this case $$Custom05 (Favorite Beer): https://emailer.emfluence.com/clients/boulevard/uploadedfiles/Badges/$$Custom05.jpg

This not only ensures the rest of our path is right, it gives the image a set size, so it takes up a set amount of space in the email design. If you're inserting this via code, be sure to set the width/height of the variable image so your image always fits nicely in, whether images are on or off in the email.
They proofed and previewed this a LOT before sending to make sure they got it right. My email looked like the one on the left, Jessica's looked like the one on the right.
Don't forget about your Outlook subscribers who don't automatically download images… Be sure to add some alternative text to your image that is either generic, so it will make sense to all recipients, or use another custom variable in the alt text. Don't re-use the same field as the image path – remember, that's the image name, without spaces or punctuation – unless you know that each image name could work as text, too.
So, besides displaying the label of your favorite beer in your emails, what are variable images good for? Here's a few ideas for inspiration:
Include a picture of the customer's sales rep or the employee that will be meeting with them. This is especially nice for companies with in-home services, so your customer has seen the face of the person coming to their home.
Recently purchased items, items left in a shopping cart, or recommended/related items. If you have an eCommerce website, you should be able to pull this data and use it as variables in an automated thank you or abandoned cart email!
Want to give it a try, but not sure where to start? Reach out to support at emfluence dot com. Cheers!
---
Ready to get started?