Sara recently wrote up a great blog post on the emfluence blog on remarketing. One of her points was the importance of either working to re-engage inactive contacts or trimming them. to be sure your metrics are strong (high open/click through rates) and that you don't keep sending to contacts that aren't really there.
Cutting down your mailing list size may seem counterintuitive, but the numbers don't lie. If you have subscribers on your mailing list that haven't opened your emails in a while (for say, the last 13 months), then take them off your list!
Inbox providers reward senders who get more opens/clicks with consistent inbox placement (as opposed to junk filtering them). If your list hasn't been cleaned in a while and less than 20% of your recipients are opening your messages, then inbox providers like Yahoo! and Gmail may think that you're a spammer or that your content isn't relevant to their users. It's their job to keep their users happy, right?
The emfluence Marketing Platform makes it easy to run a quick search of your contacts and segment out those who haven't engaged in a while from Advanced Search in the Contacts section. Select the group you want to focus on, then scroll down to Activity. Use the fields to find those who have not opened (and therefore haven't clicked) since last year:

Important TIP: Remember to include an "added before" date! Someone could have signed up last week and not opened yet, but we don't want to remove them yet.
Once you have your results, you can add those inactive contacts to their own (new) Group and remove them from your mailing list: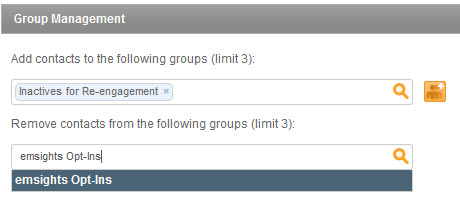 Now, you have your Inactives Group to send a 1, 2 or 3-email campaign to, to try and get them back on track and opening/clicking. Not sure where to start? Check out Sara's previous emfluence blog post on re-permission (asking for permission again), including some creative examples. Then, if they do click, ADD them back into your main email list. If not, you've already cleared them out – no further action needed.
To set expectations: usually less than 5% of your inactives list (those that haven't engaged in 13 months or more) will re-engage. Give them about a week and then move reactors back into the list and let the rest stay out.
Have questions? You can always reach out to Support! Give us a call at 877-81-EMAIL.