Recently, the emfluence office migrated our own corporate inboxes to Office365. Immediately, we noticed that we were all missing a lot of our own emails. Marketing campaigns for clients who use the emfluence Marketing Platform and many email newsletters seemed to be slipping into the junk folder. It wasn't just emails sent through the emfluence Platform, but emails sent through any email service provider that were getting stuck in the Office365 junk filter.
We walked down the normal paths: reviewed our authentication (DKIM, SPF, etc.) and re-white listed some of our frequent senders as we fished them out of the junk folder. That helped a little, but some days, we couldn't even get a proof our email campaigns to go through! It's always a catch because we're essentially sending "from" an email address at our own corporate domain that our mail server knows it didn't send. That's all email marketing, but that's why we authenticate!
Then a couple of weeks ago, one of our partner agencies migrated to Office365 and noticed the same thing. Now we knew it wasn't just our own settings, but something about the global Office365 settings that was amok. We dug back in and, thanks to the TechNet blog, found some answers.
---
Don't Love Your Email Results?
Download the anatomy of a marketing email template
---
The article confirms that this is a widespread issue with the version of Office365 we installed and is a known error setting. There's already been a fix released by Microsoft in February/April of this year (depending on which version you have). Our CEO, Dave Cacioppo, predicts that upcoming downloads of Office365 will just include these so-called hotfixes into their download, so the problem will fix itself going forward, rather than having millions of inboxes just "switched off" like this.
The problem, we realized, is with any batch or "bulk" emails. If you're noticing that you can't get legitimate email campaigns to your inbox, you can also adjust the admin settings for Office365's Outlook (Full credit goes to Elton Mayfield at ER Marketing, who dug this up!).
How to Get Your Own Emails (and others) in Your Office365 Inbox:
Log into portal.microsoftonline.com (this should be done by your Administrator who has access)
Dig into your admin spam settings by going to:
Service Settings > Email, Calendar and Contacts > Spam Filtering > Edit or Create Content Filter Policies
Click on the pencil icon to edit the default settings and click on Advanced Options
By default, the 'block all bulk email messages' is turned

On

. Turn that darn thing

Off

. You want to be able to receive your legit email subscriptions!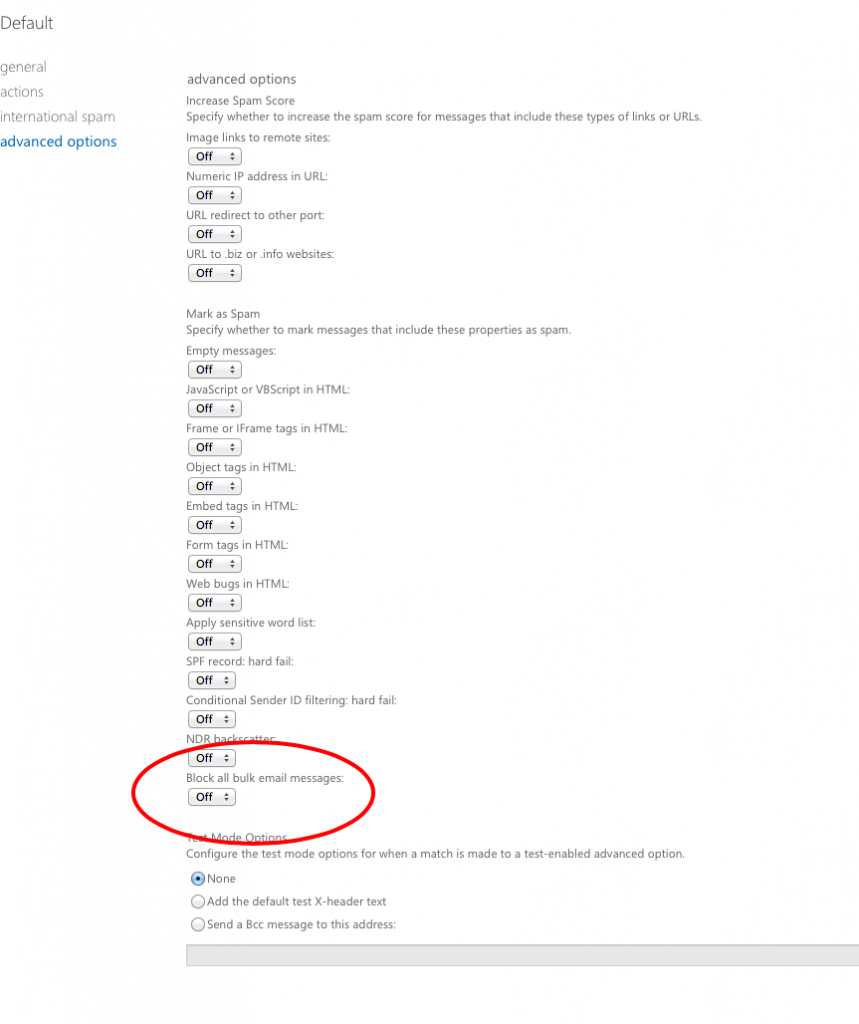 ---
Ready to get started?