A couple weeks ago, I guest posted on LongTailPro's blog, sharing the 7 things you should be testing in email marketing, from frequency to subject lines to personalization. I also pointed out the importance of making your email tests scientific and statistically significant. All important information! But my biggest piece of advice for testing in email marketing is to make your test & results actionable.
Set ever test up to ensure that you'll learn something that is actionable for future email campaigns. For example, you could split test two subject lines, but not an actionable strategy: maybe subject line A just outperformed subject line B because the copy worked better. But what about the subject line really won?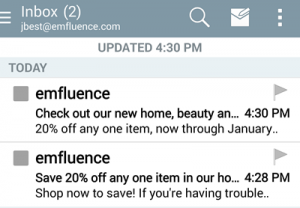 In this example, test placing the offer in the first half of the subject vs. the last half of the subject line. Or, test including the introductory words "January newsletter:" at the beginning of the subject line versus getting right to your content proposition. You can even test featuring your different articles, but in a way that you can learn something from it.
My favorite example was from a pet store client a few years ago. They were testing which of the articles in the newsletter would get the best open rate if highlighted in the subject line:
·         Offer focused: "Fleas Are a Year-Round Problem. Save on Prevention."
·         Video spotlight: "Protect pets from year-round flea problem. Watch the video."
·         Content spotlight A: "Protect your pet against fleas year-round."
·         Content spotlight B: "DIY: You can make a bed that helps your pet sleep comfortably."

They were testing whether a video, help topic, coupon, or Do-It-Yourself article would be the biggest draw. Their results were clear: the DIY subject line garnered a 25% higher open rate and 85% more click throughs on all articles in the newsletter. They learned to feature their DIY article in their subject lines going forward when they had one, PLUS, they tried to always have a DIY article in their content plan.
But, beware: Don't assume your learnings are true forever. I bet that if we were to re-run a topic test for that pet store today and used video as one of the options, it might outweigh the DIY topic. Video and rich media have become much more integrated in brand-to-consumer relationships in 2015.
Plus, it's possible that the real reason the 4th subject line won was because it was a topic about keeping pets comfortable (and not because it was DIY vs. Video vs. Offer). It was the only topic that didn't focus on flea prevention, so perhaps the topic was just more relevant. The client did test this concept again 6-months later and found the same results, confirming their findings that DIY was their very own subject line gold. (Hint: What makes a subject line golden is different for every marketer.)
What will your next A/B split test be? Remember:
Make it actionable
Re-test to prove that results are still true
Find your

own

winners — what works for another brand or industry may not work for you