This is a recap of the presentation I gave at the 2015 emfluence Marketing Platform User Conference in Kansas City. The presentation revisited both my predictions for 2014-15 and the new trends we're seeing for 2015 and beyond. Revisit the slides here.

I admit that when I speak on email marketing at conferences or on webinars, I still get that rare one person who asks "Does anyone still use email marketing? In a social media world?"
Yes, in fact, a lot of people do. Because they like making money with their marketing. KISS Metrics says that if all of the email volume in one day were equivalent to a cup of rice, then by comparison, all o the Facebook posts in one day would be equivalent to just 10 grains. Twitter would be 4 grains of rice. I love social media, but my heart — or perhaps my head — belongs to email marketing. Email return on investment still tops all other channels. In 2014, companies attributed 23% of their total sales to email marketing. This number was up from 18% in 2013.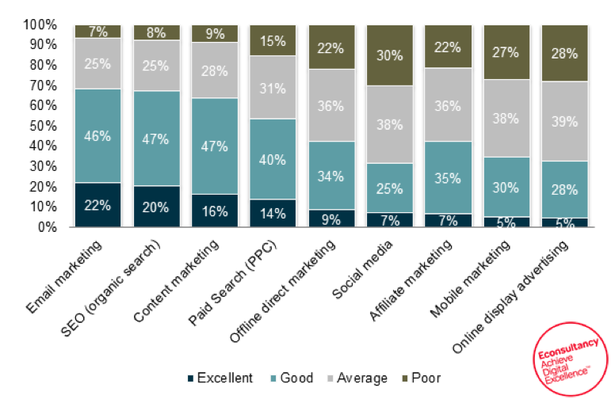 But you only make revenue if you're doing it right. In 2014, I made a few trends predictions. Looking back, many of them are even more true in 2015:
Mobile
It's been a trend for 3 years, but is finally "here" and still growing… with one caveat: marketers are making sure it's a relevant trend to them. Global numbers show that over half of all email opens happen on a phone or tablet, with some saying as high as 67%! But, marketers have to track their own mobile metrics to know if they line up with benchmarks. Among emfluence users, business-to-business marketers are still averaging less than 40% of opens on mobile and even lower click through rate percentages.
Marketers have to consider return on effort: design an email that is mobile-friendly is fast and functional. Investing the time to make your emails fully mobile-responsive (where the email morphs based on screen size) is probably only for those with 70%+ mobile open rates that can prove that the responsive design drives up conversion rates.
The Power of the Pre-header
The pre-header — the small text section above the graphic header in your email — is important as ever, especially on mobile, where they are 50% of the real estate per message! See the anatomy of an effective pre-header on the emfluence blog.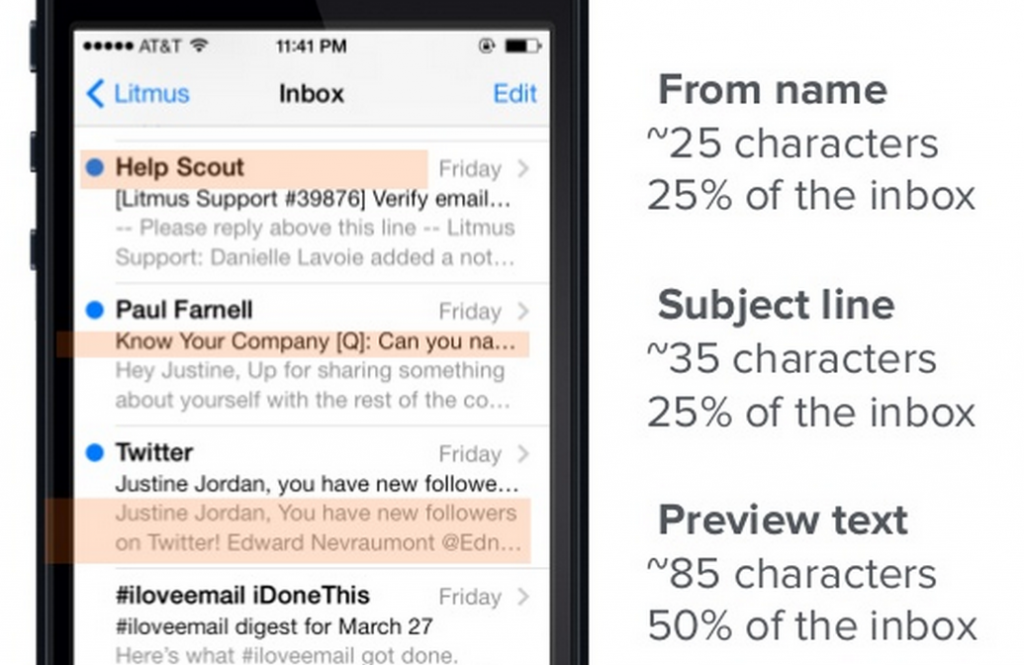 List Cleansing
Sure, it's a bit counter intuitive to shrink your list size in order to grow your engagement, but cleansing your list of bad, old or truly inactive email addresses can mean better delivery and therefore better engagement from those who actually want your email.
---
I wasn't right about all of my predictions though: I got excited about Gmail's Grid View inbox last year, a layout that prioritizes a hero image and the sender over subject line. Not to worry, though. Grid Layout seemed to come and go quietly, with no news after being out for select users for over a year.
Onward to 2015 and the trends my team at emfluence and I are seeing now:
Data-Informed Strategy
Yes, data-driven content was already on my trends to watch list last year (and the year before). But more than just the content that you send to your subscribers, data is helping to inform the timing, frequency, topic and content of your emails from offer to featured product. Famous Footwear told a great story at a conference earlier this year of how they realized that if they ONLY ever used demographics or ONLY ever used past purchased history to target their email content to their buyers, they missed nuances. By combining both demographic and behavioral data (plus, including what's on sale), they increased their response rates.
The Customer Journey
Typically a custom life cycle is defined as acquiring a lead, converting to sale, upselling other products and then nurturing for repeat business. The true customer life cycle is a lot more complex. There are lost customers that you can nurture back to life, there are referring customers that become advocates. Loyalty programs boost repeat sales, etc. Find your customer's entire journey and make sure that smart marketing — especially email — is there for them. Plus, consider use data to version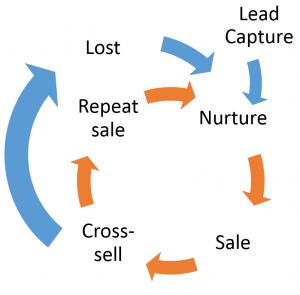 Start simply and build
You may not be ready for 120-part automated email series over 6 years. That's ok! You'll never get there if you don't start. Great lesson learned from LinkedIn's marketing manager at Marketing Sherpa's Email Summit in Las Vegas: start simply and then build your program through trying and proving winning campaigns.
An Incredible Community for Email
This may be more fact than trend, but there seems to be no other industry where marketers are so keen to share their secrets and successes with each other. And their pain. I wrote a pair of recap blog posts from the first ever Litmus (and emfluence/Barkley) email marketers' meetup last month, sharing what keeps email marketers up at night and what we can do to change the process.
---
How do we know that all this is new, trending and might even work? We test it, of course! One of my favorite quotes from the Email Summit was from MEC Labs' Dr. Flint McGlaughlin:
"Testing is the bridge that closes the gap between what you know and what you need to know about your customers. Become the customer philosopher. Lift alone won't help you in the long run. Your tests must be designed to know why, so you can apply learnings to later efforts."