Landing pages are a make-or-break part of the conversion path for campaigns. And yet, landing pages are typically given far less attention than the steps at the leading and trailing end of campaigns. When implemented well, landing pages can have a dramatic impact on conversion rates. Even small tweaks to things like the placement of call-to-action buttons can drive meaningful results. And, as with all things on the conversion path, the more relevant and engaging the content on the page, the better the results.
A wide variety of sources can be feeders to a landing page, including email, paid media, direct mail, and social media content campaigns. At a minimum, a well-executed landing page should pick up where the preceding touchpoint left off: reinforcing the messaging and providing an experience compelling enough to move a prospect to the next touchpoint on the path or on to conversion.
Landing page experts know that there are limitless ways to tweak and test pages for improvements in conversion. One of the most effective ways is through customization and personalization of the content on the page. The more relevant and personalized the experience, the better the results.
Watch our quick video on using content blocks to create a custom post-sale experience with the emfluence Marketing Platform.
Let's consider an example for a digital marketing agency that sells SEO services and targets multiple market segments, including financial services, transportation and logistics, and manufacturing. A great landing page experience or each of these three verticals will look significantly different from one another. Both the messaging and imagery should speak directly to the target audience. In this example, an image of a personal banker interacting with a customer, a semi-truck shipping cargo, and products on assembly line will help reinforce the fact that the agency has category experience in each of the verticals. In addition, client brand logos and testimonials relevant to each vertical will drive further confidence.
This level of page customization targets audience segments and can have a dramatic impact on the results of a campaign. Executing a campaign like this could either mean setting up three independent landing pages, one for each target segment, or a marketer could take a more sophisticated approach and use dynamic content blocks on a single page that render appropriately for each unique site visitor. Using a marketing automation platform, like the emfluence Marketing Platform, this is easily managed by associating specific content blocks with individual contact records. Data associated with each of the contact records for page visitors includes a pointer to the appropriate content blocks. Using this method, the agency could either dynamically generate parts of the page, or potentially the entire page.
Personalizing by segments of your audience can help control the quantity of unique content you need to develop. Taking the experience to the next level, the agency can do one-to-one personalization of content on landing pages that are fed through either email campaigns or personalized URLs (PURLs). Continuing with our example above, messaging like the following could be crafted:
$$Firstname, are your SEO efforts for $$CompanyName paying off? Do you see a consistent volume of quality leads through $$WebsiteURL?
(AgencyName) has been working with companies in the $$Industry for over twenty years. We understand the unique challenges you face.
$$ContentBlock1 (category specific content and imagery)
$$ContentBlock2 (logos from clients in the category)
$$ContentBlock3 (testimonial from client in the category)
At emfluence, for example, we use a custom content block to dynamically populate our recommended integrations after talking with a marketer about the emfluence Marketing Platform. You can create as many versions of a content block as you like, but here are three of the versions you might receive in a follow up from us, depending on what we heard during a demo: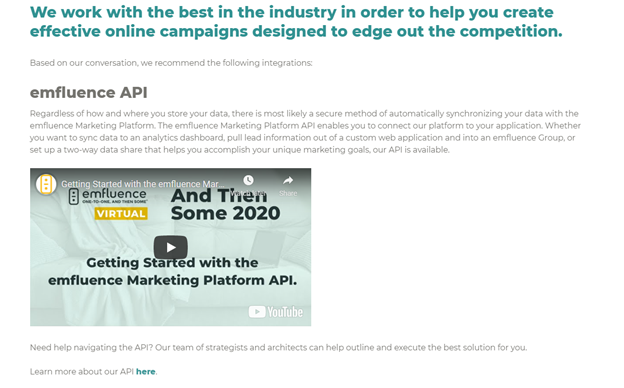 A visitor to this page is truly going to have a unique experience driven by the variable content directly associated with the data stored in your marketing automation platform. Bringing a sophisticated tactic like this to reality requires three things: quality content creation, accurate data, and a powerful marketing automation platform.
As you think through the example above, think about how you could apply a similar tactic to your marketing efforts. Are you on your A-Game when it comes to landing page development?
If you would like to talk about how you can take it to the next level or see a demo of how you could execute a campaign like this using the emfluence Marketing Platform, contact us at expert@emfluence.com.