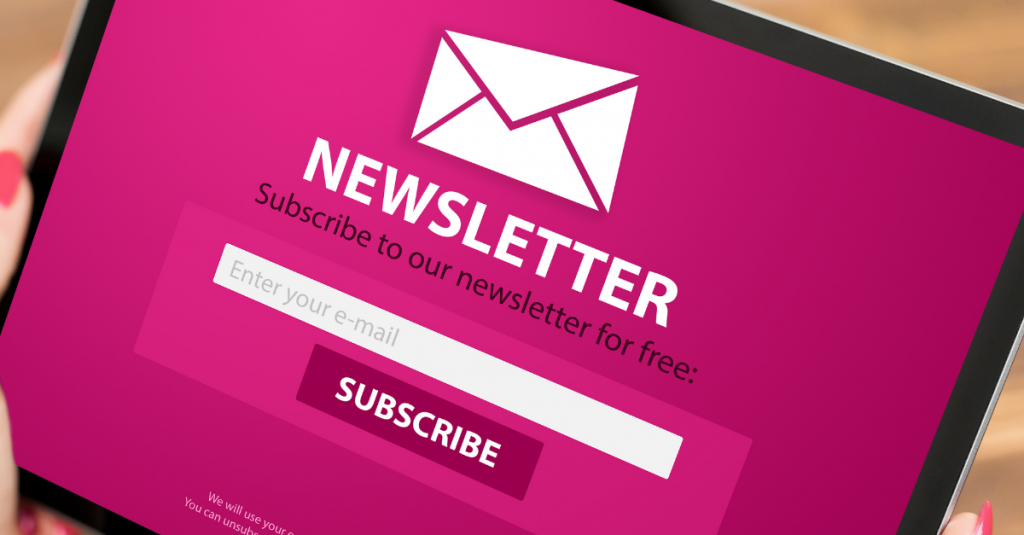 I'll be the first to admit that the amount of data available to marketers can be a little overwhelming. Consumers want their online experiences to be personalized, but if it's too personalized, they get a little creeped out. How do we use the data that is readily available tastefully? And before that, how do we get started with sending personalized messaging to our customers? Here's where a milestone email can come in handy.
What's a Milestone Email?
A milestone email is a type of behavior-based email you might send to an existing customer. It's designed to:
Remind your customer of the value they're getting from you
Increase the likelihood that they'll continue using your product/service
Generate that "community" vibe that often leads to more referrals
Milestone emails are particularly popular with subscription-based companies or with companies that use an app to promote their service (think ride sharing or fitness trackers), but they can be used for any type of ongoing service or recurring use product.
I have pulled some starter milestone emails that will allow you to ease into the routine of sending personalized messaging to your audience based on some simple data points that are likely already in your CRM:
Birthdays & Anniversaries
Automated birthday emails are easy to set up. The emfluence Marketing Platform lets you use a list query builder to set up an automated personalized birthday email, but regardless of the platform you're using, be sure you're first capturing data in a way that's searchable.

Many times, companies will include a special discount code or offer for the birthday boy/girl, but don't feel like you have to! See Kona Grill's birthday email, coupon code included: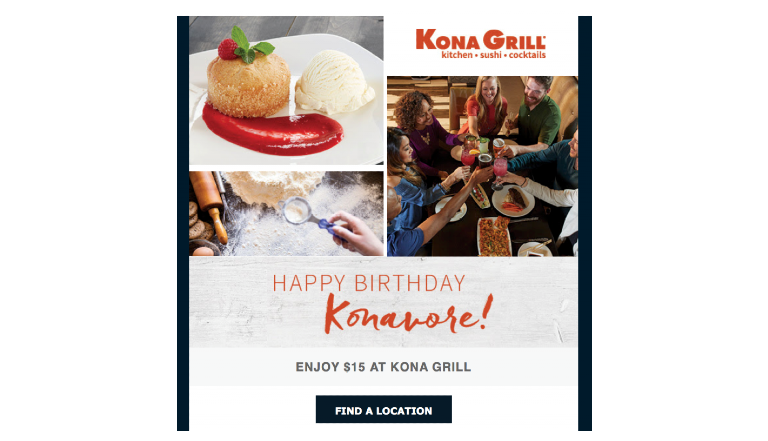 PRO-TIP: Instead of a "Find a Location" call to action, populate the space with the customer's preferred location (more personalization!) and add in a "Make a Reservation" call to action.
Rent the Runway takes the birthday approach a little differently, which I greatly appreciate. They realize that birthdays tend to be a reason for a night out on the town, but because their typical ordering and shipping process takes a week or so, there needs to be a bigger lead time. Therefore, their birthday email comes about a month before the big day, getting the end user thinking about making their birthday plans – which includes the daunting task of finding something to wear. Well played, Rent the Runway…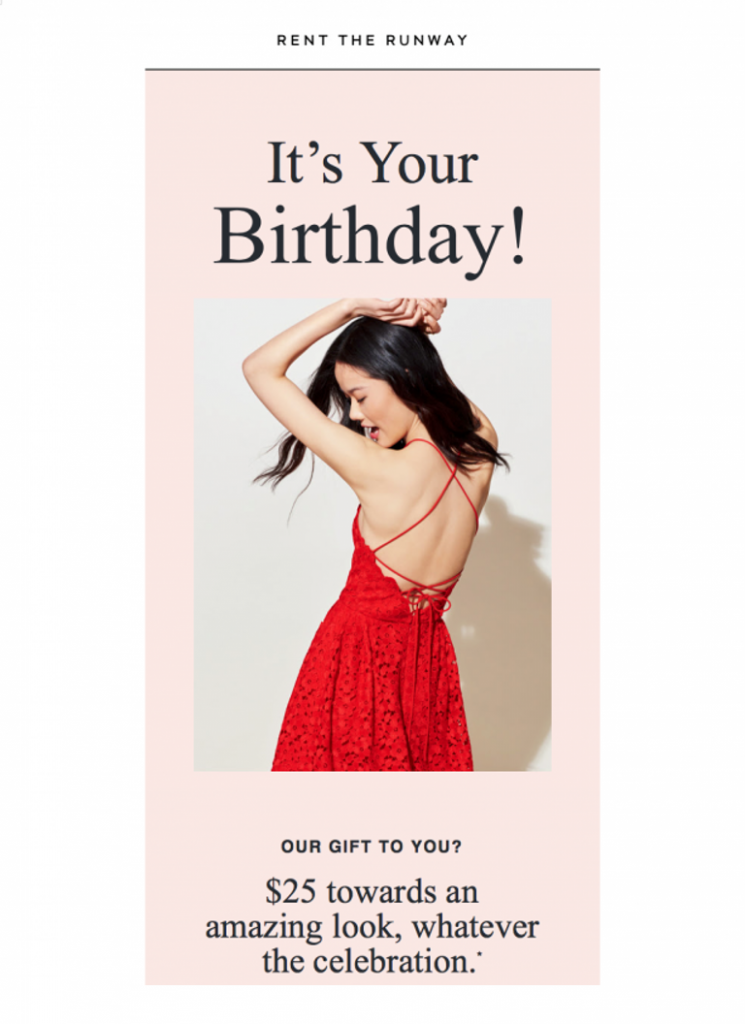 If you don't have the birthday data point heavily populated within your email audience, ask users to add that information to their account during your opt-in series, similar to what Bon-Ton has done here: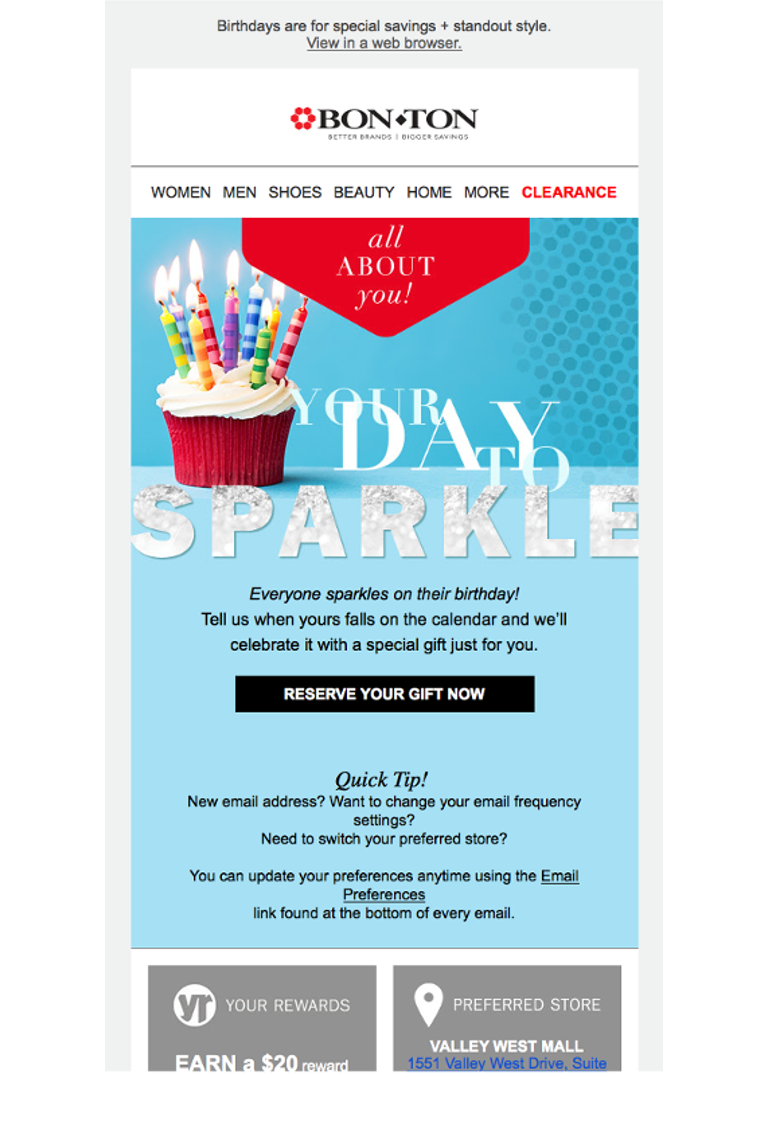 Anniversary emails are similar to birthday emails, but instead of a date of birth, you will want to query for the date of account creation, or in the Sigma Kappa email below, date joined.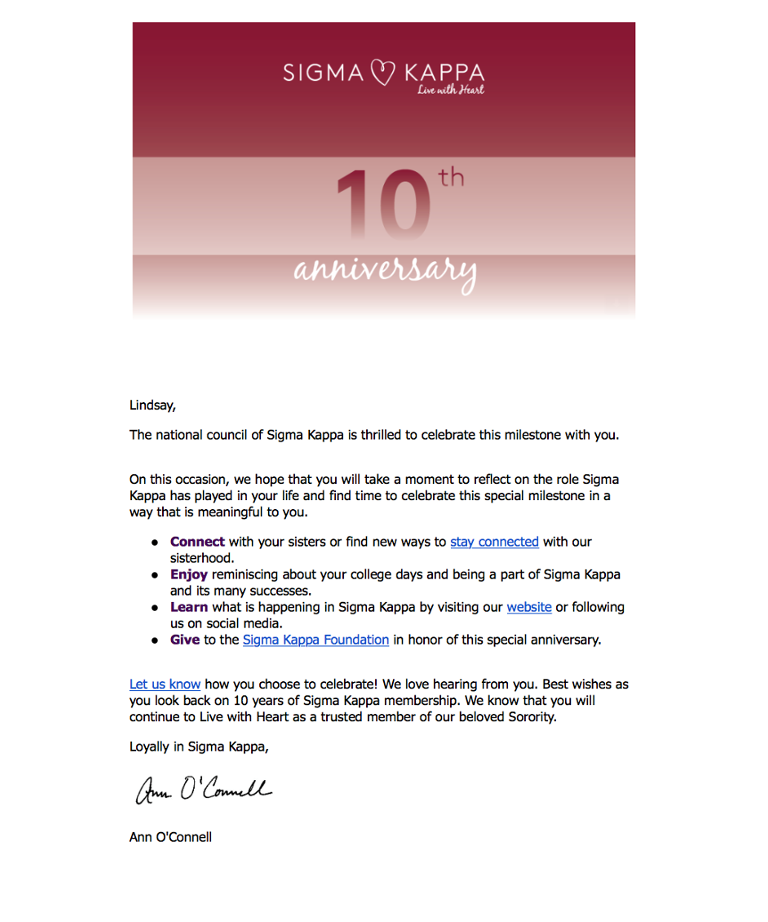 This email was a nice reminder of my initiation date into Sigma Kappa, which resulted in me screenshotting the email graphic, posting to social media, and texting my pledge class – check out that positive downstream effect from a simple, automated, email!
Week, Month & Years in Review
Spotify has officially caught the data-bug – creating personalized playlists, landing pages, and outdoor advertisements highlighting the popular songs and genre of the year. But, usage data doesn't stop there. Uber, Lyft, and Fitbit have jumped on the bandwagon and like to summarize the week, month and year for their customers: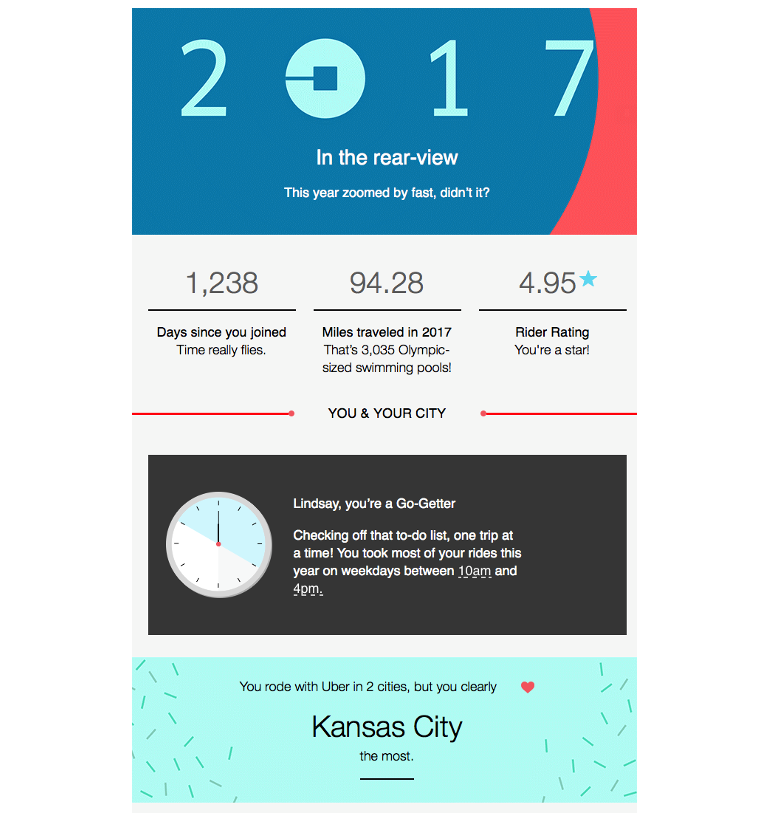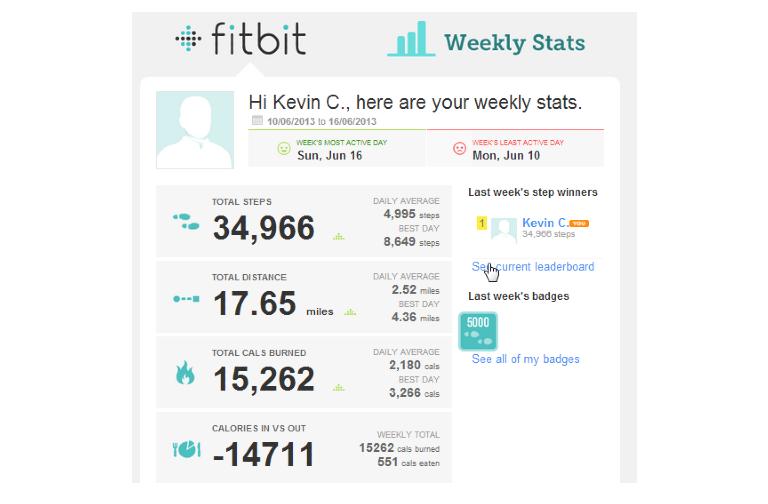 ---
Account Growth
Milestone emails are also a great way to let clients know of additional service offerings, triggered off their length of time as a customer. These additional offerings can be both free (Geico's Accident Forgiveness add-on) and through paid account upgrades (24PetFinder Premium Account Update):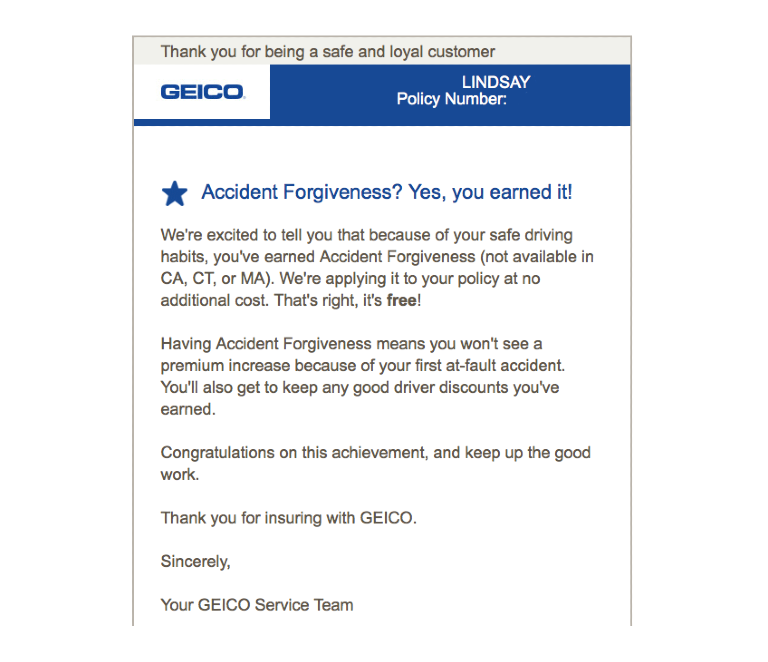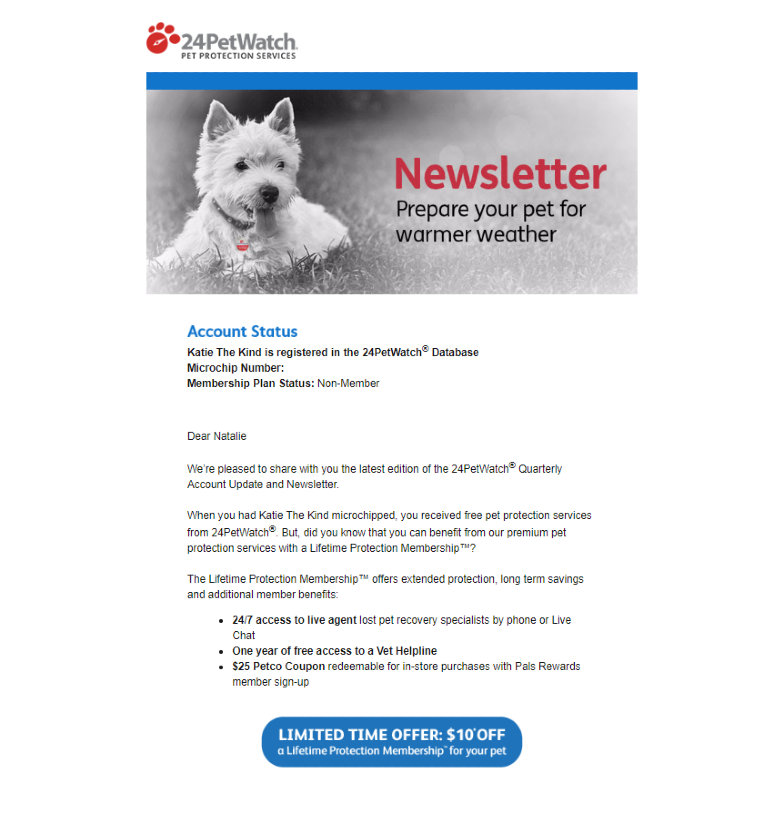 In Progress…
Traditionally, milestones are hit because of a customer's progress towards a goal. Starbucks offers additional challenges throughout the week to entice users to make more purchases, incentivizing them with stars that will eventually earn them a free drink or treat. Many times, these challenges are tiered, increasing the reward when a customer makes more purchases. The below email shows a customer's status as they have hit the first tier, suggesting they keep playing to increase their bonus: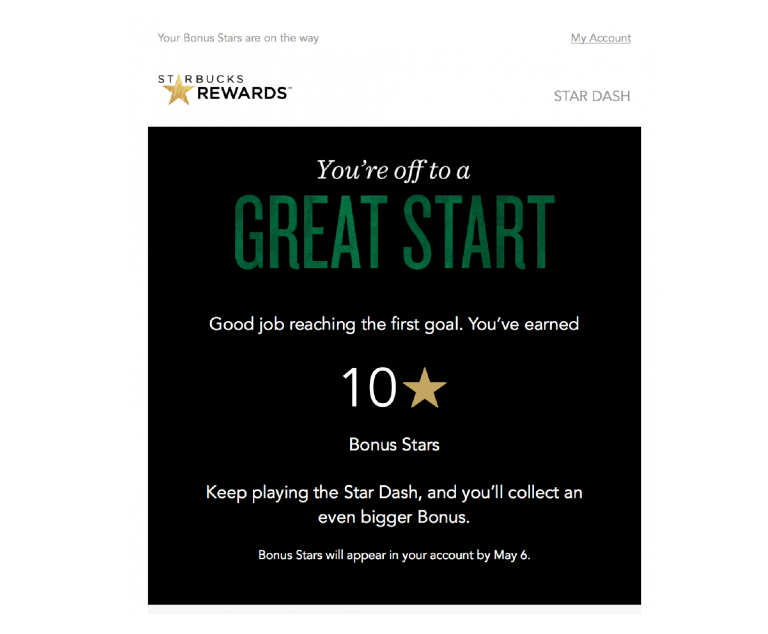 However, progress emails aren't limited to purchases. Google does a great job visualizing a user's progress throughout their online certification courses.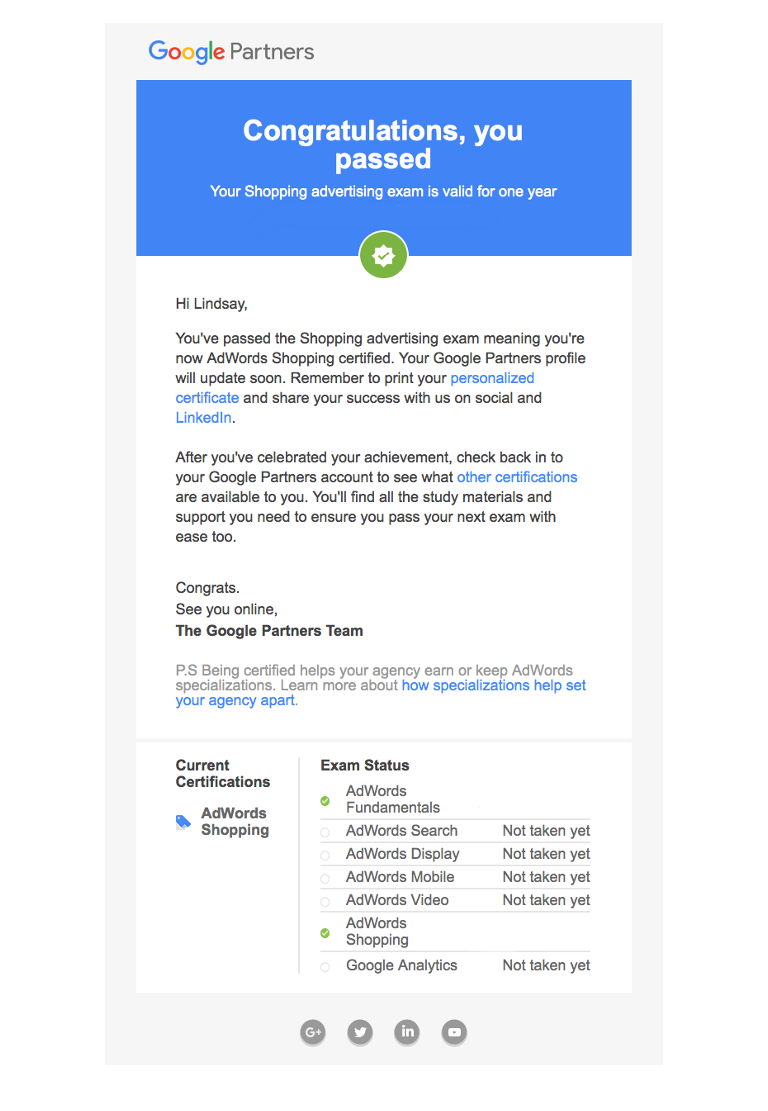 Dietbet also triggers reminder emails as the 4-week weight-loss challenge progresses, letting users know how much time remains and suggests to weigh-in regularly.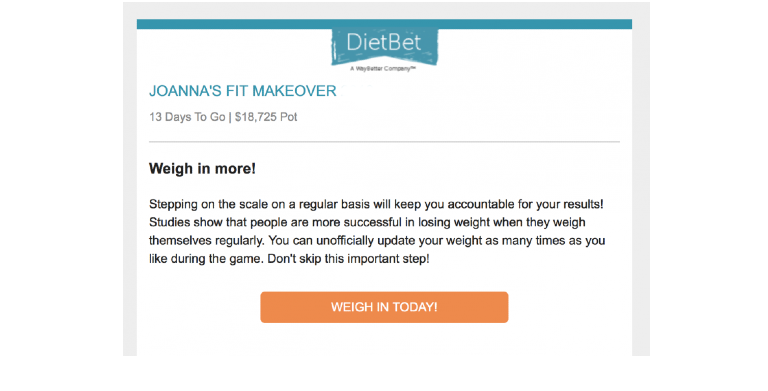 Some of the above milestone email examples may not fit your specific industry, but they can be used as a starting point. Looking for something a little more customized for your audience? Let us know how we can help by sending a note to expert@emfluence.com.