The new year comes with new goals and plans for creating success. While coming up with specific goals is important, it's just as helpful for business growth to pick specific focuses like customer retention. This is one area that can always be tweaked and improved based on the feedback you receive. Looking to prioritize customer retention this year? We can help. 
Increasing Customer Retention
In order to tackle this goal, we have to flesh out exactly what customer retention is and why it's important.
Gaining new customers is an important aspect to growing a business but retaining ones you've already worked hard to acquire can be just as valuable. The goal behind customer retention is to encourage repeat purchases and to ensure that your customers aren't choosing competitors over you in the future.
This is a highly important strategy to incorporate into your marketing plan. Companies that do a good job of retention are proving that they provide products and services that customers love. Building this brand loyalty not only gives your customers a go-to for whatever their needs may be, it also leads to benefits for you. Not only is it more cost-effective to market to the customer base you already have, but you'll also find that repeat customers are willing to spend more on a wider variety of your offerings. In addition, these loyal customers are your best tool when it comes to word-of-mouth outreach. There's no better brand ambassador than one that is already satisfied with your products and services.  
When it comes to customer retention, there are metrics to look at that will clue you in to how well you're doing. This is a different set of numbers than what you'd be traditionally interested in for new customers. We're talking about key metrics like purchase frequency, churn rate, or obviously, your customer retention rate. Here's a quick rundown of the basics: 
Repeat Customer Rate: This comes down to looking at the number of customers with more than one purchase as well as the number of unique customers to calculate your retention metrics. 
Purchase Frequency: This metric is showing you how often your customers are returning to your business to make additional purchases. 
Average Order Value: This calculation is pretty straightforward and measures the average amount that customers are spending when they make a purchase.
Customer Churn Rate: We like to keep track of who isn't spending as much as we like to keep track of who is. The churn rate measures the percentage of those who have stopped being your customer.  
Customer Retention Strategy
Now that the basics have been covered, let's talk strategy.
Review Your Customer Service 
A great product or great service can only get you so far. Nowadays, the buying process is a whole experience which means your customers are looking for user-friendly interfaces, knowledgeable support teams, and even anticipating customer pain points in some circumstances. High-quality customer experiences show customers that you're empathetic to their needs and form a personal connection that drives loyalty.  
Create Referral Incentives
Referral programs with incentives are useful because you're not only gaining new audiences and customers, but you're also giving current customers the extra nudge they need to make another purchase. Marriott is just one of the many companies out there with some nice incentives in exchange for spreading the word with up to 50,000 bonus points each year. This can equate to another vacation for the person that does the referring.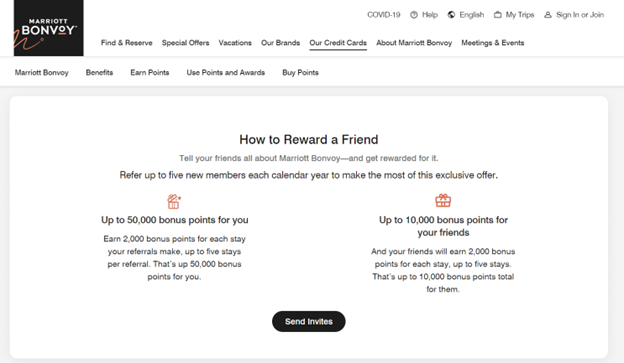 Like this program, it's a good idea to come up with a referral incentive that makes your customers think "why not" when it comes to forwarding a link.
Surprise Your Customers
Whether you're sending a handwritten birthday note with a coupon code like Chewy does for pets or curating personalized holiday gift baskets for clients, catching people with a surprise is a great way to make their experience with your company a memorable one. Last year, for example, Rare Beauty sent thank you gifts to those who answered their casting call with no strings attached.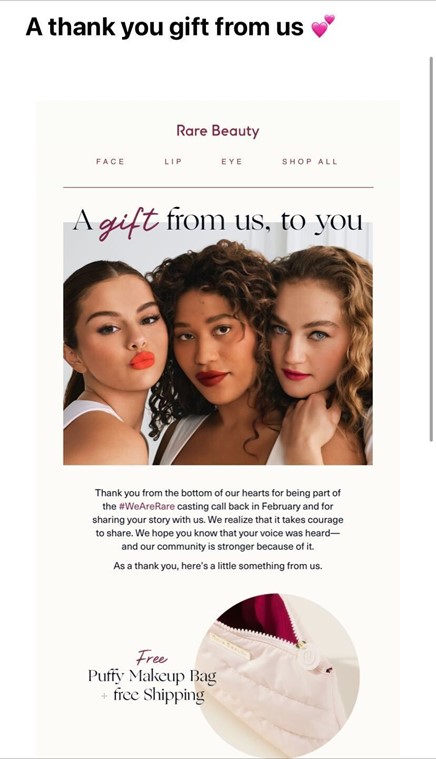 Actions like these show customers how much the brand cares, and the extra effort goes a long way.
Start a Loyalty Program
There's a reason why some people are insistent about where they make their purchases. Companies that have a great loyalty program in place know that this is an effective way to get customers to come back. For example, accruing airline mileage or racking up hotel points encourages people to travel with specific brands. Lots of companies have implemented these programs and offer a base tier with rewards for signing up. The more you spend, the better the rewards get from discounts to access to exclusive events. Take some pointers from Sephora's Beauty Insider program which offers more benefits the more you spend.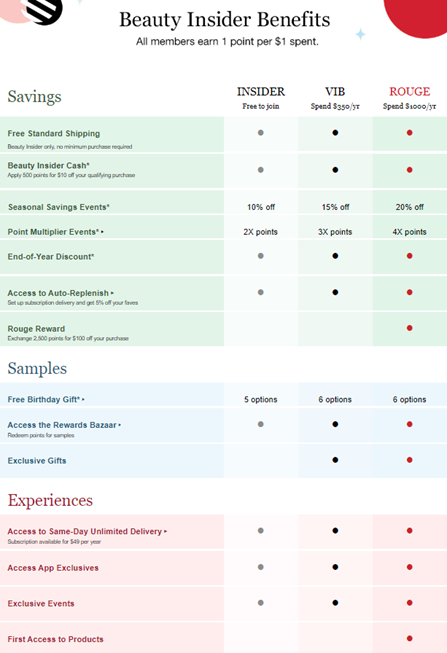 Tips for Managing Customer Retention
Managing retention should be approached with the same level of effort and organization as customer acquisition. You want to set aside dedicated hours or even teams and equip your company with the right tools so that nothing gets lost in the chaos of all the names and actions.
We recommend taking time each quarter to plan out your goals and campaigns and run them congruently to your other strategies. It's also helpful to invest in tools that will keep you on track. If your current system is robust enough to handle it all, you can store the data in there. However, if you're already falling behind and struggle to keep up with sorting through lead scores and customer data, it's probably a good time to consider a new CRM and even a new marketing automation platform to clean up your game. You may find that your day-to-day is a lot less stressful when you have powerful software doing all the heavy lifting for you.  
Finally, when it comes to customer retention, keep your focus on building relationships. Consider the kind of actions you appreciate from brands that you follow and take inspiration from those that are out there changing the way marketing is done. If you're unsure where to go next, don't be afraid to experiment with new ideas and ask for feedback from your customers.  
The Takeaway
Implementing a retention strategy may be the way to go if you're looking for ways to continue growing outside of costly acquisition campaigns. One of your most valuable assets is your current customer base. This is a pre-established group of people that are familiar with your brand and your product which is why taking the time to focus on adding additional value to their experience can be a powerful strategy.