We're kicking off the new year with an announcement from the Features Factory—fresh for 2017, we've got new tools to engage, gather data, and ward off the bots.
Updates to Survey Tools

Survey Skip Logic
Survey Skip Logic is designed to help you create a custom experience for each survey taker, thus allowing you to gather more actionable data about your audience's preferences and improve one-to-one messaging with your contacts.
Survey Skip Logic works by giving you the option to build in a hidden step to your surveys. Depending on what information you hope to gather, you can use the hidden step to determine what your survey taker sees next.
For example, if you want a survey taker who selects Choice A to see a follow up set of questions that only relate to that choice, you can use Survey Skip Logic to build in that otherwise hidden set of questions. Similarly, if a survey taker selects an answer that makes the next set of questions irrelevant, you can use Survey Skip Logic to allow that responder to skip forward to the next applicable question (or the end of the survey).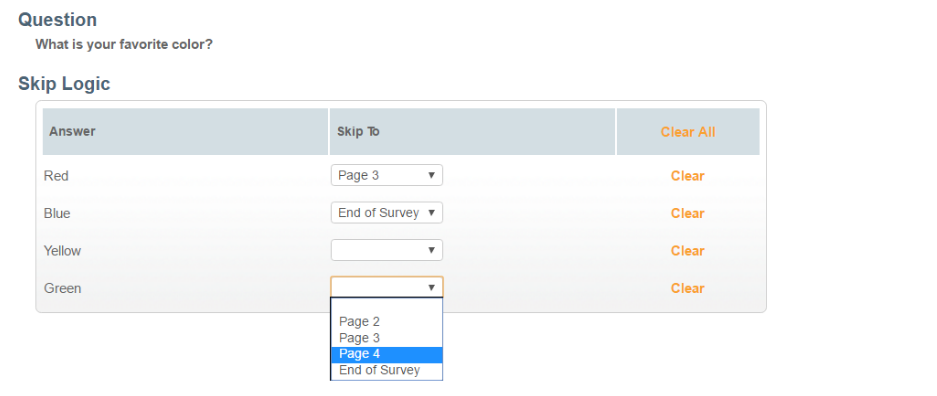 Skip Logic can be used on options-based questions within the emfluence Marketing Platform, including Multiple Choice (Single Answer), Rating Scale (with a single row), and Matrix (with a single row). However, to avoid any Skip Logic conflicts that could create chaos for your survey takers, Skip Logic can only be applied to one question on a page.
Survey Anti-Spam Security & Protection
The latest release includes additional spam protection to help you ensure that your survey takers are real people (and not robots). These security features will catch bots and spammers thanks to the addition of a spam trap honeypot, which is designed to find and throw out irrelevant spam data filled out by machines.
Updates to Landing Pages
Meta Tags
Our recent release introduces the option to include meta tags on landing pages. Meta tags are snippets of content that aren't displayed to the viewer but can be read by search engines. They are typically used to tell a search engine what your page is about (description, keywords, subject, etc.), and adding meta tags to your pages can make it easier for search engines to find and display your page to the right audience.
With the new release, you can add multiple meta tags to your Landing Page in the Basic Page Information section of the Compose step.
Edit & Create Surveys and Forms on Landing Pages
In keeping with the recent change that allows you to edit a Form while embedding it on a Landing Page, this release will allow you to edit or create Surveys and Forms without leaving the compose step in the Landing Page builder. This addition means you can spend less time toggling between sections and more time creating, deploying and tracking your results.
Updates to Forms
Hidden Fields
We have added Hidden Fields to the form builder in this release, which means you can now gather information without requiring the submitter to input the information for you. Hidden Fields are ideal for prepopulating fields for everyone who fills out the same form (to capture event attendance or lead source) or for hiding the email address field that is required on all forms.

Updates to reCAPTCHA
Forms
This release includes an update to the latest version of reCAPTCHA, which features advanced security and more ease of use. The new version also provides options to choose between normal and compact sizes (to accommodate narrow spaces, like sidebars) and light or dark versions.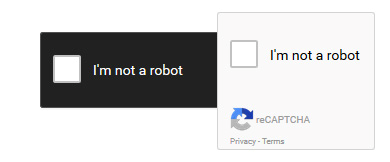 Landing Pages
reCAPTCHA can also be added to forms that are embedded onto Landing Pages. If you need to build a custom form on a Landing Page, you can choose to insert reCAPTCHA here as well.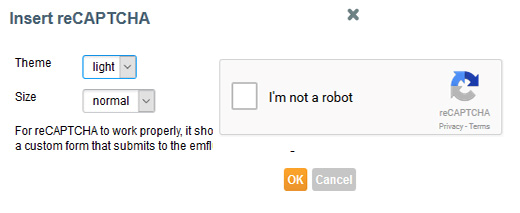 Want to learn more about integrating these features into your marketing strategy? Contact us here to get started.