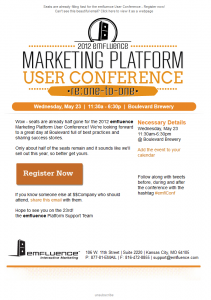 Clients often ask, "How can I leverage the Platform to promote my event?" Between automated and scheduled emails, social media planning/scheduling, and landing pages with forms, there are many ways to share event information with users and collect registrations. Every event's communication strhttp://emarketingplatform.com/features/email-marketing/ategy varies, of course, depending on the audience, the amount of time leading up to the event, what information you need to collect during registration, etc.
One client recently wanted to build a campaign to make it easy for users to RSVP in one or two clicks, by linking each invitee to their own personalized landing page, prefilled with their registration information (if we had it). They also wanted those registrants to be able to invite friends, and ensure those friends had a blank registration form to sign-up. Here are the steps we helped them setup to allow personalized registration, easy event management and even easier sharing.
Allowing prospects to easily RSVP for a free event and add the event to their calendar
Option 1: Allow invitees to RSVP by clicking an "I'll Be There!" button in the body of your email invite.  Using your links report, you can then count all those who clicked as "yes" RSVPs, and can download the list or create a Group for follow up.  The button can simply link to a landing page created in your Platform account (or a page on your website), thanking them for registering.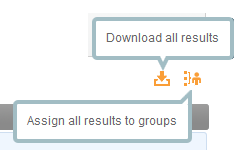 Option 2: Ask users to RSVP by completing a short registration form. This offers the opportunity to collect additional information from your invitee, in case you don't have all information for all invitees. In this case, the RSVP button in the email links to a Platform landing page that includes a short form. Because the landing page is hosted in your Platform account, you can pre-fill the form with any info you already have. Want help adding forms to a landing page or adding registrants to a Group? Check out the tutorial in Help section.
With both options, you can send registrants an automated Thank You email by creating and assigning an automated message to the registrants Group. The email should include the details of the event and could even include a link to Add the Event to Your Calendar. Here's the Help tutorial how to add iCalendar (*.ics) files to your emails.
A quick reminder for Option 2: Be sure to link to the landing page using the Pages drop down menu on the right side of the Editor. This personalizes the link for each recipient in order to pre-fill the form on the landing page.

TIP: "Final chance" registration reminders can drive up RSVPs over 100% — sometimes doubling registrations for organizations like the KCDMA and SMCKC!
Next, dive into the emfluence Calendar tool and start scheduling social media to go along with your email campaign. You can go ahead and create a feedback survey now (also included in your Platform account) and schedule an email to go out to the Registrants list the day after the event. All those registrants that sign up between now and the event are automatically added to the Group that will receive the survey invite.
These are just a few ways the emfluence Platform can support your event marketing strategy. As of now, we don't have a way to create and manage paid events, meaning those that require a registration fee. But it's simple to link to EventBrite or others and collect registrant information to add to your email campaign lists along the way!
Want to encourage people to share your event? Check out our follow up post!