A few years ago, we sat down with one of our uber savvy clients, as they were preparing to use the emfluence Marketing Platform for their own marketing. In particular, as we looked at pricing options, we weighed the options:
Volume-based pricing, meaning they would pay a rate per send per recipient, OR
Flat-fee based on total number of contacts in their account.
We chose to go with contact-based pricing. Here's what it meant for this client and for how they use email in their integrated campaigns:
You don't have to think about paying for automated nurture emails; they're part of the program.
Rather than nickel and diming for every welcome email sent or a handful of birthday emails a day, a marketer can pay one rate and know that they can use every tool to engage that customer or prospect. For this client, that meant going from sending a batched birthday email manually each month, to tweaking the content every quarter or so and otherwise letting it run constantly in the background of her other campaigns.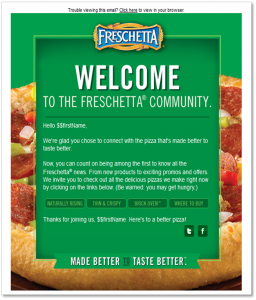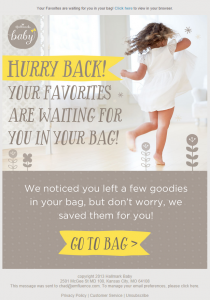 You don't pay extra for other features like pages with forms, surveys or social.
In the emfluence Marketing Platform, we don't charge any of our clients for the use of our survey or social tools, but there was a small "hosting fee" associated with landing pages. In other platforms, these fees for separate services can rack up fast! It may keep you from using all of the tools in your arsenal if you have to think about the cost every time you turn something new on.
Email becomes a predictable cost — a tool we can use in our arsenal for the same rate every month.
Contact-based pricing certainly grows as you grow your list, but it doesn't swing nearly as much as volume pricing when you're sending heavily in 1st or 2nd quarter, but then trail off near 4th quarter. (And often, flat-fee pricing means you'll save money over volume pricing if you're sending multiple times per month.)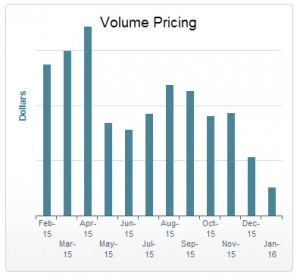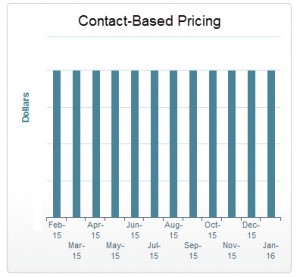 When we have important information, we can send via email — right now.
Marketers can use email on the fly, as part of any campaign. They don't have to weigh the cost of each send — like in direct mail, advertising, and other media — so they don't have to hesitate to include the very cost-effective resource that is email marketing. They also don't have to stick to just marketing! This opens up the possibility of moving automate-able sales emails into their trackable email platform, as well as using for simple informational communications or even transactional emails. They can all live in one place, measured in one place and charged one flat rate, based on your total customer list or database.
An Important Caveat: Don't use this an excuse to over-email.

This pricing structure comes with a warning: When you're not paying for each one, you're not thinking about the cost of each one. This means some marketers take this as a signal to send to everyone all the time. A flat-rate pricing structure shouldn't be code for "blast away." You should still use your segmentation and data-informed strategies! And keep in mind that just because it doesn't cost you more money to send 4 emails a week, it may certainly cost you either waning attention or unsubscribes.
Want to talk about the pros & cons? Chat with an expert@emfluence.com about your pricing options.