If you're like most marketers, you've probably googled "ideal social media image size" at least once in the last month. Each platform has its own ideal image size, and within that platform, different ideal image sizes for link shares, photo shares, and profile photos.
Since that's way too many image sizes for any marketer to be expected to remember, this month's features update starts with the addition of a helpful tip under New Social post. Now when you go to share a link or photo on the emfluence Marketing Platform, you can hover over the info icon to get guidelines on the suggested link share image size for each platform: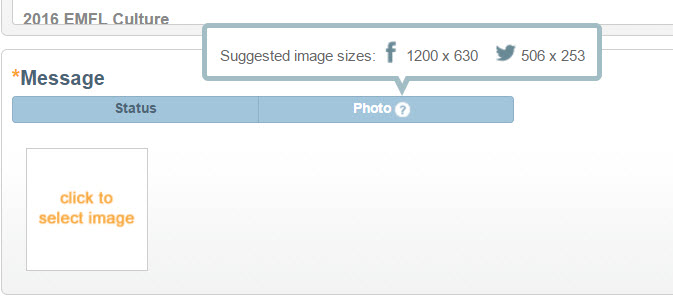 This additional will help you size your images for optimal display within the social media channel of your choice.
Email Size Notifications
We've also made a small but helpful addition this month to our email messages. As you're previewing your emails, you can now see the HTML size (minus images) before you send:

Calculating the KB size of your emails before you send them can help your emails land in more inboxes. As the info box suggests, you'll want to keep your email size under 100KB to avoid deliverability issues.
Managing Domains Navigation
Another small but helpful tweak this month comes in the form of how we handle "manage domains." When you click the link to Manage Domains on a landing page, the link will now open in a modal rather than a new page: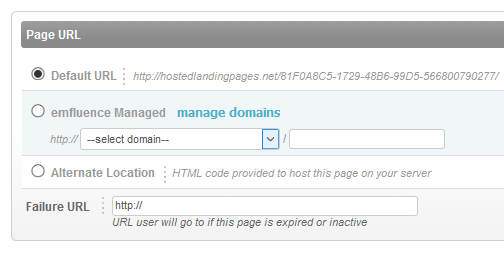 Search Surveys
If you're trying to find a specific survey on a specific landing page, we've made it possible for you to search for surveys by landing page, like so:

Contact Import History Improvements
This month we've added a few improvements to our Contact Import History that will help you dig into the lifetime of your contacts. Now you can search by new date ranges and filter that search by source (manual, API, data sync), user, file name, and/or groups. You can also search for Pending, In Progress, Completed, or Failed uploads:

Want to learn more about these updates? Contact us here, or comment below with your questions.