Intuitive means a lot to us. Our goal is to give you room to focus on strategy, not building emails or forms, and so we spend a lot of time on pushing past the "yeah, it works" territory into "this is awesome!" space.
We've been working on one really big (and really exciting) project that we announced at last month's And Then Some Conference, and we'll have a splashy reveal soon. But in the meantime, we've rolled out quite a few small features all designed around how you use the emfluence Marketing Platform.
This is how we're making your life easier this month:
Mobile Friendly Modals
Modal and lightbox users rejoice! These guys are now automatically responsive to mobile devices and small screens.
There may be times, however, when you want to suppress a modal on a mobile device, and that's okay, too. Just scroll to the bottom of the modal editor, and you can disable on small screens:

Change Manual Emails to Automated Emails
Have you ever built a manual email when you meant to build an automated one? Yeah, our marketing department's done it, too. But fret no more, because we've got your back. Just make a copy of the email, and you'll have the option to select delivery type, like so: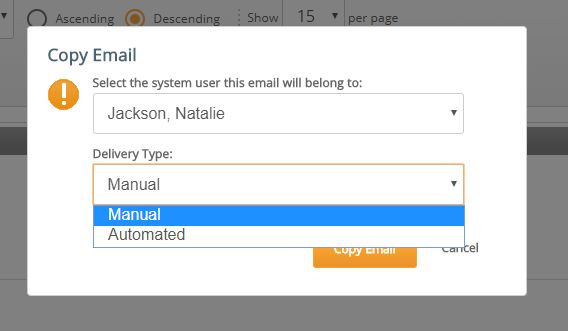 Anonymous Surveys
We've made tracking—and not tracking—survey responses much easier. By default, surveys will track who responds to them, and responses will be connected to that person's contact record as long as the survey is sent in an email through our system.
If you want to send surveys and collect anonymous responses, that's as easy as clicking the check box on the survey page, as seen here:

Automatic Customization
Want to customize landing pages for your contacts? Previously you could track contacts to landing pages and surveys only if you used the drop down menu in the editor that would include the contact variables in that respective link. We've made this process easier–now if you send an email to your contacts that links to a landing page or survey, that landing page or survey will automatically customize with information you've stored about that contact in the platform. No extra work needed!
Sort Message Search Results
Each Message tab now has the option to sort results based on date or title, which makes finding messages you may want to edit or review much easier. Don't forget you can use the keyword search at the top, too!

Landing Page Keyword Search
Have a lot of landing pages across several domains? The keyword search field will now search the URL of the page as well.
Pre-Flight Viewer
Need more room on those email pre-flights? We've moved the thumbnails to the left to give you plenty of space to check the full-size rendering of your emails: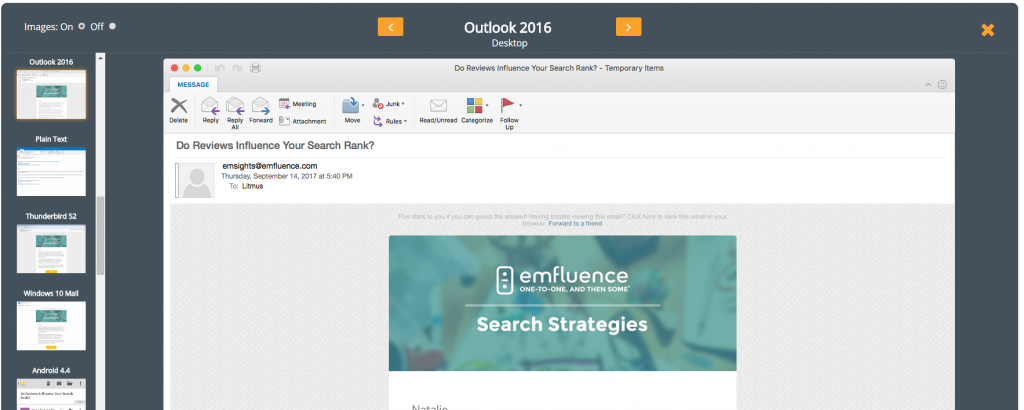 If you're an existing emfluence Marketing Platform client, you can learn more about our new features on our help site here. Otherwise, reach out for a demo and we'll get you started!