Anyone who has blogged or taken the helm of a brand's social media account for any length of time knows a simple rule of the Internet: Content is key. After all, if you have nothing to say, why should anyone listen?
One of the hardest lessons to learn when promoting a brand online is when to write something yourself and when to share someone else's great insights. Yes, the brand's official account should emphasize and help promote and spread the brand's message and expertise, but that's not all it should do.
Nobody likes sitting down to dinner with a self-absorbed narcissist who does nothing but talk about himself in the third person for hours at a time. No matter how smart he is or how relevant his expertise, it's boring and unbalanced. It may be an easy trap to fall into given your desire to promote your brand and the experts and expertise behind it, but make sure not to make the narcissism mistake with your social media presence.
Create and grow an online audience by finding the balance between content creation (creating and promoting your own content) and content curation (sharing newsworthy and timely content to you readers and followers that still falls within the bounds of your brand's scope).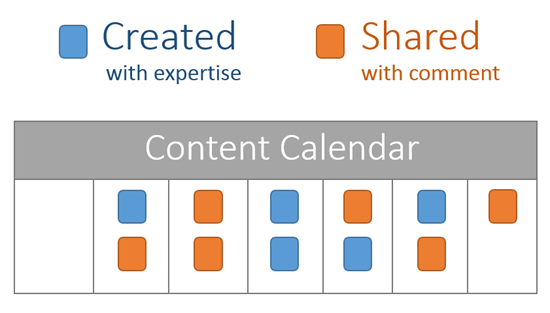 Not sure if a smart post is relevant to your brand? Start by understanding the reasons potential clients follow you online. What kind of information are they looking for from you? If you know the answer to that question your next step is to craft a content sharing plan that allows for you to share that the great posts you find that, while still appropriate to your brand message, aren't solely about you. If you don't know what information your potential clients are looking for, you might want to try an online monitoring solution, such as Spiral16, now part of the emfluence Marketing Platform, to help listen for that answer.
Need a few ideas on what to share from others? Share best practices, trends, and industry news you come across. This kind of thing is usually best when shared from non-competitor companies. (If you see something a competitor wrote – try to write your own spin on it before sharing!) With permission and when appropriate, share your followers' content and put them in the limelight.
Examples of sharing others' great stuff:
A dog food company can share tweets or photos from happy dog owners.
A tech company should share news about changes in the industry that might affect their typical prospect or client.
A professional sports team may want to share information beneficial to tailgaters.
A social media monitoring company may want to alert readers to changes on various platforms they know their clients use and/or support.
While some industries limit what an official brand channel posts, a company with a more playful or energetic online presence can vary their content to include fun and lighthearted posts as well. Allow your content sharing to help paint a broader picture of your brand's personality online.
Of course, this doesn't mean you should stop talking about your brand. The important thing is finding the proper balance, where you are still delivering your own content but also diversifying your message and engaging your readers on a variety of topics likely leading to a more engaged audience. And then, you can start thinking about sprinkling in a little marketing and promotion.