As promised at the 2014 User Conference, we've rolled out a Google Analytics integration for your Platform "Home" dashboard. From here, you'll be able to see your website traffic overlaid with your email and social media message post timing. This is the next step in correlating your digital marketing campaigns to your website traffic and even sales.
---
How to Build an Email Reporting Template
---
To get started, follow these simple steps:
Go to "Options" and "Linked Accounts" and "Manage Accounts".
Click the "New Account" link.
Click the Google Analytics icon and follow the steps on screen.
Once your account is connected, your dashboard will show the most recent 30 days of site traffic as a line graph. The traffic will be overlaid onto a bar graph of Platform-sent messages, like emails, Twitter, Facebook and LinkedIn posts, so you can easily recognize the impact of your campaigns.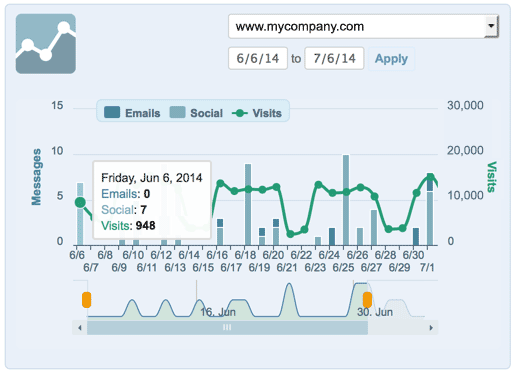 Connect your account, take it for a spin and let us know what you think.
---
Ready to get started?