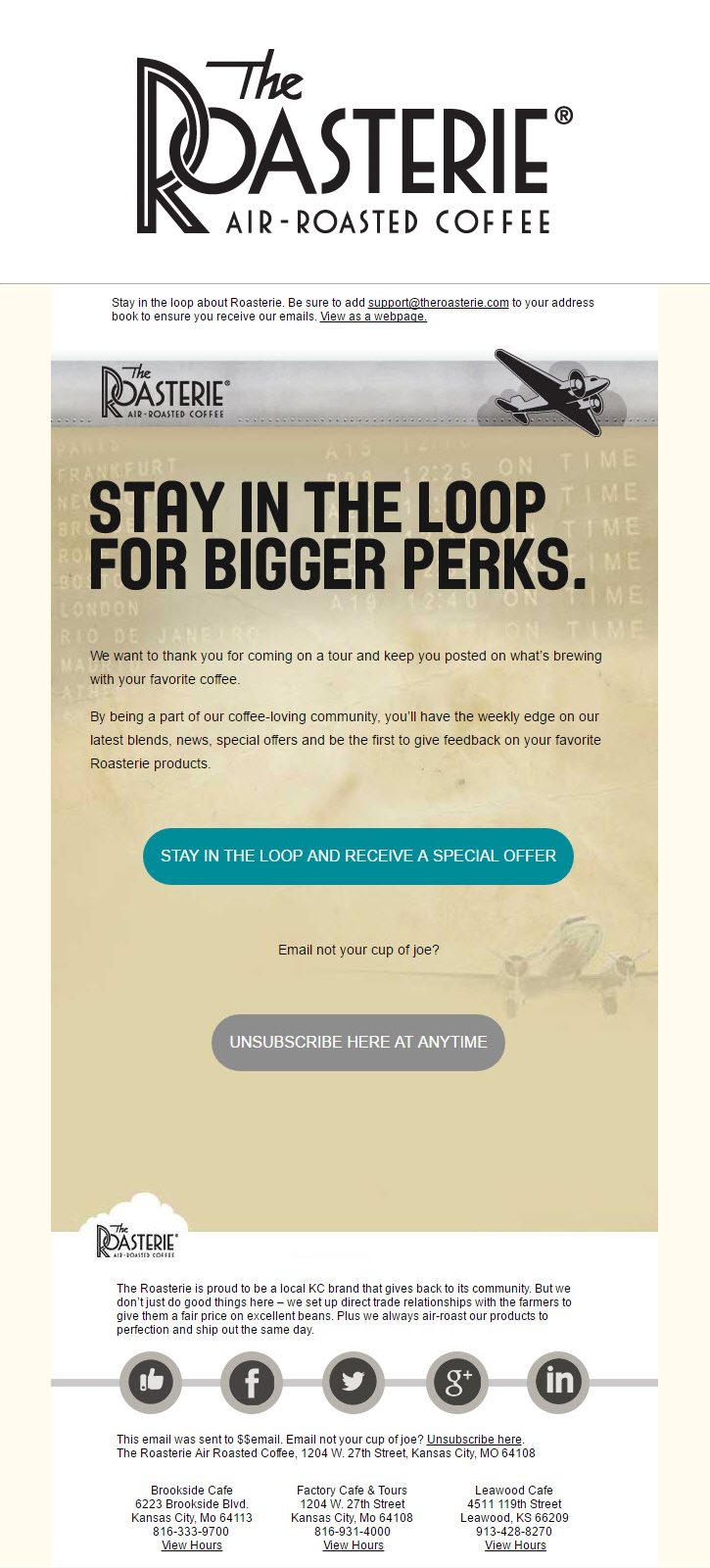 The Client
The Roasterie is a specialty coffee-roasting company that services espresso bars, coffeehouses, fine restaurants, high-end grocers, offices, retail accounts, and coffee lovers in Kansas City and around the world. All The Roasterie's coffees are air-roasted, which helps highlight the origin flavor while unlocking the best of the bean. The Roasterie imports only 100 percent Arabica Specialty Grade coffees from thirty-one different coffee-producing countries.Nine of The Roasterie's coffees have received a ranking of 90 or higher on CoffeeReview.com, the premier international coffee-buying guide.
The Challenge
The Roasterie sought to grow their email list with contacts who had recently purchased something from the website, but had not opted in to receive marketing emails.
The Solution
Using data from their eCommerce website, the Roasterie sent a 2-part email series asking purchasers to opt in to marketing emails in exchange for a special offer. The second email in the series included an additional segment of people who had received their coupon code but had not placed an order yet.
The Results
The Roasterie had a stretch goal of 4900 new subscribers which we surpassed which will result in more overall revenue. Segmenting the lists resulted in much higher open and click through rates than the typical send. Reminder emails caused results to more than double.
33.5% Unique View Rate
8.9% Click through Rate
24.7% Click-to-view Ratio
Response
1,172 people provided more data
4.5% Response Rate
Total Online Sales Attributed to Campaign
14.8% Conversion Rate
173 Orders
List Growth
Increased list size by 5,723
Increased list size by 43%