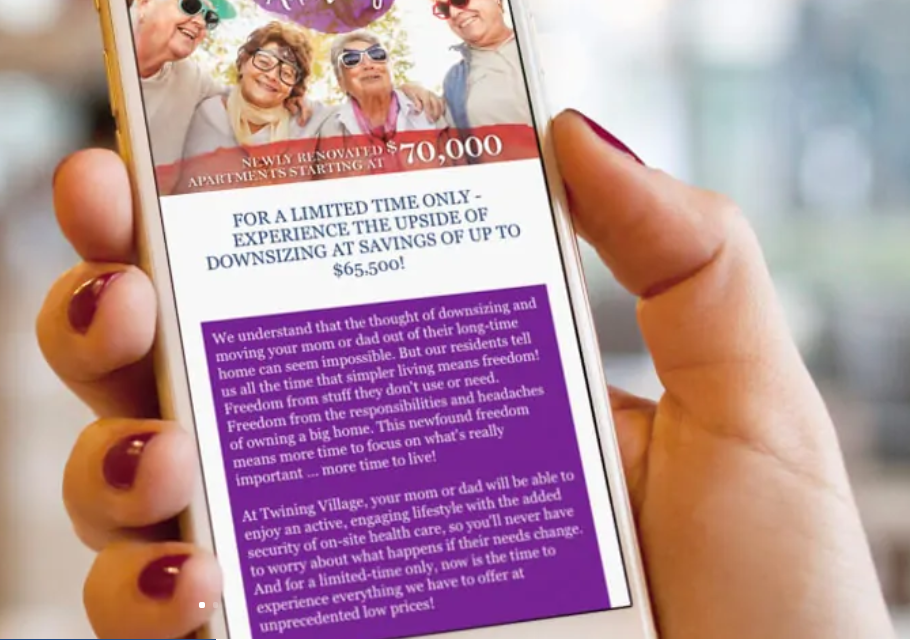 The Client
SageAge is the marketing agency for senior living communities across the United States and Canada. For over two decades, they have specialized in strategic marketing and business growth designed to help the senior living and senior care industries stimulate sales in existing markets, while establishing a presence in new ones.
The Challenge
Senior living communities were looking for a way to nurture new and existing leads through their sales funnel, and SageAge was looking for better efficiency and a marketing automation platform that could free up associates' time to work on more important and strategic projects.
The Solution
SageAge reached out to emfluence to explore opportunities with the emfluence Marketing Platform. When reviewing other platforms side-by-side, SageAge was impressed by emfluence's scalability and simple UX/UI. Because of the easy-to-use interface, SageAge was able to easily set up and implement the emfluence Marketing Platform. The SageAge team is now able to quickly create campaigns that would otherwise take hours in other platforms.
The Results
SageAge created a nine-part marketing automation series for a community in Lakeland, Florida to educate new prospects on the offerings that the community has. The campaign was modified in 2020 due to COVID to utilize additional tools (virtual tours, additional floor plans and financial calculators). The community stated, and Sherpa data confirmed, that prospects who received the series were more educated and quicker to make a deposit.
In 2020, two communities in Minnesota kicked off a new digital advertising campaign, The two communities are very close to one another and share a combined landing page as part of the campaign. When a prospect fills out the lead form on the landing page or calls the community via the call tracking number, they are placed into a marketing automation campaign based on the community they choose. The campaigns are educational in nature and help to showcase the amenities and services that each community offers.
The Response
Lakeland, Florida Nine-Part Automated Series:
684 emails sent
55% unique open rate
39% clickthrough rate
3% unsubscribed
Minnesota Communities Digital Campaign:
452 emails sent
44% unique open rate
27% clickthrough rate
3% unsubscribed
emfluence Marketing Platform Elements Used
Automated emails
Workflow Builder
Landing pages
Forms