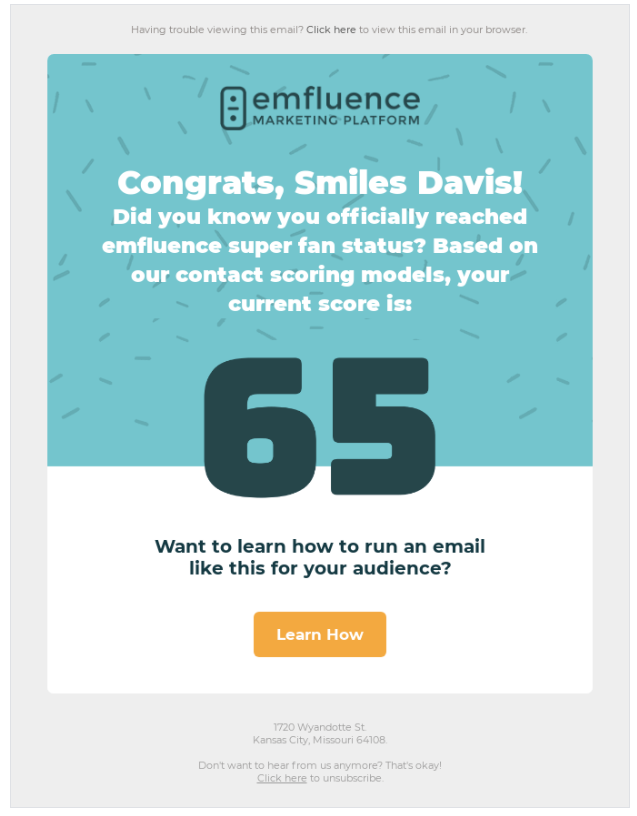 The Client 
The emfluence Marketing Platform is a marketing automation platform known for being so intuitive, you'll swear it was built just for you. The emfluence Marketing Platform services clients across the U.S. and abroad by offering hundreds of ways to personalize emails, options for HTML designs and drag-and-drop builders, and a full stack of marketing automation tools to transform data into a powerhouse of marketing potential. Did you know we also use the emfluence Marketing Platform to run our own campaigns?
The Challenge
The emfluence Marketing Platform attracts marketing qualified leads through a number of channels, including webinars, whitepaper downloads, and virtual events. Like most software and B2B companies, we want to convert those marketing qualified leads into actual sales qualified leads: e.g., people who are actively interested in scheduling a demo with us. The other cool thing about us? We have an awesome marketing automation platform that we can use to show off our awesome marketing automation platform.
But since we're also big believers in email, we wanted to create campaigns that didn't just push a demo. We wanted to create interactive, experiential campaigns that leveraged what we do best: personalization, education, and fun.
The Solution
The emfluence Marketing Platform team created a stronger nurture strategy designed to encourage emfluence's target buyer—an email geek—to get more familiar with the brand, establish confidence in emfluence as a solution, and see themselves as part of emfluence's email community. One of the best ways to identify when a MQL is moving into an SQL is through contact score. The emfluence team determined that a contact score of 30 or more (which would mean multiple visits to the website, download requests, attending virtual events and/or opening/engaging with emails) was a strong indicator of buyer intent. Leveraging the emfluence Marketing Platform's contact scoring capabilities, emfluence decided to automate an email to contacts whose contact score was greater than 30—and since our target audience is email geeks, we decided to show their score.
The key visual of this email is the recipient's contact score, which is featured prominently in the body of the email and in the subject line (the score itself is populated by NiftyImages and an emfluence custom field). The message is short and simple, and the goal is to delight email geeks by showing them what their contact score is. Rather than leveraging a call to action that pushes to sales, we decided to push a link to "learn how to build a scoring model for your clients" so that we could surprise and delight both existing clients, SQLs, and MQLs. Since we have a knowledge-first approach to sales, this allowed us to meet our key goals of supporting community, establishing confidence in our prospective buyers, and showing how easy it is to do fun, interactive campaigns.
The Results
The key goal of this campaign was awareness, so in this instance, our success metrics are based on engagement with the email. The campaign is still running today and many people have continued to engage with the email over time. As a bonus, the email has been collected as a great example of B2B email on the Really Good Emails website.
The Response
In 2020,  the email had a unique open rate of 75% and total open rate of 168.1%—indicating that many people opened the email again and again.
In 2020, the unique clickthrough rate was 16%, with the primary clickthrough being to a blog post to learn how to build a contact score campaign of their own.
Over the lifetime of the campaign, the email has a 79% unique open rate and a 24% unique clickthrough rate, with a 167% total open rate as users continue to engage with the email over time.
emfluence Marketing Platform Elements Used
Contact Scoring
Custom Fields
Automated Emails
NiftyImages Integration