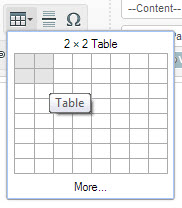 We've upgraded the Editor — we use a 3rd party called CKEditor — to their latest release/version. The most noticeable improvement is that now, when you click the icon to insert a table, you'll select the number of rows and columns by "drawing" it on a grid to insert it.
In the screenshot on the right, you'll see that we're selecting a 2×2 table, measured from the top left corner to the cell that I click on as the bottom right corner of the table. This example will insert a table with 2 columns and 2 rows.
The rest of the table functionality will be the same: still powerful and easy to use.