Now that 2015 is well underway, and we've all recovered from the chaos that is the holiday marketing season, it's the perfect time for some spring cleaning.  Try as we might, as busy marketers we don't always have time to keep our accounts and materials as organized as we'd like to. Partially, it's because we don't know where to start.
We can help with that. This post is Part 1 of our Spring Cleaning blog series, sharing quick clean-up recommendations that will make your emfluence Marketing Platform account (or whatever platform you use) safer and easier to navigate.
Delete Inactive Users
When someone leaves your team or company, you probably set up a permanent out of office for their inbox, change their passwords, and generally cut off access to your data and marketing materials.  But don't forget to change or delete their emfluence user account so they don't retain access to your email marketing lists and social media accounts.
Deleting a User account takes just a few clicks.
Go to Options: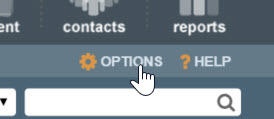 Click on System Users: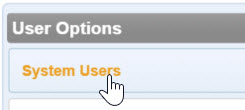 Click on the trash can icon to the right of the User you wish to delete:


In the Confirmation step, select a User to whom you'll be transferring the previous User's contacts to.  This is particularly important if your account has restricted users, who are only allowed to send to those contacts that they own (e.g. A new account rep is taking over the accounts of the former rep).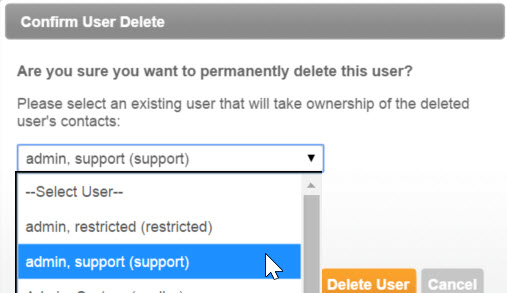 Click Delete User, and that's it!
Clean up your email lists!
As of September, 2014, you have the ability to archive groups in your emfluence Marketing Platform account.  Of course you can still delete old groups, too, but archiving instead allows you to refer back to the group at a later date.
To archive groups, begin by using the Search Groups function to input any criteria for groups needing to be archived:




Select multiple groups using the checkboxes to the left of the group names, or select all search results on a single page using the Check all function:



Then select Archive from the Actions menu: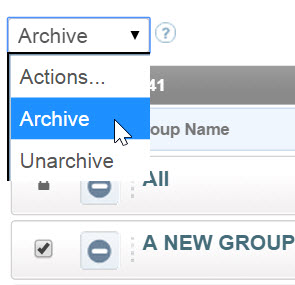 Since deleting a group is permanent and therefore a little scary, there isn't an option to bulk delete multiple groups.  To delete a single group, hover over the group name until you see an Options link appear to the right:


Click Delete Group in the bottom left corner, and select the appropriate delete option:


Note that if you select the second or third option, contact records will be permanently deleted from your emfluence account!  These options are useful when you've accidentally imported the wrong file.  The first option only deletes the group, not the contacts themselves, so you'll almost always leave the first option selected. If you do accidentally delete contacts, contact Support@emfluence.com as soon as possible to see if the data can be recovered.
Organize and Clean Out your Uploaded Files
Still have images from your 2009 email campaigns you have to sift through to find this week's images?  Take 15 minutes to delete old files, and organize current ones into subfolders can save you minutes (or even hours) when it comes time to creating your campaigns.
Note: Deleting or moving images will NOT cause the images to break in previously sent emails or social media posts.  However, moving/deleting images that are in currently scheduled messages but haven't deployed yet will cause the image to break. In email, the image will simply be missing. Social media posts will fail if the image you're sharing isn't found.
To clear out your uploaded images, PDFs, iCal files, etc., go to your Uploaded Files in the Content section: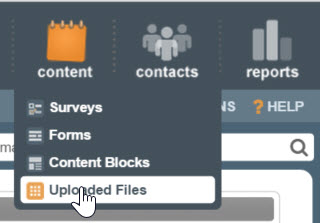 You can use the Search function in the top right to find files that you know can be deleted, for example old logo files: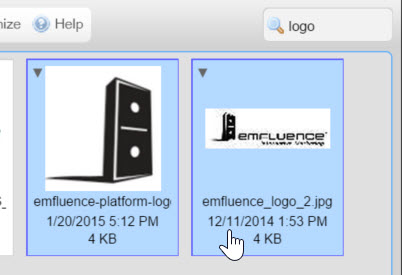 Hold down the Control button on your keyboard as you click to "cherry pick" or select multiple files, then right-click on one of the image thumbnails to delete multiple items at once: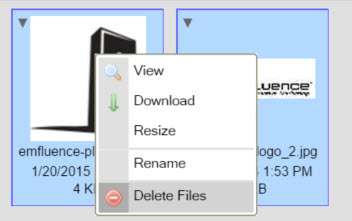 You can also create subfolders for groupings of images by right clicking on any of the folders in the left navigation column: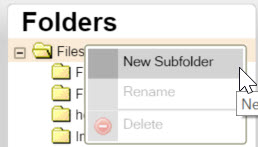 Then you can copy or move files between folders by dragging the images over the folder name: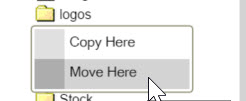 Be sure you don't delete any folders or images that are on your active landing pages, surveys, or used as headers in your email templates!