Since the emfluence User Conference a few weeks ago, the Platform team has been busy analyzing and sorting through the responses to our Platform Features Survey.  These surveys  not only guide the Platform Development team in prioritizing the features you want the most, they also tell the Support team what kinds of questions you have about the current toolset.  Below are a few questions and feature requests from conference attendees that we thought were worth sharing!
Feel free to email support@emfluence.com any time with questions about Platform features, or requests for new tools.  We're adding and upgrading features all the time, so the tool that you're looking for might already be available!
Password Reset  |  Compare Stats for a Group/Series of Emails  |  Add a Logo to a Survey/Modal
Request: Password Reset
With the "Lost Your Login?" link on the login page, you can send a password reset email to yourself (or other users!).  Just enter your Username and the email address associated with that Username, click Get Login, and you'll receive an email like the one below, asking you to reset your password!
Visit the Password Reset page in the Help section for more details, and how to reset passwords manually for other users.
What do you think about "Lost Your Login?" Click here to take a quick poll on how this could be improved!
Request: Comparing Views, Clicks, Click-to-view ratios for a group/series of emails
The Campaigns feature is the tool you're looking for!  In the emfluence Platform, a Campaign is simply a group of related emails, social media posts, and landing pages.  This allows you to plan messages around a specific theme, and later view reports for just those messages.
You can assign past messages to a Campaign from the Campaigns section, or assign message to a Campaign when you're creating the message in the Calendar section.  View reports for your campaigns by clicking on the Reports button in the Campaigns section, or by selecting your Campaign from the dropdown list in the Reports section.
Learn how to create a Campaign here!
Question: Can I add my logo to a survey or a landing page modal?
Yes, and Yes!  Use the Content question type to add a cover page to your surveys, and use tables in the landing page generator to create a fully branded modal.
Learn how to add branded Content to your surveys here, and how to embed a survey on to a branded landing page here.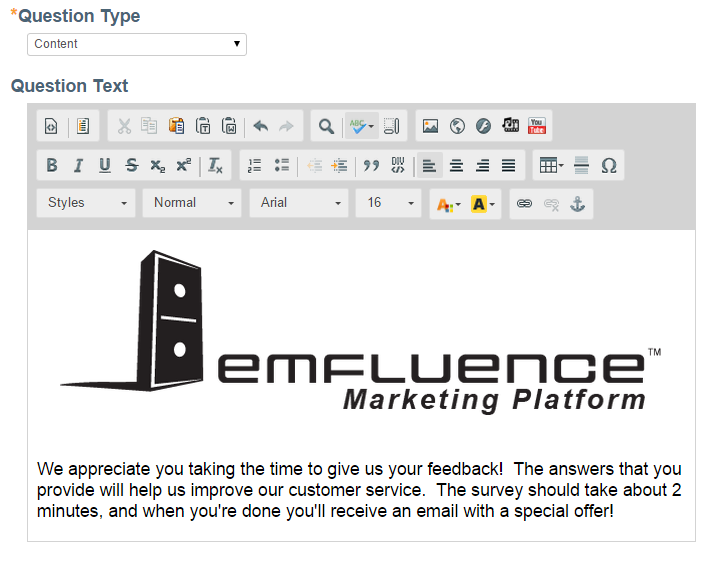 To add branding to your modal, simply use a 1×2 cell table, with your logo and a brief call-to-action in the top cell, and a short form in the bottom cell.