First, and importantly: Are you allowed to buy email addresses and add them to your emfluence Marketing Platform account? No. emfluence users/clients can only send to your own permission-based, or "house" list, of opt-in subscribers, those people that reasonably expect to receive email from you. This is also the law in many countries, varying from needing "permission" to "express consent" and they don't mean those people that forgot to uncheck a box for 3rd party offers a few years ago.
That said, email marketers often ask us if they should buy lists of email addresses. Let me be clear: it's not illegal in the United States to buy or send to purchased addresses, as long as you stop sending to someone if they unsubscribe. To make it even more complicated, business-to-business marketers often get email address as part of a prospect list they're using to connect with people from a certain industry or company. Let's come back to that part in a moment.
About once a year, one of our clients will insist on buying a list, sending, of course, through the list broker and not their own account. The first one I can remember was almost 5 years ago. A client sent a cross-channel campaign to 60,000 direct mail and email contacts. The email portion of the acquisition campaign only garnered 15% of their total new email subscribers. The rest were acquired from the postal mail campaign. That wouldn't be so bad (even if it didn't look like a good investment), except that the campaign garnered a higher bounce rate than its open rate and more people complained or unsubscribed than opted in. List brokers are often sending campaigns to those that aren't eager to receive and may have trouble making it to the inbox in some cases because of high bounce, unsubscribe and complaint rates.
Just this year, a client bought 25,000 email addresses for an acquisition campaign to target a tough-to-find audience. The campaign garnered a 9% open rate (less than half industry average, but not abysmal), and only 4 clicks. (Not 4%. 4 total clicks.) None of those clicks converted, meaning thousands of dollars invested with no return on that investment.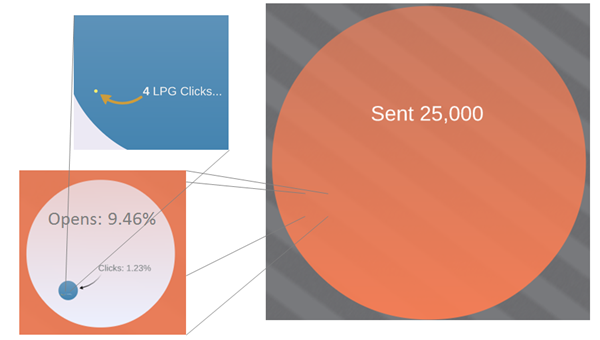 We love email marketing at emfluence, with our heart of hearts, but we honestly admit that email isn't a first-touch acquisition medium. Email marketing excellent for nurturing those contacts that have given you permission, thanks to other forms of acquisition: cold calls, inbound marketing, trade shows, networking, etc.
If you want to grow your email subscribers list quickly and are willing to invest some money to do it, there are a few better ways to go:
Launch a Facebook or Twitter opt-in campaign or a register to win campaign, encouraging those registrations to also sign up to receive your emails.
Create a Google AdWords campaign, targeting those searching for the solution you offer. If your company has physical locations, try focusing on mobile/local search for those searching for products like yours when they're in the neighborhood.
Create (and promote via the channels named above) alluring content that is free to download if a prospect gives their email address and offer to add them to your newsletter list for even more smart insights.
If you have stores, always have a running in-store campaign, where you gather email addresses in exchange for something of value (a discount or freemium). In this case, you can invest that money in either a company that will enter those sign-ups for you or in a system that collects typed email addresses like a text-to-subscribe or a sign-up kiosk.
Pay for email ad placement or sponsored email campaigns to partner's/lists, i.e. the Chamber of Commerce, a trade association, sister company email newsletters, etc. You can find something in almost every city and every price range!
Back to the idea of business prospects, I know a good number of marketers who buy lists, of which email address is a part. You pay for those names and email addresses and you're welcome to email that person individually. You may even use your marketing platform. But make sure that person isn't automatically going to be buried in emails they didn't sign up for. Lead with your value proposition in the subject line and in the top 400 pixels in the email. Don't subscribe them forever without permission. If you entice them after an email or two to sign up for more, great! If not, it's not worth wasting your volume — and risking your sender reputation with spam complaints — to keep them on your list.
The bottom line is: when it comes to batched email marketing, only send to those who can reasonably expect email from you. Set expectations and respect people's inboxes. In email marketing, your reputation is the key to getting past spam filters and to the inbox, so you want to play by the good guys' rules.
Have questions on growing your list? We'd love to chat! Email us at expert@emfluence.com.