We often hear from our business-to-business marketing clients that they'd like to automate their sales nurture email campaigns. Automation can help save time, save you from that embarrassing typo and usually means you get to keep a closer eye on engagement metrics in your email marketing platform.
But when is it ok to auto-email in B-to-B marketing?
First, let's start with the law: if someone gives you his/her email address, you're completely within the law to email them, either from your own outbox or from your email marketing platform. The law says you're only spam if someone unsubscribes and you keep sending.
The customer's definition of spam, though, is a bit less forgiving. Typically when recipients hit that "this is spam" or "mark as junk" button, it's because, either:
They didn't sign up for it and they're not expecting it, or
They don't want it or it's not relevant to them.
So if you're automatically subscribing new contacts to your email lists, you may find your unsubscribe or complaint rates over the safe limits. Sure, the spam button is a lot scarier for business-to-consumer marketers who have to keep a good reputation with inboxes like AOL, Gmail, Hotmail and Yahoo!, but business-to-business marketers can find themselves in hot water, too.
The bottom line in email marketing is: if enough people mark you as spam and you are treated like a spammer, even those who are interested in your email won't be getting it anymore.
What are the best practices for permission in B-to-B email marketing?
Use email marketing tools to automate follow up that you would send manually anyway. When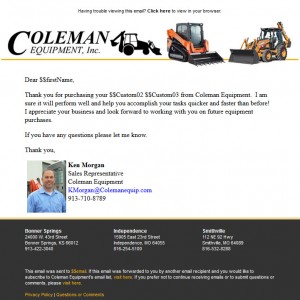 someone hands you a business card at a trade show or networking event, they reasonably expect to receive a follow up email from you. You can use automation to nurture that prospect and send the 2-3 emails you would have manually sent anyway. Make sure to tailor your message to how you met that person, the services they could specifically benefit from and make it seem personal, maybe even look as though you hand-typed it.
NOTE: Sending a few expected follow up emails is different than automatically adding them to the generic newsletter blast each month. The latter should require explicit permission/interest from the subscriber. Coleman Equipment does an excellent job of a 4-email follow up series. In the final email, they invite the contact to opt-in for future emails from Coleman. Check out the first of the 4 emails by clicking on the thumbnail above.
Use opt-in methods, instead of opt-out methods. (Read about the difference in opt-in vs. opt-out here.) Offer the option for your prospect to receive ongoing marketing/informational emails from your company, rather than assume they want them. Entice them with why they should check the box to sign up for emails and set expectations how much email they'll receive.
If you picked up a business card, send an initial email asking if you can share your insightful, monthly newsletter. (Don't forget to explain WIIFT – What's In It For Them.) Be sure to have a stellar welcome email, so the subscriber feels good about their decision to opt in.
Skip the list buying and spend your money finding real prospects. Last month, I waxed poetic about whether you should buy an email list. A tougher decision in b-to-b than in b-to-c, for sure, but still rarely pays off. The people on these lists have no reasonable expectation to receive email from you, so the idea of true permission is missing. Check last month's blog post for 5 other ways to invest in list growth instead.
Keep an eye on your engagement metrics. If you see a spike in bounces, unsubscribes or complaints, you're likely not setting expectations well or you're adding people who aren't expecting email from you. Check out the 5 Email Marketing Metrics to Watch to see which metrics/rates would send a red flag. If you see zeroes across the board, you're flirting with deliverability problems and it's time to make a change to your campaign.
The biggest best practice for a successful business-to-business sales email? Only send what people want. That means permission, but it also means thinking through the value to your prospect, not just sending whatever you're selling today. Keep a service- and solutions-focused approach to your emails and they're much more likely to get opened, clicked or replied to.
Then, after your 2-3 sales emails, try inviting your prospect to sign up for ongoing case studies/news/tips from your company. If they opt in, they want your email and they're more likely to read it and be an engaged subscriber.