Last month, my emfluence colleagues and I co-hosted a meetup for email marketers with pals from Litmus, Barkley, InTouch and DEG. One of the biggest issues facing our email peers is how the process of email marketing strategy and creation needs to change. I haven't been able to stop thinking around that since, and last week, at #emflConf (the annual emfluence Marketing Platform User Conference), I drafted a little something new.
At the meetup, we agreed that many of us marketers suffer from a "backwards" production process. When email is a "tack on" to a campaign, you can end up with strategy and design for email that just recycled postcard design, magazine ad or worse. If the first time the email specialist sees the design is when it's done, you're likely to have a few best practices missing. Here's what it looks like in a lot of teams now:

Even if you don't have a project manager or the designer and the coder are the same person, this process is flawed. Cue rounds of edits.
Email marketers should be a part of strategy conversations from the word go, so the campaign can take advantage of those things that make email drive ROI: direct, targeted, trackable, personalizable marketing. Bring in design elements that are "uniquely email" into the creative brief for the email design, like segmentation, versioning and variable content.
What if the process looked more like this?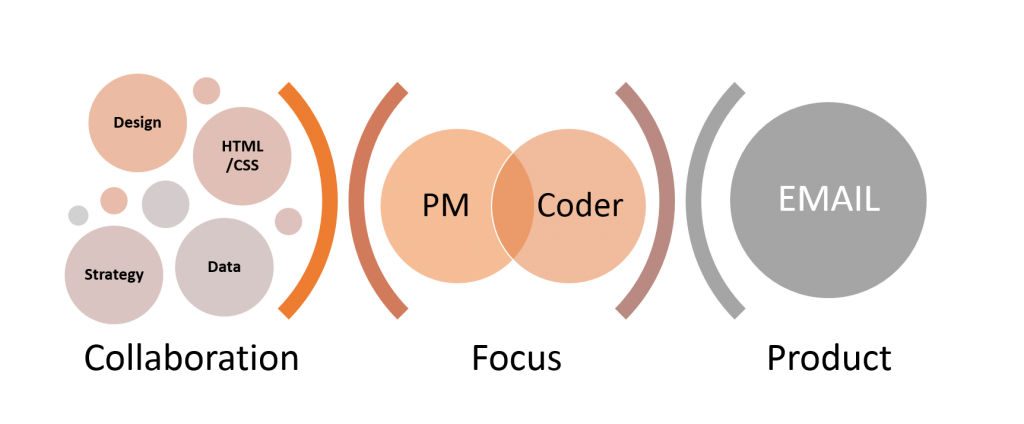 The first step is a meeting of the minds — collaboration and education between the strategist, the data keeper, the designer, the coder and the project manager. The more often you do this together, the shorter the meetings can be, as your project manager or designer starts to understand how to build effective email.
Then comes focus. The project manager and the designer/coder can execute something excellent based on team vision. Voila: the new age of email.
Now, I know I'm missing things here… I hope that this is a good start, but Ben, Susannah, Justine, Brian and Jason (my fellow panelists) should all weigh in! How can we take the email marketing process to the next level?